FOR IMMEDIATE RELEASE:
Thursday, June 24, 2010
Carrie Hessler-Radelet Sworn in as Peace Corps Deputy Director
WASHINGTON, D.C., June 24, 2010 Returned Peace Corps volunteer Carrie Hessler-Radelet was sworn in as deputy director at Peace Corps headquarters on June 23. Hessler-Radelet was nominated for the position by President Obama and subsequently confirmed unanimously by the U.S. Senate.
I am honored to welcome Carrie to the Peace Corps, said Peace Corps Director Aaron S. Williams. Carrie is a respected leader in international development. She got her start with hands-on experience in the classrooms of Western Samoa as a Peace Corps volunteer and developed an expertise in public health education and HIV/AIDS awareness. Carrie is a tremendous addition to our agency and will be a strong advocate for our volunteers and the Peace Corps community."
Hessler-Radelet and her husband, Steve Radelet, served together as Peace Corps volunteers in Western Samoa (1981-1983). She taught high school and helped design a national public awareness campaign on disaster preparedness. Upon completing service abroad, she served as public affairs specialist in the Peace Corps/New England Recruiting Office (1984-1986).
Prior to her confirmation as deputy director, Hessler-Radelet was vice president and director of the Washington, D.C., office of John Snow, Inc. (JSI), a global public health organization, where she was responsible for overseeing the management of public health programs in more than 85 countries.
She has worked in the field of public health for the past two decades, specializing in HIV/AIDS and maternal and child health. Hessler-Radelet was actively involved in the establishment of the President\'s Emergency Plan for AIDS Relief (PEPFAR) and was a primary author on PEPFARs first strategic plan. She was also a Johns Hopkins Fellow with U.S. Agency of International Development (USAID) in Indonesia and assisted the Indonesian government in developing and implementing its first national AIDS strategy.
Four generations of Hessler-Radelets family have served as Peace Corps volunteers. Her aunt was the 10,000th Peace Corps volunteer and served in Turkey (1963-1965), her grandmother served in Malaysia (1972-1973), and her nephew recently completed his service as an HIV education volunteer in Mozambique (2007-2009).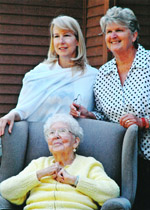 Hessler-Radelet served as a board member of the National Peace Corps Association and on the steering committee for the U.S. Coalition for Child Survival. She was founder of the Special Olympics in The Gambia.
Hessler-Radelet received her Bachelor of Arts from Boston University and her master\'s in Health Policy and Management from the Harvard School of Public Health. She and her husband have two grown children, Meghan and Sam.
As Peace Corps approaches its 50th anniversary, its service legacy continues to promote peace and friendship around the world with 7,671 volunteers serving in 77 host countries. Historically, nearly 200,000 Americans have served with the Peace Corps to promote a better understanding between Americans and the people of 139 host countries. Peace Corps volunteers must be U.S. citizens and at least 18 years of age. Peace Corps service is a 27-month commitment.
# # #
---