FOR IMMEDIATE RELEASE:
Thursday, June 5, 2014
CARRIE HESSLER-RADELET CONFIRMED AS 19th DIRECTOR OF THE PEACE CORPS
WASHINGTON, D.C., June 5, 2014 – Today the U.S. Senate took bipartisan action to confirm Carrie Hessler-Radelet as the 19th director of the Peace Corps. President Obama nominated her to lead the agency in July 2013. Since 2010, Hessler-Radelet has served as Peace Corps Deputy Director and Acting Director. From 1981-83, she served as a Peace Corps volunteer in Western Samoa with her husband, Steve. Four generations of Hessler-Radelet's family have served as Peace Corps volunteers.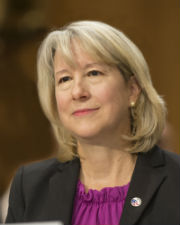 "I'd like to thank President Obama and the U.S. Senate for their confidence in me to be the next director of the Peace Corps. I am honored to have the opportunity to serve our volunteers – past and present – as their director," said Hessler-Radelet (RPCV Western Samoa, 1981-1983). "Like so many Peace Corps volunteers, my service changed my life, shaped my passion for international development, and inspired my career. As Peace Corps Director, I want to offer more Americans the life-defining experience of Peace Corps service and help them make a difference in the years ahead."
In her Senate confirmation hearing, Hessler-Radelet committed to leading a dynamic, forward-leaning Peace Corps that is defined by its energy, innovation and impact. You can read her full testimony here.
Prior to her confirmation as Peace Corps Deputy Director in 2010, Hessler-Radelet was vice president and director of the Washington, D.C., office of John Snow Inc., a global public health organization, where she oversaw the management of public health programs in more than 85 countries. Hessler-Radelet was actively involved in the establishment of the President's Emergency Plan for AIDS Relief (PEPFAR) and was a primary author of PEPFAR's first strategic plan. She was also founder of the Special Olympics in The Gambia in 1986, which is still active there. Hessler-Radelet holds a master's degree in health policy and management from the Harvard School of Public Health and a Bachelor of Arts in political science from Boston University. She and her husband, Steve, have two grown children. Read her full bio here.
About the Peace Corps: As the preeminent international service organization of the United States, the Peace Corps sends Americans abroad to tackle the most pressing needs of people around the world. Peace Corps volunteers work at the grassroots level with local governments, schools, communities, small businesses and entrepreneurs to develop sustainable solutions that address challenges in education, health, economic development, agriculture, environment and youth development. When they return home, volunteers bring their knowledge and experiences – and a global outlook – back to the United States that enriches the lives of those around them. President John F. Kennedy established the Peace Corps in 1961 to foster a better understanding among Americans and people of other countries. Since then, more than 215,000 Americans of all ages have served in 139 countries worldwide. Visit www.peacecorps.gov to learn more.
# # #
---