FOR IMMEDIATE RELEASE:
Sunday, August 4, 2019
Beninese teacher earns Mandela Washington Fellowship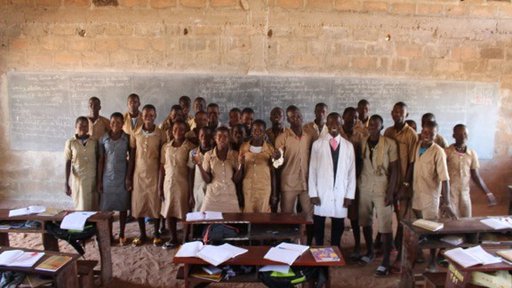 WASHINGTON – Emignogni Mahtoundji Noe Rousseau, a long-time counterpart to Peace Corps volunteers in Benin, was honored with the esteemed Mandela Washington Fellowship for his work educating Beninese youth.
Peace Corps Education Volunteer Conner Swan met Rousseau in the fall of 2017, when both were teaching English in Niaro, a rural community in Benin. Rousseau was Swan's Peace Corps counterpart, a person in a volunteer's host community who works alongside the volunteer.
Almost a year and a half later, Swan had nominated him for the Mandela Washington Fellowship, a State Department funded program that provides 700 Sub-Saharan African leaders the opportunity to attend a United States college or university and support for professional development after they return home. Rousseau received the fellowship and is now in the United States at Virginia Tech University.
"Rousseau is a remarkable example of the potential and capabilities of the Beninese people," said Swan. "In a country where few people have the opportunity to receive a formal education beyond a grade school level, Rousseau has earned his high school diploma, teaching certificate and master's degree – all by the age of 25 – and has chosen to apply himself to create positive change in his home country".
As a Peace Corps counterpart, Rousseau partnered with Peace Corps volunteers on local projects, like taking students to the National English Spelling Bee in Porto Novo, the capital city, running an after-school English club and writing a Peace Corps Partnership Programs grant to fund and construct two new classrooms at the school.
"In a place with little to no teaching resources, Rousseau engaged his students with creative songs, dances and games,' Swan continued. "He used interactive techniques to help his students learn and understand."
Education is the Peace Corps' largest sector, comprising 42% of all volunteers. Since 1961, more than 45,000 education volunteers have served in 131 countries across the globe. Volunteers work in elementary, secondary, and post-secondary schools, teaching math, science, and conversational English, and serve as resource teachers and teacher trainers. Currently, approximately 3,000 Peace Corps education volunteers teach in 48 countries around the world.
# # #
About the Peace Corps: The Peace Corps sends Americans with a passion for service abroad on behalf of the United States to work with communities and create lasting change. Volunteers develop sustainable solutions to address challenges in education, health, community economic development, agriculture, the environment and youth development. Through their Peace Corps experience, volunteers gain a unique cultural understanding and a life-long commitment to service that positions them to succeed in today's global economy. Since President John F. Kennedy established the Peace Corps in 1961, more than 235,000 Americans of all ages have served in 141 countries worldwide. For more information, visit peacecorps.gov and follow us on Facebook, Instagram and Twitter.
---