FOR IMMEDIATE RELEASE:
Friday, December 7, 2012
Astronaut and Returned Peace Corps Volunteer Joe Acaba Compares Peace Corps Service to Living in Space
Washington, D.C., December 7, 2012 – Astronaut and returned Peace Corps volunteer Joe Acaba visited Peace Corps headquarters on Friday as the keynote speaker for "Pasos Adelante: Hispanic Innovation in Action," an event sponsored by Peace Corps' Office of Diversity and National Outreach. Acaba's speech was followed by a panel discussion highlighting the importance of diversity and innovation in an increasingly connected world.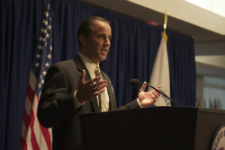 "Peace Corps will always be a part of who I am. Serving in Peace Corps is just like living in space – you are working with people, away from your family, in a new environment, and you are occasionally faced with uncomfortable situations. I was just as affected by my service in Peace Corps as my time in space," said Acaba. "Being in Peace Corps, you learn to adapt, to communicate effectively, and to be creative – all 21st century skills that really got me to where I am today."
Joe Acaba served as a Peace Corps volunteer in the Dominican Republic from 1994 to 1996 as an environmental education awareness promoter. Acaba has spent 138 days in space during two missions, most recently returning in September. He is recognized as the first NASA astronaut of Puerto Rican descent.
"Today is partnership, diversity and innovation," said Peace Corps Acting Director Carrie Hessler-Radelet, who moderated the event.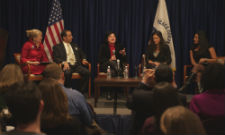 In addition to Acaba, the panel included Maria Elena Vivas-House, a senior executive director of the Hispanic Association of Colleges and Universities National Internship Program; Patricia Leon-Guerrero, the managing director of national Latino initiatives for Teach for America; and Alejandra (Manuela) McDonough, who oversees the National Council of La Raza's health programs.
McDonough served as an environmental health volunteer in Panama from 2003-2005 and credits her Peace Corps service for leading her to work in the public health sector. "It was my experience on the ground, in the communities, that really sparked my interest in working in public health."
Currently, there are more than 600 Peace Corps volunteers of Hispanic origin serving as volunteers worldwide. Peace Corps service provides both tangible benefits and a life-defining leadership experience. Peace Corps volunteers return from service as global citizens and receive support from the Peace Corps in the form of career services, graduate school opportunities, advantages in federal employment, readjustment allowances, and loan deferment and cancellation opportunities.
About the Peace Corps: Since President John F. Kennedy established the Peace Corps by executive order on March 1, 1961, more than 210,000 Americans have served in 139 host countries. Today, 8,073 volunteers are working with local communities in 76 host countries in agriculture, community economic development, education, environment, health and youth in development. Peace Corps volunteers must be U.S. citizens and at least 18 years of age. Peace Corps service is a 27-month commitment and the
# # #
---