FOR IMMEDIATE RELEASE:
Wednesday, February 17, 2010
Assistant Secretary of State and Returned Peace Corps Volunteer Johnnie Carson Meets with Peace Corps/Benin Volunteers and Staff
WASHINGTON, D.C. Assistant Secretary of State Johnnie Carson met with Peace Corps volunteers and staff on February 6th as part of his visit to Benin.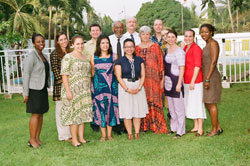 Peace Corps Country Director Brownie Lee, Administrative Officer Ifeoma Ezeh and Program and Training Officer Lauren Erickson-Mamane welcomed Carson. They were joined by eight Peace Corps volunteers serving in Benin: Michael Chadsey from Bradenton, Florida; Margaret Densmore from Arlington, Va.; Melissa Kadzik from Washington, D.C.; Manivanh Mouanoutoua from Garden Grove, Calif.; Kyle Harrier from Appleton, Wis.; Elizabeth Trautman from Seattle, Wash.; Michelle Biderbost from Shoreline, Wash.; and Angelina Hurst from Ann Arbor, Mich.
Carson was sworn in as Assistant Secretary of State for the Bureau of African Affairs in May 2009. Carsons 37-year career with the Foreign Service includes ambassadorships to Kenya, Zimbabwe, and Uganda. Before joining the Foreign Service, Carson was a Peace Corps volunteer in Tanzania from 1965 -1968.
Over 1,687 Peace Corps volunteers have served in Benin since the program was established in 1968. The program celebrated its 40th anniversary of service in Benin in September 2008. Volunteers in this West African nation work in the areas of English Language Teaching/TEFL, Environmental Action, Small Enterprise and Development, and Rural Community Health. Currently, 107 Peace Corps volunteers are serving in Benin.
As Peace Corps approaches its 50th anniversary, its service legacy continues to promote peace and friendship around the world with 7,671 volunteers serving in 76 host countries. Historically, nearly 200,000 Americans have served with the Peace Corps to promote a better understanding between Americans and the people of 139 host countries. Peace Corps Volunteers must be U.S. citizens and at least 18 years of age. Peace Corps service is a 27-month commitment. To learn more about the Peace Corps, please visit our website
:
www.peacecorps.gov
.
# # #
# # #
---