FOR IMMEDIATE RELEASE:
Tuesday, August 8, 2006
Asian American Volunteer Refashions Image of Americans Abroad
In celebration of the 45th anniversary, this is the latest addition to our series of features on diverse Peace Corps volunteers
.
WASHINGTON, D.C., August 8, 2006 Images from 9/11 paint the vision of most Americans, from the smoke and panic to the rubble and tears. For Pei-Zei Lin, who worked in the building adjacent to the World Trade Center, the images of that morning are even more vivid and always fresh in her mind.
Yet within the midst and thoughts of devastation, she envisioned herself in another land, giving to those less fortunate, vowing to never again take life for granted. And it has been through the Peace Corps that Lin has sought to improve understanding of Americans, so such a tragedy would never befall her country again.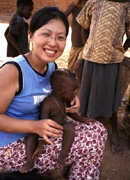 Lin and a young child in Burkina Faso
Lin, 27 and Asian-American, considers herself one thread in the tapestry of America. But when she traveled to Burkina Faso, she traded in a New York City life for one in which showers come in buckets and the shade of people is relatively universal.
Everyone is surprised when they find out that I am American, Lin said. However, the people she meets adjust to the shock and change their conceptions. For example, based on movies they have seen, many people gather that those who look Asian practice martial arts.
In Burkina Faso, people are intimidated by the way I look because I resemble Bruce Lee; and therefore, martial arts are ingrained in my genes, she said.
The benefit of the misconception is that Lins students will instinctively pay attention for fear that shell unleash her Jackie Chan moves: its one fallacy that shes not in a hurry to set straight.
The melting pot of New York City looks nothing like the homogenous world in Burkina Faso where Lin stands out like a red tomato in a bed of lettuce. In the eyes of local villagers, Asian features signify more foreboding traits than they do in American culture. Along with the idea that all Asians can perform martial arts, Asians are generally believed to subsist on a diet of dogs, snakes, worms, and insects. But Lin is far from a carnivorous, mountain-dwelling martial artist.
She is a pioneer of womens rights. She encourages parents to send their daughters to schools and husbands to allow their wives to work in small commerce. She also works with young boys, counseling them to be supportive of their female counterparts and assist the girls in school and sports.
Sports, especially, are an area in which Lin makes her benevolent presence felt. While she is a dedicated teacher by day, when the pencils are down, the nets come up.
When lessons are over at 5 p.m., Lin heads out to the volleyball court, an addition to the school for which she is responsible. She incorporates her love for volleyball with the passion to teach men that women have the skills to excel in sports. Extending this passion, Lin channeled the nationwide interest in soccer.
I never played soccer, and I have never watched a soccer game in my life, Lin admitted.
But that didnt stop her from forming an all-girls team in her village, comprised of 13 to 23 year olds. She started the team because she felt the girls were not exercising enough and that the boys were not sharing their sporting glory. After gaining permission from the school director, a field was cleared of thorns, branches, and rocks to make a soccer pitch for the girls. The fondest memory Lin has of her Peace Corps experience was the middle school girls victory over a rival high school some 50 km away. As promised in the off chance that her team would win, Lin did a dance on the field to the amusement of the girls.
The volleyball, expanding power of a womens movement, and cultural lessons are all part of her mission as a volunteer. Being a minority, Lin is able to show the diversity ws are all part of her mission as a volunteer. Being a minority, Lin is able to show the diversity which comprises America, even if thats not what her parents had in mind for her.
Like many minority volunteers, Lins family has struggled with her current career choice. Minority families often look at two years of service as backtracking. In some cases, minorities come from developing countries, and do not want their children to go back.
The principal reason they came to America was to provide their child with an education and standard of living that surpasses what they can receive in their homeland, Lin said of her parents. They dont understand that living and working in a developing country can teach volunteers to relate to their parents and ancestors and give them a better understanding of where they come from.
My Peace Corps service has helped me to become a better person, Lin said. In the process of broadening the definition of American to her young students, she has become more open-minded and understanding of other cultures.
Currently, there are 102 volunteers serving in the West African country of Burkina Faso. Since the programs start in 1966 over 1,280 have served there. Following an eight-year absence, Peace Corps volunteers returned to the nation in 1995, and assist communities in the areas of health, education and business development. All volunteers, regardless of sector, are trained in how to promote HIV/AIDS awareness. To learn more about Burkina Faso, please visit the
Where Do Volunteers Go?
section.
The Peace Corps is celebrating a 45-year legacy of service at home and abroad, and a 30-year high for volunteers in the field. Since 1961, more than 182,000 volunteers have helped promote a better understanding between Americans and the people of the 138 countries where volunteers have served. Peace Corps volunteers must be U.S. citizens and at least 18 years of age. Peace Corps service is a 27-month commitment.
# # #
# # #
---