FOR IMMEDIATE RELEASE:
Tuesday, August 30, 2011
Americans Sworn in as Peace Corps Volunteers in Ghana
Ceremony commemorates 50 years of friendship between Peace Corps and the communities of Ghana
WASHINGTON, D.C., Aug. 30, 2011 Sixty-nine Americans were sworn in as Peace Corps volunteers in Ghana at the residence of the U.S. Ambassador to Ghana Donald Teitelbaum on
Aug. 30, 2011
, the 50th Anniversary of Peace Corps in Ghana. The ceremony was conducted by Ambassador Teitelbaum and featured remarks from Ghana Minister of Foreign Affairs Alhaji Muhammad Mumuni, Peace Corps Regional Director for Africa Dick Day, and Peace Corps Ghana Country Director Michael Koffman. Up to 400 community members and returned Peace Corps volunteers (RPCVs) who served in Ghana also attended the event.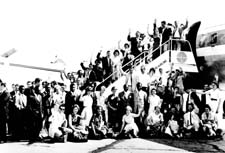 Fifty years ago on
Aug. 28, 1961
, President John F. Kennedy hosted a White House Rose Garden send-off ceremony for the first group of Americans to serve as Peace Corps volunteers. Shortly after the Rose Garden event, American men and women departed for Peace Corps service in Ghana and Tanzania. On
Aug. 30, 1961
, 51 Americans arrived in Accra, Ghana to serve as Peace Corps volunteers.
This generation of Americans to serve as Peace Corps volunteers in Ghana represents the legacy of service President Kennedy envisioned 50 years ago, said Peace Corps Director Aaron S. Williams (Dominican Republic, 1967-1970). Peace Corps continues to capture the imagination of Americans interested in public service.
Since arriving in Ghana in June 2011, this group of volunteers completed three months of comprehensive cross-cultural, language, and technical training with the Peace Corps. Each volunteer will move to their permanent site in a local community where they will complete 27 months of service. The volunteers will work on education, public health and environment initiatives in cooperation with local communities.
Peace Corps volunteers around the world continue to work alongside the people they serve to create sustainable and innovative solutions to challenging issues like education and environmental awareness, said Day, Peace Corps regional director for Africa, who attended the swearing-in ceremony.
President Kennedy established the Peace Corps in 1961 to promote world peace and friendship through three goals: helping the people of interested countries in meeting their need for trained men and women; helping promote a better understanding of Americans on the part of the peoples served; and helping promote a better understanding of other peoples on the part of Americans. Today, more than 200,000 Americans have served in the Peace Corps in 139 countries. Volunteers assist communities in a variety of ways, including teaching English as a second language, working with HIV/AIDS prevention and care programs, and providing advice and instruction on nutrition and food availability issues to mitigate the adverse consequences of the food security crisis.
Photos
and
video
of the historic Rose Garden ceremony are available on the Peace Corps website.
About Peace Corps/Ghana:
Nearly 4,130 Peace Corps volunteers have served in Ghana since the program was established in 1961. Ghana was the first country in the world to receive Peace Corps volunteers. Volunteers work in the areas of education, environmental and agricultural conservation, health and HIV/AIDS awareness, water sanitation and hygiene promotion, business development, and information technology. Currently, 162 volunteers are serving in Ghana. Volunteers are trained and work in the following languages: Buli, Dagaare, Dagbani, Dangme, Ewe, Fant, Ga, Ghanaian Sign Language, Gonja, Guruni, Hausa, Kasem, Kusaal, Likipakpaalu, Likpakpaln, Mampruli, Nzema, Sisaali, Taleni, Twi, and Waale.
About the Peace Corps:
President John F. Kennedy established the Peace Corps on March 1, 1961, by executive order. Throughout 2011, Peace Corps is commemorating 50 years of promoting peace and friendship around the world. Historically, more than 200,000 Americans have served with the Peace Corps to promote a better understanding between Americans and the people of 139 host countries. Today, 8,655 volunteers are working with local communities in 76 host countries. Peace Corps volunteers must be U.S. citizens and at least 18 years of age. Peace Corps service is a 27-month commitment. Visit www.peacecorps.gov for more information.
# # #
---