FOR IMMEDIATE RELEASE:
Friday, May 15, 2009
Acting Peace Corps Director and Former President Jimmy Carter Present The Lillian Carter Award
Program highlighted age 50+ Volunteer achievements and honored local "High Achievers"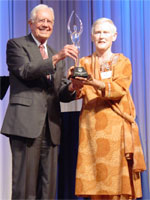 ATLANTA, May 15, 2009 - At The Carter Center on May 13, acting Peace Corps Director Jody Olsen joined former President Jimmy Carter in presenting the 2009 Lillian Carter Award. This year"s award was presented to Dr. Catherine Taylor Foster, of Orland Park, Illinois, who, at the age of 59, began her two years of service in 1996 as a health Volunteer in Nepal.
The Lillian Carter Award is a national honor that was established in 1986 to recognize an exceptional Peace Corps Volunteer who served at age 50+ and has continued to make significant contributions in volunteering upon completion of service. At age 68, Lillian Carter joined the Peace Corps in 1966 and served for two years as a health Volunteer in India.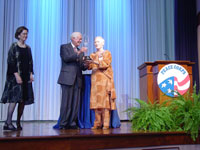 Former President Jimmy Carter, founder of The Carter Center, spoke about his mother\'s service, relaying an anecdote about a little girl Lillian taught English to during her Peace Corps service in India. Said Carter: On the cover of the book that my mother wrote (letters from her Peace Corps experience), my mother was teaching a little girl to read sitting on a rock. This little girl was the daughter of the local gardener. Mother gave away all the food and the money that she got from home. This gardener loved my mother and gave her fresh flowers from the rich folks\' garden. Since she had no money to pay him, she decided to teach the little girl how to read and write. We asked them what happened to the little girl. So she stood up and she told us that she had gotten her Ph.D. and she was the president of the local university."
Foster, this year\'s recipient, is a decorated Army nurse, foundation trustee, Fulbright senior scholar, and World Health Organization consultant. She climbed to Mount Everest base camp at age 61 and met Mother Teresa while assisting orphans in Calcutta. She continues to volunteer at a Veteran\'s Affairs hospital in Chicago.
Said Foster, "We are our brother\'s keeper and so, young and old, we need to be aware of our neighbors, near and far. Time and again, I\'ve seen how genuine concern, compassion, and assistance can transcend borders and change lives. For those of you just beginning to shape your lives, dont be afraid to reach outyou have so much to offer. The world needs you to carry on Miss Lillian\'s legacy of service."
Speaking about Lillian Carter, acting Peace Corps Director Olsen said, "Miss Lillian began what is now a long legacy of older Peace Corps Volunteers serving their country overseas, and we are proud of her achievement. Catherine Taylor Foster embodies the same spirit of service through her accomplishments as a Peace Corps Volunteer and through her continued service here in the U.S. and abroad. We hope that she will inspire other older Americans to apply their valued skills and experiences through Peace Corps service."
Olsen, who served as a Volunteer in Tunisia from 1966-68, also announced the agencys success in placing over 400 age 50+ Volunteers around the globe.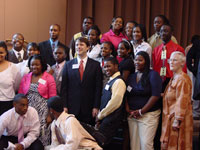 As part of the Lillian Carter Award ceremony, Peace Corps also celebrated the spirit of public service by recognizing the students in Baldwin County\'s High Achievers program and its participation in Peace Corps Coverdell World Wise Schools curriculum. The High Achievers are a select group of accomplished high school students who come from challenging economic situations. As part of the program, they complete extensive volunteer work in their community.
"It\'s important to recognize senior Volunteers, and simultaneously plant seeds of peace among Americas youth," said Amy Clark, Peace Corps World Wise Schools education program specialist. "The High Achievers have been communicating with Nicole Wallace, a community development Volunteer in Mali. This classroom match is giving African-American students a first-hand understanding of life in Africa."
The High Achievers\' interest in Peace Corps has spurred them to implement an essay contest on the topic of public service and peace. During the Lillian Carter Award ceremony, Peace Corps announced that Willie Pearson II was the winner of the 2009 essay contest.
Today, 7,876 Americans serve in the Peace Corps. Of that total, 5.4 percent of currently serving Volunteers are age 50 or older. The Peace Corps regards older Volunteers as a great asset, bringing both their professional and life experiences to help countries around the world meet their development needs. Volunteers over age 50 are currently serving in 58 of the 76 Peace Corps countries. Learn more by going to the Peace Corps 50+ mini-website:
www.peacecorps.gov/50plus
.
As the Peace Corps approaches its 50th anniversary, its service legacy continues to promote peace and friendship around the world. Historically, over 195,000 Volunteers have helped promote a better understanding between Americans and the people of the 139 countries in which they have served. Applications to serve in the Peace Corps have increased 16 percent this past year, the largest boost in the last five years. Currently, 7,876 Peace Corps Volunteers are serving in 76 countries. Peace Corps Volunteers must be U.S. citizens and at least 18 years of age. Peace Corps service is a 27-month commitment.
# # #
# # #
---