FOR IMMEDIATE RELEASE:
Friday, May 12, 2006
A Latina Peace Corps Volunteer Assimilates to Rural Life in Panama
WASHINGTON, D.C., May 12, 2006 "I\'ve been raised in so many places that I consider the world my home," said Patricia Greenberg, who has lived in Venezuela, Virginia and the Virgin Islands. And now she can add Panama to the list, where she currently serves as a Peace Corps volunteer.
For Patricia, 25, of Reston, Va., volunteering in Panama was a natural step. Her father was a Peace Corps volunteer in Venezuela from 1966-1968, who returned years later and met her mother in the capital city of Caracas. They married, and Patricia and her two sisters were born in Venezuela. Although they mostly grew up in the U.S., public service and a global perspective were always a part of their lives.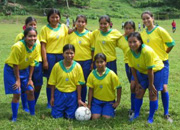 In San Pedro: Patricia (far right) and the local girls\' soccer team
"Peace Corps was always in my mind because of my dad," Patricia said. After college, she applied to the Peace Corps based on her own goals and also based on how it had shaped her father\'s life. Going to a Spanish-speaking country was a priority from the beginning. "Although I didn\'t choose the particular location, I requested a Latin American country," Patricia said.
Patricia is of Hispanic descent and comes from a multi-ethnic family. Because she was already fluent in Spanish, Patricia\'s assimilation to life in her host community, San Pedro, in the central province of Cocle, was less about culture shock and more about noticing cultural differences. Patricia\'s biggest challenge was getting acclimated to rural life in the
campo
("country").
"I can compare and relate to the culture and lifestyle, and I\'ve experienced less cultural conflicts. I recognize what it\'s like to be a Latina in a Latina culture. At the same time, the community in which I live is indigenous, and therefore, very different than the urban community. It is Latino, but this is still a new experience for me;
campo Latino
is very different," she said.
In particular, the lack of affection in her
campo
community something typically so prevalent in Latino culture was a big surprise for Patricia. She was accustomed to the open arms and kisses for greetings for which Latin culture is known the world over. Although they have now embraced her, earning the community\'s trust took some time.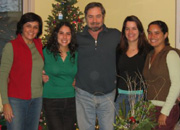 La familia: Patricia (far right) and her family
Patricia, who began her Peace Corps service as a community environmental conservation volunteer in 2004, admits that one of the perks of being a Latina volunteer is that she speaks the language fluently so, for example, she doesn\'t get ripped off by taxi cabs, and generally gets treated very differently than her
gringo
colleagues.
But being a volunteer is much more than just assimilating to a new or even familiar culture: it\'s about making a lasting impression in the community and giving them the tools to sustain changes she helped bring about, even after she leaves.
"My pride and joy and excitement is
Panama Verde
," Patricia said.
Panama Verde
("Green Panama") is a youth nonprofit organization initiated in 1996 by a Peace Corps volunteer, which teaches youth to learn about the environment. As she has taught the center\'s participants about trash and its harmful impact on the environment, seeing and hearing their behavioral changes has been a huge achievement for her.
As a minority volunteer who is serving among other Latinos, Patricia plays a key role in presenting the image of Americans abroad. People in other countries often have an ingrained image of what an American looks like or sounds like based on perceptions from television and movies. Through a diverse pool of volunteers, she said, the Peace Corps can help break down those stereotypes to show that Americans come in als, she said, the Peace Corps can help break down those stereotypes to show that Americans come in all shapes, sizes, and colors. To help increase the number of minority volunteers, Patricia recommends that the Peace Corps promote the diverse people with whom volunteers interact the host country nationals as well as other volunteers of different races and ethnicities.
Later this spring, Patricia\'s Peace Corps service will end and she will be leaving her post. However, she will remain in Panama for a few more months, as she has been invited to work at a non-government organization dedicated to trash management and reforestation. Following that, Patricia intends to return home to research graduate schools. She would like to pursue a master\'s degree in the environmental or sustainable development fields to build upon her Peace Corps experience.
Currently, there are 151 Peace Corps volunteers serving in Panama. Volunteers are working in the areas of sustainable agriculture systems, community economic development, environmental health, community environment conservation and health and HIV/AIDS awareness and prevention. Since the program\'s inception in 1963, the Peace Corps has sent more than 1,400 volunteers to Panama. To learn more about Panama, please visit the
Where Do Volunteers Go?
section.
The Peace Corps is celebrating a 45-year legacy of service at home and abroad, and a 30-year high for volunteers in the field. Since 1961, more than 182,000 volunteers have helped promote a better understanding between Americans and the people of the 138 countries where volunteers have served. Peace Corps volunteers must be U.S. citizens and at least 18 years of age. Peace Corps service is a 27-month commitment.
# # #
---