FOR IMMEDIATE RELEASE:
Wednesday, May 29, 2013
62-Year-Old Peace Corps Volunteer Helps Preserve Peruvian Culture
In recognition of Older Americans Month, the Peace Corps honors volunteers who have chosen to share their unique life skills and career experiences with communities overseas later in life. Currently, 7 percent of volunteers are over the age of 50. Below, find the story of one volunteer who is making a difference in Peru at age 62. A short video to accompany story coverage can be found here.
WASHINGTON, D.C., May 29, 2013 – Peace Corps volunteer Greg Plimpton of Palm Beach Gardens, Fla., is preserving Peruvian culture by helping to protect an ancient burial site near his Peruvian village. Plimpton, known by his community as "Goyo," has been raising awareness around the importance of the site since July 2012. Now, he is working with fellow Peace Corps volunteers, the Peruvian government and Stanford University archeologists to orchestrate an archeological dig and build a museum and visitor center adjacent to the site.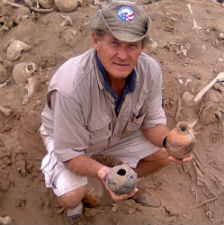 "Stumbling upon the burial site was truly surreal," said Plimpton, who has been living and working in Peru since 2011. "This project aims to integrate the sustainable preservation of an important heritage site with the promotion of tourism and economic development in an impoverished region of Peru."
The burial site, called "Cerro de Oro," covers nearly 25 acres and is filled with historical artifacts including human remains, pottery and burial cloths from 500-1400 A.D. The Peruvian Ministry of Culture officially designated Cerro de Oro an archeological site in 1995, but lack of protection around the site has allowed looters to devastate the grounds over time.
"Given Cerro de Oro's approximately 1000 years of history, architectural characteristics and impressive organic preservation, this site represents one of the most important archaeological settlements on the coast of Peru both in terms of research and potential for tourism," Plimpton said. "Regrettably, the burial grounds have been ravaged by looters."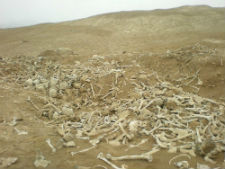 Together with Peruvian community members and local and national government officials, Plimpton has been working to develop a plan for the site's preservation. A fellow Peace Corps volunteer also put Plimpton in touch with Francesca Fernandini, a Peruvian archeologist at Stanford University who is particularly interested in the site. Fernandini has already done a preliminary evaluation of the site and has obtained a grant to conduct a dig of the grounds in July and August with a team from Stanford and Pontificia Universidad Católica del Perú.
A series of steel gates will soon protect the site, and the Peruvian government has committed to educating the community on the harmful effects of looting. Local residents will have the opportunity to receive training from archeologists on the proper care and display of artifacts and the history of ancient Peruvian cultures so they can work as tour guides once the center is open.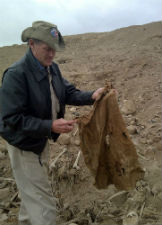 "This project can provide work, security and an improved quality of life for the small community living near the site," Plimpton said. "The abundance and diversity of the artifacts, combined with the accessibility of the site and the presence of a local population, present a good opportunity for development as a tourist, educational, cultural and local business benefit."
About Peace Corps/Peru: More than 3,170 Peace Corps volunteers have served in Peru since the program was established in 1962. Currently, 271 volunteers serve in Peru. Volunteers work in the areas of youth development, small business development, health and environment. Volunteers are trained and work in Spanish, and some receive language training in Quechua.
About the Peace Corps: Since President John F. Kennedy established the Peace Corps by executive order on March 1, 1961, more than 210,000 Americans have served in 139 host countries. Today, 8,073 volunteers are working with local communities in 76 host countries in agriculture, community economic development, education, environment, health and youth in development. Peace Corps volunteers must be U.S. citizens and at least 18 years of age. Peace Corps service is a 27-month commitment and the agency's mission is to promote world peace and friendship and a better understanding between Americans and people of other countries. Visit www.peacecorps.gov for more information.
# # #
---