FOR IMMEDIATE RELEASE:
Tuesday, November 8, 2011
53 Americans Sworn-In as Peace Corps Volunteers in Senegal
Washington, D.C., Nov. 8, 2011 Fifty-three Americans were sworn in as Peace Corps agriculture and agroforestry volunteers at the residence of the U.S. Ambassador to Senegal in Dakar, Senegal on Nov. 4. The ceremony was conducted by U.S. Ambassador to Senegal Lewis Lukens and Peace Corps/Senegal Country Director Christopher Hedrick, and was attended by returned Peace Corps/Senegal volunteers, volunteer host families, and Peace Corps staff.
The Peace Corps program in Senegal has a long and rich history. It is a true partnership between the people and government of Senegal and the United States, said Ambassador Lukens. This year, as the Peace Corps celebrates its 50th anniversary, these new volunteers become part of its proud tradition of helping make the world a better place.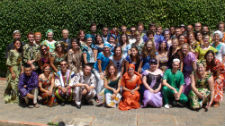 For nine weeks, the new volunteers have undergone comprehensive cross-cultural, language, and technical training through the Peace Corps. After the swearing-in ceremony, the new volunteers will travel to their permanent site in a local community, where they will complete 27 months of service. There is no deadline to apply with the Peace Corps. The agency is recruiting, placing, and training Americans for service in 76 host countries throughout the year.
Peace Corps agriculture volunteers work with farmers to increase crop production, prevent soil erosion, reduce the use of pesticides and promote sustainability practices, organic farming methods and better land management. Volunteers work alongside farmers on projects that often combine skill sets in gardening, livestock management, agroforestry and freshwater fisheries. Volunteers also provide nutritional education and teach basic business practices, such as marketing, credit, cost analysis, price determination, and strategic planning. Today, four percent of Peace Corps volunteers work in the agriculture sector.
Peace Corps volunteers in all regions of Senegal are leading efforts to prevent malaria, a leading cause of child mortality in Senegal, by working with communities to prevent malaria and distributing insecticide treated mosquito bed nets to families and children.
To view a video of the swearing-in ceremony, visit
Peace Corps/Senegal on YouTube
.
About Peace Corps/Senegal:
More than 3,070 Peace Corps volunteers have served in Senegal since the program was established in 1963. Volunteers work in the areas of small enterprise development, rural resource management, agricultural development and agro-forestry, and health and HIV/AIDS awareness. Currently, 205 volunteers are serving in Senegal. Volunteers are trained and work in the following languages: Bambara, Diahonke, French, Fula Kunda, Malinke, Mandinka, Pulaar du Nord, Pula Fuuta, Sereer, Soussou, and Wolof.
About the Peace Corps:
President John F. Kennedy established the Peace Corps on March 1, 1961, by executive order. Throughout 2011, Peace Corps is commemorating 50 years of promoting peace and friendship around the world. Historically, more than 200,000 Americans have served with the Peace Corps to promote a better understanding between Americans and the people of 139 host countries. Today, 9,095 volunteers are working with local communities in 75 host countries. Peace Corps volunteers must be U.S. citizens and at least 18 years of age. Peace Corps service is a 27-month commitment. Visit www.peacecorps.gov for more information.
# # #
---