FOR IMMEDIATE RELEASE:
Friday, September 24, 2010
49 Americans Sworn-in as Peace Corps Volunteers in Cambodia
Includes largest class and first group of health educators in Cambodia
WASHINGTON, D.C., Sept. 24, 2010 Forty-nine Americans were sworn-in yesterday as Peace Corps/Cambodia volunteers by U.S. Ambassador to Cambodia Carol A. Rodley. This group of volunteers makes up the largest group of American Peace Corps volunteers to serve in Cambodia, and includes the first-ever group of community health educators.
Of the 49 volunteers who were sworn-in, 17 were sworn-in as community health educator volunteers. Peace Corps launched the Peace Corps community health education project this summer after the Cambodian government requested health education outreach professionals. The volunteers will assist with health center capacity building, nutrition education, HIV prevention, child survival, and hygiene and sanitation education.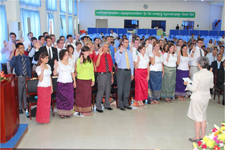 Ambassador Rodley and the Cambodian Deputy Prime Minister H.E. Sar Kheng spoke at the ceremony.
Both the United States and Cambodia benefit from the approach of the Peace Corps. Volunteers live with families, learn the language and adapt to the culture. Cambodia has asked for more volunteers, said Jon Darrah, Peace Corps country director in Cambodia. Peace Corps is pleased to respond by providing more teachers and this year, for the first time, health educators.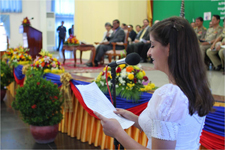 Since their arrival in July 2010, the volunteers have focused on learning the Khmer language and experiencing Cambodian culture through living with host families. The volunteers range in age from 21 to 50 years of age.
Since the program in Cambodia was established in April 2007, 81 volunteers have served.
As Peace Corps approaches its 50th anniversary, its service legacy continues to promote peace and friendship around the world with 7,671 volunteers serving in 77 host countries. Historically, nearly 200,000 Americans have served with the Peace Corps to promote a better understanding between Americans and the people of 139 host countries. Peace Corps Volunteers must be U.S. citizens and at least 18 years of age. Peace Corps service is a 27-month commitment.
# # #
---