FOR IMMEDIATE RELEASE:
Wednesday, December 14, 2011
41 Americans Sworn-In as Peace Corps Volunteers in Tanzania
Washington, D.C., Dec. 14, 2011 Forty-one Americans were sworn in as Peace Corps health and environment volunteers on Dec. 14, 2011 at the U.S. Embassy in Dar es Salaam, Tanzania. The ceremony was conducted by the U.S. Ambassador to Tanzania Alfonso E. Lenhardt, and was attended by the Deputy Permanent Secretary of the Ministry of Agriculture, Food Security, and Cooperatives Engineer Mbogo Futakamba, volunteer host families, and Peace Corps staff.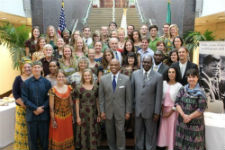 These new Peace Corps volunteers are some of the best our country has to offer in terms of commitment, intelligence, and energy, Ambassador Lenhardt said. I feel a tremendous sense of pride, both as U.S. Ambassador and as an American, in Peace Corps volunteers. I cannot imagine a better way to demonstrate our collective engagement to serve the people of Tanzania.
Since arriving in Tanzania in October, the new volunteers have undergone several months of comprehensive cross-cultural, language, and technical training through the Peace Corps. After the swearing-in ceremony, the volunteers will travel to their permanent site in a local community, where they will live and work for the remaining two years of their service. There is no deadline to apply with the Peace Corps. The agency is recruiting, placing, and training Americans for service in 75 host countries throughout the year.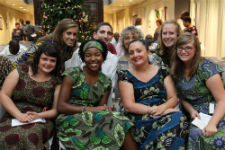 About Peace Corps/Tanzania:
More than 2,320 Peace Corps volunteers have served in Tanzania since the program was established in 1961. Currently, 148 volunteers serve in Tanzania. Volunteers work in the areas of education, environment, agriculture and health. Volunteers are trained and work in the Kiswahili language.
About the Peace Corps:
President John F. Kennedy established the Peace Corps on March 1, 1961, by executive order. Throughout 2011, Peace Corps is commemorating 50 years of promoting peace and friendship around the world. Historically, more than 200,000 Americans have served with the Peace Corps to promote a better understanding between Americans and the people of 139 host countries. Today, 9,095 volunteers are working with local communities in 75 host countries. Peace Corps volunteers must be U.S. citizens and at least 18 years of age. Peace Corps service is a 27-month commitment. Visit www.peacecorps.gov for more information.
# # #
---