FOR IMMEDIATE RELEASE:
Tuesday, August 17, 2010
37 Americans Sworn-in as the First Group of Peace Corps/Sierra Leone Volunteers since 1994
WASHINGTON, D.C., August 17, 2010 Thirty-seven Americans were sworn-in on August 13 as the first group of Peace Corps/Sierra Leone volunteers to serve in the West African country since 1994. Fridays official ceremony follows the Nov. 2, 2009 signing of an agreement between the Sierra Leone and United States Governments.
Mitchell Benedict, a returned Peace Corps/Belize volunteer and Charge dAffaires for the U.S. Embassy in Freetown, swore the volunteers into service at the Methodist Youth Resource Center in the city of Bo. Local, district, and chiefdom leaders and guests attended and welcomed the volunteers in their remarks.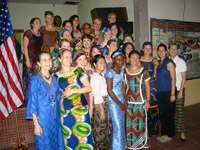 The United States Peace Corps has a long and proud history in Sierra Leone, said Benedict in his remarks at the ceremony. With us here today is the first group of new volunteers, who arrived in Sierra Leone on June 4th and will be assigned in the field of education to address critical needs for teachers of math, science and English. The volunteers were greeted with warmth and hospitality and have come to know the kindness and generosity of their host families.
Since their arrival in June, the Peace Corps/Sierra Leone volunteers lived with local host families and participated in a 10-week training that included a post-conflict orientation that covered the history of the conflict in the country and classroom instruction on Sierra Leonean cultural traditions. The volunteers studied the Krio language for six weeks and had an additional three weeks of regional language training in Mende, Temne, Limba, or Loko, depending on the area of the country that the volunteers will live during their service.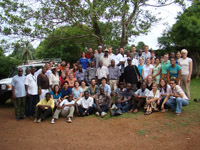 As part of their hands-on training, the volunteers ran a summer school program at a local school where they developed lesson plans, taught in classrooms of 50 to 70 students, administered an exam, and issued and graded homework assignments. In addition, the volunteers took part in a teacher training workshop in partnership with returned Peace Corps volunteer association Friends of Sierra Leone (FoSL) and the Forum for African Women Educationalists (FAWE).
The volunteers will focus on secondary education in public schools and work together with communities on grassroots initiatives and community development throughout the country. The volunteers departed for their sites across eight of the 13 districts in Sierra Leone and will begin working in the schools in September.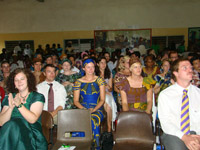 Peace Corps/Sierra Leone was first established in 1962 when 37 Americans served as secondary school teachers. Between 1962 and 1994, more than 3,400 Americans served as Peace Corps volunteers in Sierra Leone.
As Peace Corps approaches its 50th anniversary, its service legacy continues to promote peace and friendship around the world with 7,671 volunteers serving in 77 host countries. Historically, nearly 200,000 Americans have served with the Peace Corps to promote a better understanding between Americans and the people of 139 host countries. Peace Corps volunteers must be U.S. citizens and at least 18 years of age. Peace Corps service is a 27-month commitment.
# # #
# # #
---