FOR IMMEDIATE RELEASE:
Monday, November 26, 2018
At 35, Small Project Assistance Program continues to deliver sustainable impact
WASHINGTON – Peace Corps Director Jody Olsen joined USAID Counselor Chris Milligan to commemorate the 35th anniversary of the Small Project Assistance (SPA) Program. The joint collaboration has supported more than 25,000 projects and 2,800 training activities in 116 countries over the past three decades. On Monday, at a co-hosted event held at Peace Corps headquarters, Director Olsen shared success stories and the results of a new, jointly-funded external report that evaluated the program's effectiveness.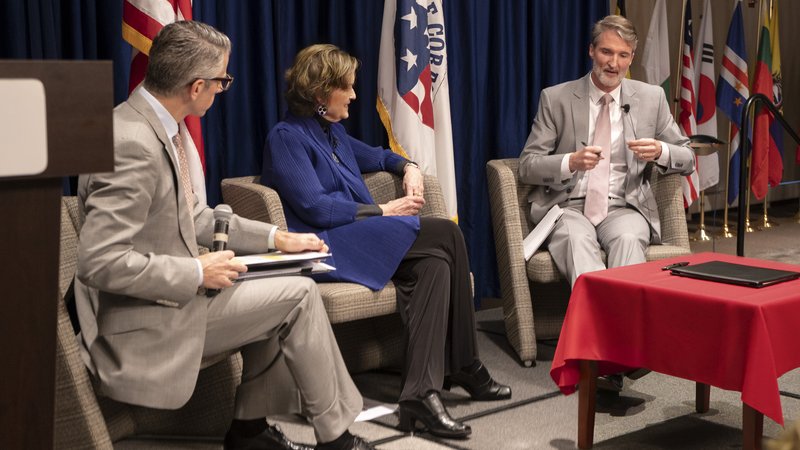 "Whether increasing local water access in The Gambia, developing waste management solutions in Tonga, or mobilizing civic sector organizations around food insecurity in Macedonia, the SPA Program helps to catalyze community-led development," said Director Olsen. "Time and again, we have seen the ripple effect of the program go well beyond a single grant, and last long after the end of an individual Peace Corps volunteer's service. Now we have the hard data to prove it, thanks to a robust external evaluation of the SPA Program."
Nearly $76 million in USAID funds, the service of thousands of Peace Corps Volunteers, and the contributions of millions of community stakeholders have enabled the SPA Program to support community development projects tailored to reflect local development priorities across 116 countries. Projects take place across all Peace Corps sectors, including agriculture, economic development, education, environment, health and youth development. The average SPA project is supported by community contributions that total over 40 percent of project costs, demonstrating a built-in level of local investment and ownership.
In an average year, over 275,000 community members worldwide participate in more than 500 SPA grant projects. These projects and trainings provide valuable skills and knowledge transfer that empower communities to find innovative, local solutions to their development needs. According to the external SPA Program evaluation, over 70 percent of communities independently maintain projects after a grant has ended, and nearly 30 percent expand upon the project through new development efforts. The evaluation findings affirm the program's long-term, sustainable impact in communities around the world.
Learn more about SPA projects here.
# # #
About the Peace Corps: The Peace Corps sends Americans with a passion for service abroad on behalf of the United States to work with communities and create lasting change. Volunteers develop sustainable solutions to address challenges in education, health, community economic development, agriculture, environment and youth development. Through their Peace Corps experience, volunteers gain a unique cultural understanding and a life-long commitment to service that positions them to succeed in today's global economy. Since President John F. Kennedy established the Peace Corps in 1961, more than 230,000 Americans of all ages have served in 141 countries worldwide.
For more information, visit peacecorps.gov and follow us on Facebook and Twitter.
---