FOR IMMEDIATE RELEASE:
Thursday, October 27, 2011
35 Americans Sworn In as Peace Corps Volunteers in Zambia
Ceremony hosted by Zambia President Michael Sata at the State House
Washington, D.C., Oct. 27, 2011 Thirty five Americans were sworn in as Peace Corps environment volunteers on Oct. 21, 2011, at the State House in Lusaka, Zambia. The ceremony was conducted by the President of Zambia Michael Sata and U.S. Ambassador to Zambia Mark Storella, and was attended by Zambia Minister of Foreign Affairs Chishimba Kambwili, volunteer host families, and Peace Corps staff. The new volunteers will work as rural fish extension agents, promoting sustainable fish practices.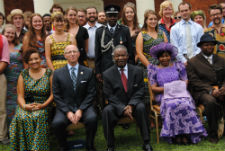 At the ceremony, President Sata commended the volunteers for their exemplary work and thanked the Zambian people for hosting volunteers in their communities. President Sata also thanked past and present Peace Corps volunteers for playing a vital role in Zambias development efforts.
The swearing in event followed a Peace Corps 50th anniversary celebration held at the Peace Corps/Zambia office where volunteers showcased current projects, including aquaculture, education, economic development, youth and womens development, and health.
The new volunteers have undergone several weeks of comprehensive cross-cultural, language, and technical training through the Peace Corps. After the swearing-in ceremony, the volunteers will travel to their permanent site in a local community, where they will complete 27 months of service. There is no deadline to apply with the Peace Corps. The agency is recruiting, placing, and training Americans for service in 76 host countries throughout the year.
About Peace Corps/Zambia:
Nearly 1,140 Peace Corps volunteers have served in Zambia since the program was established in 1993. Volunteers work in education, youth and community development, environmental and agricultural conservation, health and HIV/AIDS awareness, water sanitation and hygiene promotion, animal and wildlife preservation, business development, and information technology. Currently, 179 volunteers are serving in Zambia. Volunteers are trained and work in the following languages: Bemba, Chisoli, Kaonde, Lunda, Luvale, Mambwe, Nyanja, Nsenga, Tonga, and Tumbuka.
About the Peace Corps:
President John F. Kennedy established the Peace Corps on March 1, 1961, by executive order. Throughout 2011, Peace Corps is commemorating 50 years of promoting peace and friendship around the world. Historically, more than 200,000 Americans have served with the Peace Corps to promote a better understanding between Americans and the people of 139 host countries. Today, 8,655 volunteers are working with local communities in 76 host countries. Peace Corps volunteers must be U.S. citizens and at least 18 years of age. Peace Corps service is a 27-month commitment. Visit www.peacecorps.gov for more information.
# # #
---