FOR IMMEDIATE RELEASE:
Monday, December 6, 2010
31 Americans Sworn-in as Peace Corps Environment Volunteers in Ethiopia
Ethiopian President attends the event
WASHINGTON, D.C., December 6, 2010 Thirty-one Americans were sworn-in Friday as the first group of environment Peace Corps/Ethiopia volunteers. U.S. Ambassador to Ethiopia Donald Booth conducted the swearing-in and Federal Democratic Republic of Ethiopia President Girma Wolde-Giorgis spoke at the ceremony.
State Minister of Agriculture Ato. Sileshi Getahun and head of Ethiopian Wildlife Conservation Authority Dr. Kifle Argaw were also present.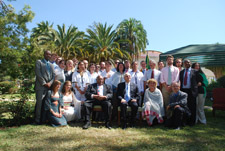 As you know, issues involving the protection of Ethiopias rich and diverse natural resources are very close to my heart, President Girma said at the ceremony. Thus, it is with great pleasure that I welcome the 31 Peace Corps volunteers who will carry out a mission that I have proudly contributed to and continue to support.
Since their arrival in September 2010, the volunteers have focused on learning Amharic and Afan Oromo, experiencing Ethiopian culture by living with host families, and partaking in intensive technical training to help with their work.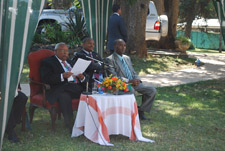 The environment volunteers will work to improve Ethiopias national parks and promote ecotourism, teach environmental education and awareness for communities with a special emphasis on youth, and help communities living around ecologically important areas to conserve the environment by promoting new business ideas.
Over 3,085 Peace Corps Volunteers have served in Ethiopia since the program was established in 1962. The program was closed in 1977, re-opening in 1995. The program closed again in 1999. In September 2007, Peace Corps resumed its program in this Eastern African nation. Volunteers work in the areas of environment, agriculture and forestry extension, protected area management, and public health and HIV/AIDS awareness. Currently, 101 Volunteers are serving in Ethiopia. Volunteers are trained and work in the following languages: Amharic, Afan Oromo and Tigrinya.
About the Peace Corps:
President John F. Kennedy established the Peace Corps on March 1, 1961 by executive order. Peace Corps will commemorate 50 years of promoting peace and friendship around the world through 2011. Historically, more than 200,000 Americans have served with the Peace Corps to promote a better understanding between Americans and the people of 139 host countries. Today, 8,655 volunteers are working with local communities in 77 host countries. Peace Corps volunteers must be U.S. citizens and at least 18 years of age. Peace Corps service is a 27-month commitment.
# # #
---