FOR IMMEDIATE RELEASE:
Tuesday, September 20, 2011
25 Americans Sworn-In as Peace Corps Volunteers in Cape Verde
WASHINGTON, D.C., Sept. 20, 2011 Twenty five Americans were sworn in as Peace Corps volunteers on Saturday, Sept. 17, 2011, in Picos, Cape Verde. The ceremony was conducted by Gregory Garland, charg daffaires for the U.S. Embassy to Cape Verde, at a local high school where a Peace Corps volunteer teaches. The ceremony was attended by more than 100 Peace Corps staff, volunteers and host families.
We are positive that this smart and high-energy group of volunteers will thrive in their new Cape Verdean communities, said Peace Corps/Cape Verde Country Director Valerie Staats.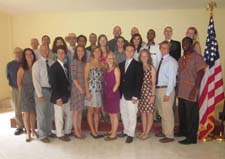 Fourteen of the new volunteers in Cape Verde will teach English as a second language and teach vocational skills, such as mechanics, electricity and construction. Another 11 Peace Corps volunteers will work as small enterprise development volunteers.
For the last several weeks, the new volunteers have undergone comprehensive cross-cultural, language, and technical training through the Peace Corps. After the swearing-in ceremony, the new volunteers will travel to their permanent site in a local community, where they will complete 27 months of service. There is no deadline to apply with the Peace Corps. The agency is recruiting, placing, and training Americans for service in 76 host countries throughout the year.
Peace Corps education volunteers work with local schools to develop innovative materials and curriculums to teach English, math, science and other subjects. Volunteers also help train teachers in primary, secondary, and special education schools. Today, 37 percent of Peace Corps volunteers work in the education sector.
Peace Corps business volunteers assist communities with business and nongovernmental organizational development, urban and regional planning and information technology. Volunteers strengthen and encourage economic opportunities in local communities by providing basic business and financial management training for small businesses, and helping artisans market goods and products. Today, 14 percent of Peace Corps volunteers work in the business sector.
About Peace Corps/Cape Verde:
Nearly 500 Peace Corps volunteers have served in Cape Verde since the program was established in 1988. Volunteers work in the areas of education, youth and community development, HIV/AIDS awareness, and small enterprise development. Currently, 56 volunteers are serving in Cape Verde. Volunteers are trained and work in the following languages: Barlavento Kriolu, Portuguese, and Sotavento Kriolu.
About the Peace Corps:
President John F. Kennedy established the Peace Corps on March 1, 1961, by executive order. Throughout 2011, Peace Corps is commemorating 50 years of promoting peace and friendship around the world. Historically, more than 200,000 Americans have served with the Peace Corps to promote a better understanding between Americans and the people of 139 host countries. Today, 8,655 volunteers are working with local communities in 76 host countries. Peace Corps volunteers must be U.S. citizens and at least 18 years of age. Peace Corps service is a 27-month commitment. Visit www.peacecorps.gov for more information.
# # #
---