FOR IMMEDIATE RELEASE:
Friday, June 4, 2010
19 Americans Sworn-in as Peace Corps Volunteers in Indonesia
WASHINGTON, D.C., June 4, 2010 Following the December 2009 signing of an agreement between the Indonesian and United States Governments, the first group of Peace Corps volunteers to re-enter Indonesia was sworn into service yesterday.
U.S. Ambassador to Indonesia and returned Peace Corps volunteer Cameron Hume (Libya, 1968-69) administered the oath in Malang, East Java where the volunteers received pre-service training. The Indonesian official who signed the agreement in December, Deputy Minister Bambang Sutedjo of the National Development Planning Agency (BAPPENAS), also participated and welcomed the volunteers on behalf of the Indonesian Government.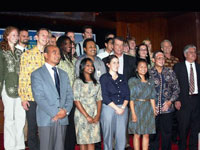 The 19 Peace Corps volunteers will begin their two-year assignments as English teaching faculty members in high schools throughout East Java and Madura. The volunteers represent the broad diversity of the United States.
Peace Corps is delighted by the manner our volunteers have been received by both the Government and people of Indonesia, said Peace Corps Director Aaron S. Williams. The welcome is a testament to the growing bonds between the American and Indonesian people. We are confident that our volunteers will make a profound contribution to greater mutual understanding of Indonesian and American people through their service as teachers and their respect for Indonesian culture.
Since their arrival in March, the volunteers have focused on learning the national language of Bahasa Indonesia and experiencing Indonesian culture through living with host families in Malang. Peace Corps partnered with the University of Muhammadiyah on the volunteers language, cross-culture and technical training program.
The Peace Corps fosters peace, friendship and mutual understanding," said Ambassador Hume. "Your service here supports the new Indonesia-United States Comprehensive Partnership. You contribute to education cooperation at the grassroots community level and you will benefit from your new friendships and experiences."
As Peace Corps approaches its 50th anniversary, its service legacy continues to promote peace and friendship around the world with 7,671 volunteers serving in 77 host countries. Historically, nearly 200,000 Americans have served with the Peace Corps to promote a better understanding between Americans and the people of 139 host countries. Peace Corps Volunteers must be U.S. citizens and at least 18 years of age. Peace Corps service is a 27-month commitment.
# # #
---