FOR IMMEDIATE RELEASE:
Monday, August 30, 2010
14 Americans Sworn-in as Peace Corps/Liberia Volunteers
WASHINGTON, D.C., August 30, 2010 Fourteen Americans were sworn-in as Peace Corps/Liberia volunteers on August 27 at the Ministry of Foreign Affairs in Monrovia.
President of the Republic of Liberia H.E. Ellen Johnson Sirleaf delivered remarks at the ceremony and was joined by Minister of Foreign Affairs Olubanke King-Akerele and acting Minister of Education Matthew G. Zarzar. Karl P. Albrecht, charge daffaires for the U.S. Embassy in Monrovia, swore the volunteers into Peace Corps service.
President Sirleaf\'s remarks may be read here.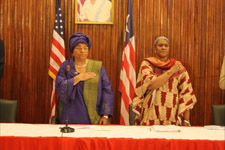 The newly sworn-in volunteers are serving in regular two-year assignments and join five Peace Corps Response volunteers who are currently serving in short-term, high impact assignments in Liberia. While Peace Corps Response volunteers have been serving in Liberia since October of 2008, this is the first time since 1990 that two-year volunteers have served in Liberia.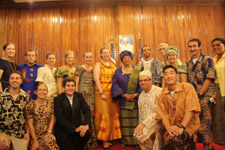 Before being sworn-in to service, the two-year volunteers lived with local host families and participated in a seven-week technical training that familiarized them with teaching in Liberian classrooms. As part of their training, the volunteers helped run a summer school program for almost 150 students in Kakata where they developed lesson plans, taught in classrooms, issued and graded homework assignments, and administered an exam. The volunteers received language training in Liberian English and a number of local languages including Kpelle, Grebo, Mano, Vai, Gio, Gola, or Krahn.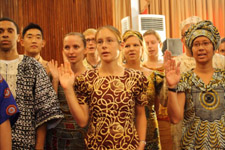 The two-year volunteers will teach math, science, and English to middle and high school students in eight of Liberias 15 counties.
Over 3,800 Peace Corps volunteers have served in Liberia since the program was established in 1962. The program was closed from 1990 to 2008. Peace Corps Response volunteers returned to serve in the education and health sectors in 2008. Peace Corps Response provides opportunities for returned Peace Corps volunteers to serve again by utilizing their skills and experience in places around the world where they are needed the most. Since its inception in 1996, Peace Corps Response has sent over 1,300 returned Volunteers to more than 50 countries. Peace Corps Response service provides returned volunteers opportunities to obtain career-focused experience while accomplishing tangible results in a condensed period of time. To learn more, go to:
www.peacecorps.gov/response
.
As Peace Corps approaches its 50th anniversary, its service legacy continues to promote peace and friendship around the world with 7,671 volunteers serving in 77 host countries. Historically, nearly 200,000 Americans have served with the Peace Corps to promote a better understanding between Americans and the people of 139 host countries. Peace Corps volunteers must be U.S. citizens and at least 18 years of age.
# # #
# # #
---