FOR IMMEDIATE RELEASE:
Wednesday, July 6, 2011
103 Americans Sworn In as Peace Corps Volunteers in Ukraine
Washington, D.C., July 6, 2011 One hundred and three Americans were sworn in as Peace Corps volunteers in Ukraine on June 16, 2011 at the Teachers House, a prominent historic building in Kiev, Ukraine. The ceremony was officiated by U.S. Ambassador to Ukraine John F. Tefft and attended by two members of the Ukrainian government.
I think Peace Corps volunteers have achieved great success in Ukraine, said Ambassador Tefft. When I visit universities and schools around the country, people approach me and praise the work that Peace Corps volunteers do.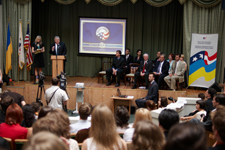 Peace Corps brings to Ukraine the greatest resource of the United State our people. Volunteers work with communities at a grassroots level to create sustainable solutions, said Peace Corps Ukraine Country Director Douglass Teschner. Today is an opportunity to celebrate the friendship between these two countries.
For the first three months in country, Peace Corps provides comprehensive cross-cultural, language, and technical training to trainees. After the trainees are sworn in as Peace Corps volunteers, they will travel to their permanent site in a local community. Each volunteer will serve for 27 months, including training. There is no deadline to apply with the Peace Corps. The agency is recruiting, placing, and training Americans for service in 76 host countries throughout the year.
About Peace Corps/Ukraine:
Nearly 2,300 Peace Corps volunteers have served in Ukraine since the program was established in 1992. Volunteers in this Eastern European nation work in the areas of community economic development, education, and youth development. Many volunteers working on HIV/AIDS prevention and care receive support from the U.S. Presidents Emergency Plan for AIDS Relief (PEPFAR) program. Ukraine is Peace Corps largest program, hosting more than 300 volunteers annually. Currently, 466 Peace Corps volunteers are serving in Ukraine. Volunteers are trained and work in Russian and Ukrainian.
About the Peace Corps:
President John F. Kennedy established the Peace Corps on March 1, 1961, by executive order. Throughout 2011, Peace Corps is commemorating 50 years of promoting peace and friendship around the world. Historically, more than 200,000 Americans have served with the Peace Corps to promote a better understanding between Americans and the people of 139 host countries. Today, 8,655 volunteers are working with local communities in 76 host countries. Peace Corps volunteers must be U.S. citizens and at least 18 years of age. Peace Corps service is a 27-month commitment. Visit www.peacecorps.gov for more information.
# # #
---