Putting Down Roots: Diverse Orchard Establishment in Rural Nepal
One Small Himalayan Village secures their future through investment in fruit tree diversification and Orchard Establishment.
PCV Jessie Hughes' site is a charming village of 1500 or so people, nestled on the edge of the Dhaulagiri range, overlooking the sacred Kali Gandaki Valley. The people, mostly subsistence farmers, are hardworking, cheerful, and forward thinking. For the last ten years they have been trying to establish a market for orange trees, a popular crop within Myagdi District. When PCV Jessie arrived it was monsoon season, and the mountainside orchards were dying.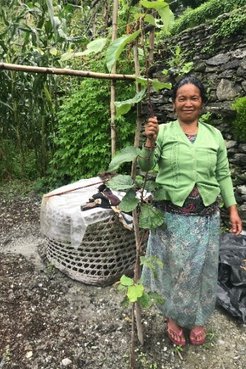 PCV Jessie worked to establish a goal-based dialogue amongst smallholder farmers, community health volunteers, and leaders within the community. The villagers had already demonstrated a desire to improve the nutrition among residents, reforest the area to prevent erosion, establish a new form of income, and provide the village men an opportunity to stay home with their families and avoid venturing abroad for additional income, as is common in Nepal. Fruit tree cultivation was the answer, but species diversity is key. PCV Jessie determined that in lieu of orange trees, which continue to die off despite the villagers' best efforts, the high altitude village showed vast potential for the introduction of several new fruit crops, including kiwi, walnut, and apple.
Jessie worked with her counterparts in 5 separate hamlets to make these seedlings available at government prices to villagers, utilizing Peace Corps' relationships with Government of Nepal horticulture farms across the country. A total of 76 families invested in open-pollinated seedlings.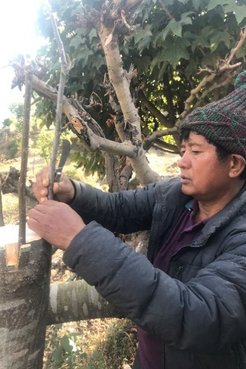 Of those 76 families, 42 are headed by women, acquiring an average of 4 new fruit trees each. Along with the trees, families received trainings on planting, pruning, and future care for their investment. They also received small packets of seeds to establish small, home nurseries, and several community leaders have voiced the possibility of a community-run nursery initiative.
A year after Peace Corps' arrival in this Himalayan village, the orange trees are still dying. However, the kiwi, apples, and walnuts are flourishing impressively, and there are now plans to add peaches, pears, and plums in the coming autumn. Now, PCV Jessie is making plans with her community leaders to create a sustainable, long-term fruit tree cultivation industry within this tiny, but ambitious, Nepali village.