Out of the Textbook and into the Community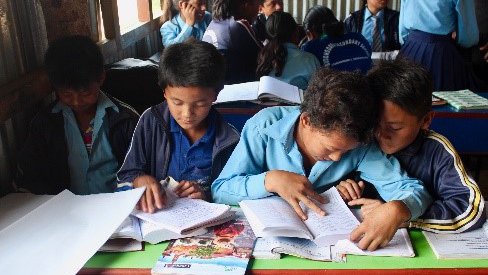 May 20, 2021
In line with the Government of Nepal's Curriculum Development Center, the Peace Corps Education Volunteers have begun collaborating with Nepali counterpart teachers to make and use instructional materials and activities that lead students to practice and apply language skills in meaningful, real-life contexts. Below are some examples of locally available low-cost and no-cost materials that Volunteers have designed and used in their classrooms.
"Tell me about your challenges in business," eighth grader Sneha read from her group's colorful poster. "At first I knew nothing about business. Then my uncle helped me. I got information from the Internet about business and I opened my hotel," her classmate, Shika, replied.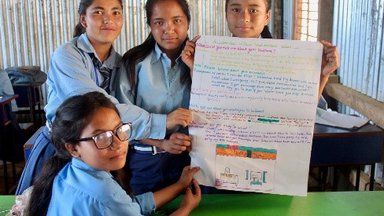 One Education Volunteer's eighth grade students were reenacting their English translation of an interview they had done with a local female business owner. This was the final day of a week-long project they had been working on, applying what they learned about interviewing from their English textbook. Visiting the local bazaar, students had interviewed the barber, the stationary shop owner, the butcher and a hotel owner. In class, students used dictionaries and support from the Volunteer's counterpart English Teacher, Dipak. They then made posters, practiced presenting, and shared what they had learned.
Most students at this Volunteer's school are already bilingual, some trilingual, before beginning to learn English in school. They speak Nepali, Tamang, and a local Newari dialect. Seamlessly switching between languages, the Volunteer's students continually impress her with their linguistic abilities.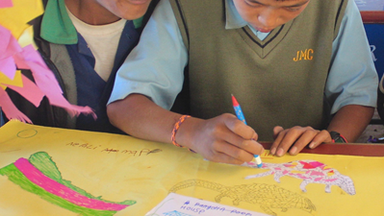 Seeing an opportunity to build on these strengths, the Volunteer has found that community-based project work engages all students, regardless of their English level. For the interview project, beginner level students, who often hesitate to participate in English class, helped conduct interviews, designed posters, and practiced presenting with their groupmates. At the same time, more advanced students were able to push themselves by taking the lead on challenging tasks such as translating interview answers. All students exercised agency over their learning, contributed different skill sets, and practiced collaboration. This increased engagement is, in part, because project work approaches English language learning communicatively, shifting away from the traditional lecture-based, grammar-focused model. Students feel a wonderful sense of pride in their work and it is a joy to witness their excitement for learning as their skills improve.