Mushroom cultivation for nutrition promotion and income generation
Volunteer Sarah Anderson's village development committee (VDC) is located in the Far West of Nepal and is very large with 37 mothers groups and 13,500 people. 
Each village has at least a few malnourished children and there is a strong need for off-season crops that both increase the nutritional value of the family's diet and increase their income.

Many NGOs and INGOs have addressed this issue by funding large-scale, high-risk projects such as plastic houses that grow tomatoes. However, theses tomatoes are fragile and hard to carry over the long distances required to reach the market. Mushrooms are both light weight and yield a high price per kilogram. Overall, mushroom cultivation is both low cost and high value. To address this opportunity, PCV Sarah Anderson  proposed mushroom cultivation to the mother's groups of her VDC because it could increase the protein and mineral content of the family's diet and increase their income.
In September, 2015 Sarah organized 16 mother's groups who were interested in mushroom cultivation. Each group donated their own straw, firewood, dark room, and various supplies for the project. In October 2015, a staff member of the District Agriculture Development Office (DADO) came to train the mother's groups about the theory of mushroom cultivation. In November 2015, another staff member from the DADO office conducted a practical training for all 16 mother's groups. During the training, the mother's groups created bags of mushrooms that were kept at the Alital Health Post as a model colony. At the end of the day, all 16 groups went home with 20 bags of mushroom seed and supplies to develop their own colonies.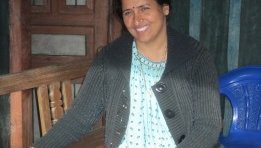 After one month, the mushrooms started growing and each group reported that their colony had produced mushrooms. The highest producing group was the Health Post model colony which produced 35 kilograms of mushrooms over 2 months. Each mother's group both consumed and sold the mushrooms to neighbors. Consuming the mushrooms increased the amount of protein, vitamins and minerals in their diet, and selling them raised money for the household as well as allowed the groups to purchase seeds a second time. Ten of the original 16 groups funded half the cost of seed for the second round of cultivation and have reported that the bags are growing well.
In the words of a community member, their village "is well known for it's quality honey and refined butter. Now we can be known for our mushroom production as well!" Next year, the District Agriculture Office staff has agreed to continue working with the VDC Health Post to bring quality mushroom seed to the people. The knowledge of mushroom cultivation has spread throughout the VDC and is now available as both an income generation project, as well as something that can easily be done at home to increase the amount of vegetables in a family's daily diet.