Nepal
Living Conditions
Communications
Mail
Volunteers can receive mail via Nepali postal system. It is up to each PCV to identify the mail services available in their sites or regions. PCVs must inform the Administrative Unit of their postal address once it is identified. If PCVs cannot open a mail box in their sites, they can use Peace Corps Nepal PO Box 15150 to receive mail.
Never have friends or family send money, tickets, or anything of value through the mail.
PC/Nepal distributes various documents on an as-needed basis to keep PCVs appraised of any important information. If not possible to be sent electronically, or upon request, this information will be mailed to you, though you may also pick your mail up in the office in person.
Packages
Packages sent via surface mail can take a month or much longer to reach Kathmandu from the US, and longer outside the capital. The Peace Corps Office will bear the custom and clearing charges for Volunteers' personal packages received at Peace Corps Nepal P.O. Box 15150 in Kathmandu during pre-service training, however after the aforementioned period, any cost involved in the package release will be passed on to the Volunteer and will be deducted from his/her monthly living allowance. Please note that the customs charge is based on the specific items shipped and the value listed on the declarations form. The customs charges can be quite expensive, up to 90% of the value of the items in the packages. Packages received at Peace Corps' mailing address are transported to the Volunteer only when a vehicle/staff person is travelling to PCV's site or with a volunteer willing to carry the item who is traveling to that area. However Peace Corps is not liable for any loss or damage that may occur to packages during shipment and custom inspection. We recommend volunteers instruct senders to ensure packages at the origin.
If Peace Corps does not deliver the package, it will be responsibility of the receiving Volunteer to collect packages from the Peace Corps Office. PC/Nepal cannot receive packages sent via Federal Express or DHL or other expedited courier services as it requires recipient PCV to go to customs in-person to release goods. So please have sender use United State Postal Service (USPS) to send the mails to Nepal.
Packages and bulky flat mail are routinely opened by customs officials, but are usually resealed with tape, stamped by a customs agent, and forwarded. We suggest that the sender enclose a packing list, or send it separately or even write the contents on the box so that a Volunteer will know if they have received everything. Use good judgment and avoid having items of high value mailed to you if possible.
Peace Corps Nepal mail address:
PCV Name
Peace Corps Nepal
PO Box 15150
Kathmandu, Nepal
Please click here for the list of prohibited items and custom charges on packages.
Telephones
Cellphone reception may vary from site to site. All Volunteer sites have cellphone coverage. For an extra fee, Volunteers may also use cellphones for international calls. Peace Corps Nepal provides all Volunteers with basic cell phones with prepaid SIM cards with preloaded monthly talk-time and data. Volunteers are required to maintain their Peace Corps-provided SIM cards at all times. If you wish to add more minutes to the phone, you can buy cell phone recharge cards at your own expense. Cell phone calls from Kathmandu to the U.S. are relatively inexpensive. If you would like to bring an iPhone or other smartphone, consult with your carrier to determine your options. Note that airport customs allows only one smartphone per passenger, if you are to bring more than one phone, airport customs may charge higher tax for any additional unit.
Internet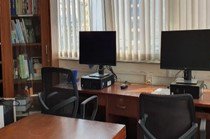 Internet facilities and locations with Wi-Fi can be found in major towns in Nepal. Many offices, restaurants, and houses in urban settings do have Wi-Fi installed. However, rural villages have poor Wi-Fi coverage and unreliable internet connectivity. Depending upon your site placement, you might not have access to internet at your home and might need to travel to the nearest town, which is usually within an hour walk from your site.
Cell phone coverage is almost universal in Nepal and many Nepalis use cell phone data for internet connectivity. Cell phone companies also sell USB modems that Volunteers may purchase to access the internet at their sites or use data available in the cell phone after paying a certain amount.
Although not mandatory, you may bring a portable laptop computer to assist you with your work and internet surfing. Volunteers are responsible for the cost of insuring and maintaining them. The Peace Corps provides a limited number of computers at the Information Resource Center (IRC) of the Peace Corps office for Volunteers' use.
Housing and site location
Currently, Volunteers are placed in the mid-hill regions of Nepal, with elevations ranging from 500 m to 2000 m above sea level. The communities that Volunteers live in will be relatively small agricultural villages or trading towns. Most of the work sites are located in small agricultural villages.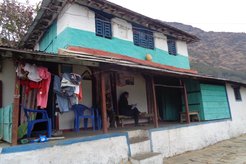 In remote villages, the houses are mostly made up of mud, mortar, and stone. However, concrete cemented houses are available in small trading towns. Peace Corps Nepal conducts rigorous safety and security assessments of Volunteer placement sites and houses. The final sites and houses for Volunteer placement must meet minimum Safety & Security and Medical standards as established by Peace Corps Nepal.
Volunteers are not posted in higher elevations of the Himalayan range where a significant amount of snow falls. Living conditions will be simple, thus flexibility and a sense of humor regarding living conditions will ease transition to the Volunteer lifestyle.
There is no guarantee of continuous electricity, mobile network, or running water throughout the country. Volunteers are required to live with a Nepali family throughout their service. This level of immersion promotes Volunteer inclusion in the daily life of the community, facilitates language learning, ensures safety, and is essential for productive work at the grassroots level.
It is vital that Volunteers form close bonds with individuals and families in the community, so they clearly know who you are and what you are doing. They will also help keep you apprised of changing community issues or help you when you have a problem. As most Nepalis are very welcoming, all it takes is your commitment to make it happen.
Climate and geography
Nepal lies between 80°4' and 88°12' East longitude, and from 26°22' to 30°27' North latitude, covering territory of approximately 147,181 square kilometers that extends roughly 885 kilometers from east to west. Nepal has three physiographic zones, i.e., low land (terai), hill (pahad) and mountains (himal) and covers 17%, 68% and 15% area of the country respectively. The altitude of Nepal ranges from 59 meters to 8,848 meters above sea level. Altitudinal variation provides diversity of flora and fauna in the country.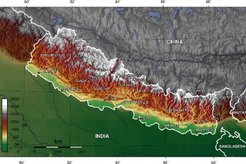 There are six major climatic zones in Nepal—tropical, subtropical, temperate, subalpine, alpine, and tundra/nival/trans-Himalayan. Nepal has four seasons which are autumn (September, October, November), winter (December, January, February), spring (March, April, May) and monsoon (June, July, August). Summer and late spring temperature maximum range from about 28° Celsius in the hills to more than 40° Celsius in the Terai. The higher elevations have much colder temperatures. The monsoon season occurs from June through August/September. Nepal receives almost 80% of total annual rainfall during the monsoon season. Flooding and landslides are major safety and security concerns during the monsoon season.
Currently, all Volunteer placement sites are located in mid-hill regions of Nepal.
Language
Language plays an important role for Volunteers to be effective and productive at site. Language assists Volunteers in community integration, which is the key milestone for Volunteer service. The main goal of Peace Corps Nepal's language learning program is to enable Volunteers to become independent language learners capable of continuing to improve their language and cross-cultural skills throughout their service.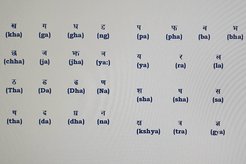 Nepal is a multilingual country with more than 123 spoken languages. The national language is Nepali, and the script is Devanagari. As Nepali is a widely-spoken language, your pre-service training (PST) focuses mainly on Nepali language learning. However, you might require knowledge of additional local languages based on your permanent work site placement. Once your permanent site is announced, Peace Corps Nepal provides additional language support on local languages, including Magar, Gurung, Tamang, and Doteli.
Peace Corps Nepal follows a competency-based curriculum for language learning. This approach includes various teaching methodologies to accommodate different learning preferences, including audio lingual, total physical response (TPR), and other interactive activities (e.g., games, simulation, handouts, real objects, assignments, etc.). To assist Volunteers advance/enhance their Nepali language after PST or gain language skills in a local language at their permanent sites, we provide optional language tutoring support at site as well.
Living allowance and money management
Volunteers receive a monthly allowance in Nepali rupees that is sufficient to live at the level of the local people. The allowance covers food, housing, household supplies, clothing, transportation to and from work, utilities, recreation and entertainment, and incidental expenses.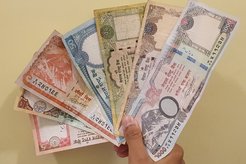 Peace Corps Volunteers are expected to live at a level that is comparable with that of their host country counterparts. The Peace Corps discourages Volunteers from supplementing their living allowance with funds from home.
During training, the Peace Corps takes care of most expenses and provides a small "walk around" allowance. After PST, Volunteers receive a "settling-in" allowance, intended to support the purchase of household items for long-term use (e.g., towels, linens, etc.). Volunteers receive their allowances via electronic funds transfers into local bank accounts, which are accessible by traveling to local bank branches. ATMs are also limited to larger cities and towns. Credit cards can be used in Kathmandu and some tourist areas. There is a risk of potential identity theft associated with using credit cards in Nepal. Volunteers who travel in the region, however, find that having a credit card is essential.
Food and diet
Nepal is known for its richness of delicacies. Each ethnic group has its original dish representing its culture and uniqueness. Volunteers will live with host families to assist them in adapting to Nepali daily life, which includes diet.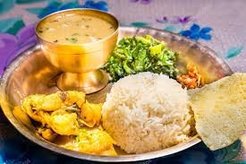 The daily diet of Nepalis is very different from the typical U.S. diet and adapting to it is one of the challenges Volunteers face. The daily staple in Nepal is daal bhaat: a plate of rice, a lentil sauce, and side dishes of vegetable greens and spicy chutneys.
Non-vegetarians prefer meat dishes as side dishes with daal bhaat. Similarly, vegetarians and vegans prefer vegetables with daal bhaat such as cauliflower, spinach, beans, etc. Each household's daal bhaat is slightly different, but for Americans, eating daal bhaat twice a day (the Nepali norm) can get monotonous. Daal bhaat is a fact of daily life, and one that can be accommodated but not completely dispensed with.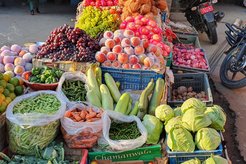 Eggs, milk, meat, and some fruits may be difficult to obtain, particularly in more remote locations. Crops grown in the Hill region include potatoes, corn, millet, pears, apples, peaches, oranges, apricots, and green leafy vegetables.
Imported foods such as cookies, canned fruits/fishes, fresh fruits and vegetables, and packaged soup may be available in some of the larger towns.
The main meats are mutton (goat), water buffalo, and chicken. Fish is available throughout the country, but mainly in the terai region.
Nepal offers many varieties of diets for vegetarian. The local cuisines of Nepal include both vegetarian and non-vegetarian foods. Meat-free cuisine is not a new concept in Nepal.
Transportation
Public buses and airplanes are the modes of transportation for long-distance travel in Nepal. Bicycles, taxis, buses, rickshaws, and tempos (three-wheeled motorized vehicles) are the modes for local transportation. Volunteers are not allowed to operate cars and motorcycles. Some Volunteers choose to ride bicycles and a stipend is provided to those who wish to purchase a basic local bicycle during their service. When riding a bicycle, Volunteers are required to wear helmets which are provided by Peace Corps Nepal.
Travel in Nepal, whether by foot, bicycle, taxi, bus, or airplane, is potentially hazardous and therefore can be very stressful. Delays and cancellations due to bad weather, road or airport conditions, mechanical failures, or lack of personnel are to be expected. Bus travel is particularly difficult, as buses can be dirty and overcrowded and often are not properly maintained. Volunteers must remain flexible on schedules and timing of transportation when there are often delays.
All Volunteer permanent work sites have access to public vehicles (public bus/van) and are no more than 4-hour drive to the nearest town or district center. More information on transportation within Nepal and safety measures will be provided during pre-service training.
Social activities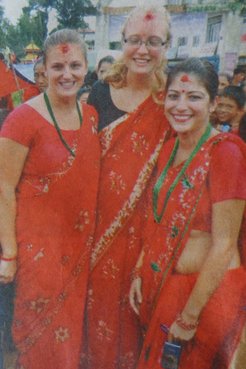 Nepal is a country with an abundance of cultural diversity. There are more than 100 ethnic groups and castes in Nepal, and each has its own customs, festivals, rituals, and other social practices. There are also regional differences. Despite these differences, relationships are very important in Nepali culture.
Depending upon your site placement, you will experience wide varieties of social and cultural customs that are specific to different ethnic groups.
No matter where you live, people will want you to participate in their social activities. If you are invited to attend a festival, wedding, or other social event, it is an indicator that you have been accepted into the community. Such events can be a very good opportunity to build trust, enhance social bonds with your community and help fulfill the Second and Third Goals of the Peace Corps.
Volunteers are expected to adapt themselves to Nepali social conditions, learn local language, and interact with this new culture with respect. Volunteers come to Nepal on the Peace Corps' passports, not as tourists or expatriates, but as representatives of America in Nepal.
Professionalism, dress, and behavior
The Peace Corps program in Nepal enjoys broad support and respect from Nepali citizens primarily because of the dedication and professionalism of the Volunteers themselves. Starting with your journey to Nepal, your appearance and behavior reflect on you, your peers, and the Peace Corps. To ensure a welcoming and inclusive environment for all, Volunteers are expected to demonstrate empathy, cultural humility, disciplined curiosity, and the assumption of best intentions when interacting with Peace Corps staff, fellow Trainees, Volunteers, and community members. We expect all Volunteers to use good judgment when deciding on attire appropriate to different settings.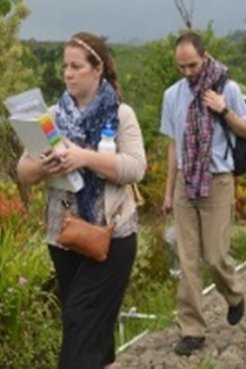 Appearance plays a vital role in gaining the respect of, and showing respect to, people in Nepal. Nepalis are relatively conservative in their dress and Volunteers are expected to dress as their working counterparts do. If a Volunteer's appearance becomes a matter of concern to local people or to Peace Corps staff, Peace Corps Nepal reserves the right to request changes in dress that respect the local culture. Exposing one's body by wearing scanty clothing is distasteful to traditional Nepalis. Women wearing short shorts or revealing tops and shirtless men will no doubt offend the modest Nepali people of those regions.
For official business, we expect Volunteers to dress appropriately in the business casual attire. While optional, some Volunteers prefer to adopt Nepali traditional clothing for formal occasions, and this can include wearing a daura suruwal, a sari, or a kurtha suruwal. In casual settings, Volunteers should not wear anything that would make other people uncomfortable. Clothing should not include profanity or appear distracting or revealing. Our goal is to promote a comfortable, inclusive environment for all Volunteers, staff, and Nepal communities as a whole. Click here to review Peace Corps Nepal recommended dress codes for Volunteers.