Nepal
Director's Welcome
Troy Kofroth, Country Director
---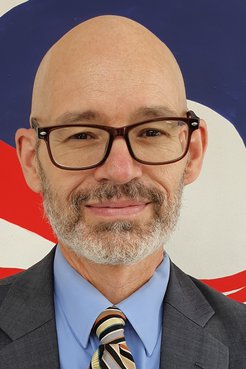 Dear Invited and Future Volunteers:
I am delighted to welcome you to the Peace Corps/Nepal webpage.
If you are reading my letter, you are likely interested in volunteering or have already been invited and want to know more.
By way of introduction, I have lived in Nepal since 2014 working for Peace Corps from 2014-2017 and again since January 2022. I am also a former Peace Corps Volunteer in Nepal having first arrived in 1988.
Nepal is an amazing country and has a long history with Peace Corps. In 2022 we marked the 60th anniversary of the founding of Peace Corps/Nepal when, in September 1962, more than 70 education and agriculture Volunteers arrived in Kathmandu to start their two-year service. In September 2022, we had the opportunity to honor and celebrate Peace Corps Volunteers' service and partnership in this amazing country during an event attended by many Government of Nepal officials and former students and counterparts of Volunteers.
Since 1962, nearly 4,000 Americans have come to Nepal to serve in Peace Corps. These Volunteers have lived in most parts of the countries and worked in many sectors over the years. However, the two primary sectors for Peace Corps Volunteers have always been agriculture and education, and these remain projects of Peace Corps/Nepal today.
Peace Corps/Nepal has been preparing for the resumption of the Peace Corps program since Volunteers were evacuated in March 2020 due to Covid-19. The 208th group of Agriculture/Food Security and Education Volunteers arrived on June 11, 2023. We expect a larger group in January 2024. We are also planning for the start of a Peace Corps Response Program with the first of these Volunteers scheduled to arrive in mid-2024.
The Peace Corps and Nepal partnership is strong. Peace Corps efforts here are based on the ideals of true partnership, friendship, and collaboration. I regularly meet Nepalis – including senior government officials – who were taught by a Volunteer teacher in their youth or hosted a Volunteer in their home. We remain deeply committed to meeting the English language learning and Food Security needs of Nepalis throughout the country, and many partners closely collaborate with us to meet these goals.
Volunteers receive extensive instruction in the Nepali language and culture before they begin serving in their communities, and as they progress through their term of service. Volunteers may also receive basic instruction in an indigenous language such as Gurung, Tamang, or Doteli depending on their site. Volunteers have also historically reported high satisfaction with their sites and work, due in large part to the support that they receive from their communities, their Nepali counterparts, and from each other.
As you research Nepal, you will note that it is both culturally complex and a breathtakingly beautiful country. The country, its rich history, and the spirit of its people are extraordinary. Natural treasures here include the breathtaking Himalayan mountains, including Mount Everest, highly populated mid-hills, and a fertile flatland in the south called the Terai. Nepal is known as the birthplace of Lord Buddha with significant shrines in the Lumbini region. The Kathmandu Valley is home to 7 UNESCO world heritage sites alone!
We hope that you find the information regarding serving and living in Nepal as a Peace Corps Volunteer to be helpful. Please return for updates as we continue our focus on the return of Peace Corps Volunteers.
We look forward to meeting you soon!