Ripples of Change: Girls' Soccer in Mon State
Sports have always been my favorite way to connect with people. Soccer, Ultimate Frisbee, Tee-ball – it never mattered what the game was; instead, what mattered was the community and confidence it inspired.
For me, as a traveler, sports have also been a way to transcend language barriers. Even before coming to Myanmar, I harbored a not-so-secret desire to coach frisbee or soccer at my site. That is why, though my primary assignment here is English Language Education, early on I had a conversation with the P.E. teacher about getting involved with athletics as a potential secondary project. During summer break I had spent considerable hours playing soccer with the neighborhood boys but had noticed no girls were present. My initial goal was roughly outlined as increasing girls' involvement in sports at school. Little did I know I would soon be making a silly new squad of friends or would have the opportunity to go on a memorable trip to a Yangon soccer camp with 15 of my students.
I received my principal's approval to start a soccer club for the 8th and 9th grade girls in July 2018. Every Tuesday and Thursday we would meet for an hour to do technical drills and scrimmage. While the first practice had me questioning my Myanmar language knowledge and whether I had jumped in too quickly, through a mixture of what I have dubbed "Myanglish" and acting, as well as a great deal of enthusiasm and patience on the behalf of the students, we made it work. When the P.E. coach, who dealt with the club's initial logistics and organization, retired in August, I was sad to see her go but confident that I could keep the program running. I loved the community it inspired and the girls did too.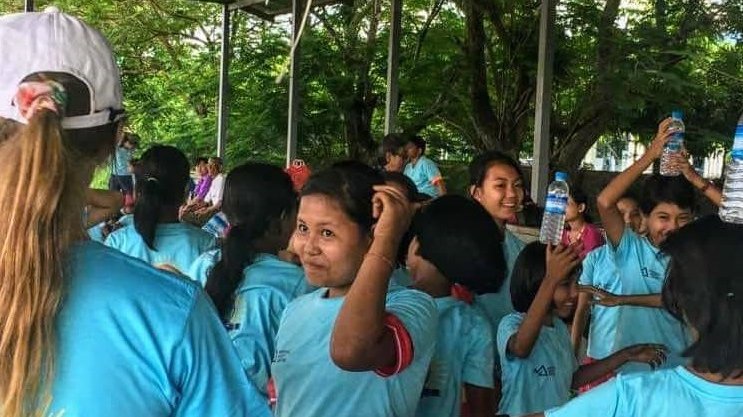 Practices continued throughout rainy season and in October I received word from Peace Corps about a soccer camp in Yangon that the U.S. Embassy was supporting. The camp was perfect for my girls – it had a focus on gender equity and playing for fun. Though there were some logistics to work out and administrative holes to jump through, I was eager to get to work. As I set out to figure out the details with all the various parties and players involved, I recalled my own past experiences at camp and how enjoyable it had been to play, compete, and make new friends. I hoped that my girls would have a similarly fun time. They were certainly excited about the prospect and I firmly believe everyone's enthusiasm in the project was an integral factor in making the possibility into a reality.

The day before the camp we all gathered in a room with our packed supplies: blankets and pillows to sleep on the floor, shiny new uniforms and cleats to play in, snacks and water provided by parents. The girls were excited and joking around, taking selfies and singing songs as we waited for our transportation to arrive. We had some last minute worries about obtaining the appropriate signatures of approval for the trip but it all worked out. Before I knew it, we were in Yangon and the girls were off exploring the nighttime Halloween festival at Happy World, an amusement park. The next morning started early with a trip to Shwedagon Pagoda, Myanmar's pride and joy, for pictures and to pay respects. And then, after a quick, hurried breakfast and trip in our truck, we arrived at Kyaikasan fields.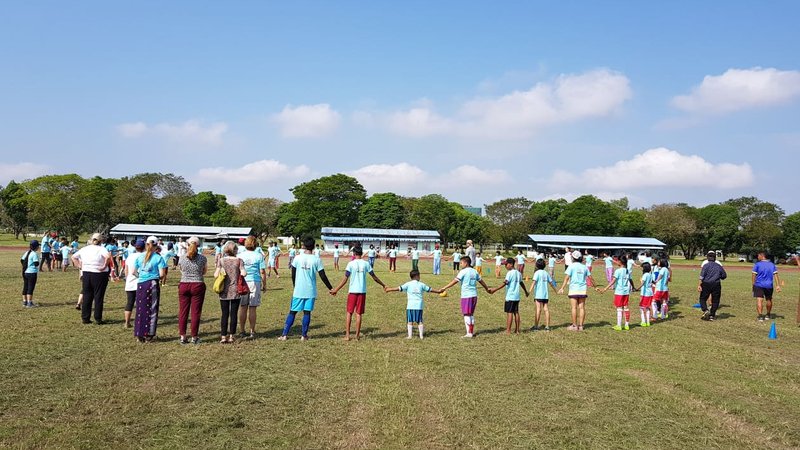 Though many girls were shy to start, after warmups the camp-goers were all smiles, joining in on silly cheers such as "Banana! Shake, Shake!" and "1, 2, 3, Brain Keeto!" and running around with the Myanmar coaches who were leading the drills and discussions.
Watching the camp from the comfort of a shaded pavilion, another American volunteer, commenting on the purpose of it all, said "It's a small thing, like a tiny pebble being dropped in a lake. The goal is to create ripples of change that grow in size over time." The fact is girls' participation in soccer won't increase exponentially over night. At my school of over 1,700 students the group of girls I have been coaching is relatively small and I very much wish we could expand the program to other grades. But I remind myself we must start somewhere. I can only hope that the girls' enthusiasm inspires others to believe in their ability to play too. In time, perhaps, we can get a township-wide girls soccer tournament started. We may have limited materials resources but two things we certainly have are an invested community and time.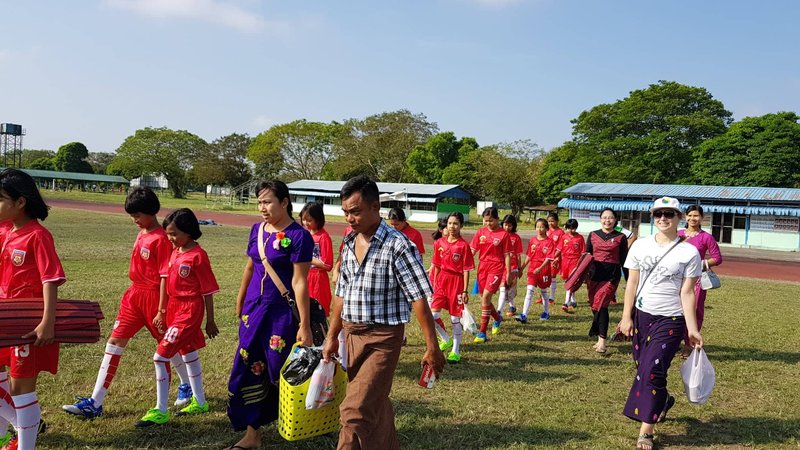 ---