Myanmar: A TEFL Volunteer's Utopia
I've been serving as a TEFL (Teaching English as a Foreign Language) Volunteer in Myanmar since September 2016 and I've loved every second of it.

I've been serving as a TEFL (Teaching English as a Foreign Language) Volunteer in Myanmar since September 2016 and I've loved every second of it. The country is beautiful, the weather is nice, the food is tasty, and the people are exceptionally kind and welcoming. Serving as a Volunteer is always a challenging experience regardless of your sector or host country- Myanmar is no exception to that. Learning a new language and integrating into a new community doesn't happen overnight. However, in terms of host countries with flexible, organized school systems with hardworking and self-motivated students and teachers, Myanmar is hard to beat. 
I came to Myanmar with an open mind and an ambitious set of goals. On October 24, 2016, I started my first class in Myanmar; I was extremely impressed. The class was large (50+) but obedient. The students were attentive, receptive, and eager to learn. My counterpart teachers were very helpful, observant, and prepared to practice new teaching methods.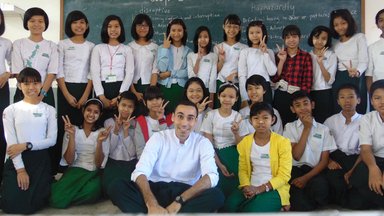 It was because of the students' optimism and eagerness to learn that I was able to accomplish so much. I will give two examples to support this claim. 
Example #1: After a few days of teaching, I assigned students an English name, and then for homework, asked them to create a nametag to place on their desk. The very next day, all 420 students had a uniquely decorated nametag on their desk. 

Example #2: My second example has been the highlight of my service so far. After a few weeks of teaching, I began to identify the students who were way above the curve. I then began to offer a prep course for the Test of English as a Foreign Language (TOEFL), which most universities use to determine English proficiency for non-native speakers.  I explained that the material would be challenging and encouraged all interested students to attend, while hand-selecting a few myself. The very next day I had about 20 students in class. They not only showed up, but also insisted we meet every day instead of twice a week. It was because of them that we were able to complete the World Map Project at our school. 

Working with counterparts is a crucial part of any Peace Corps service. My counterparts worked with me day in and day out, but also supported me every step of the way. I will give another two examples to support this claim.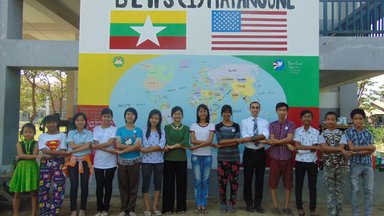 Example #1: I was thinking about hosting a township-wide spelling bee. I didn't know if it was feasible at first, so I ran it by my counterparts. They knew the overall concept of a spelling bee, but didn't know how it worked out logistically. Nevertheless, they immediately requested approval from the Department of Education and sat down with me to discuss the plan for implementation. We ended up hosting five schools with total of 200 participants. 

Example #2: A lot of students were asking that I teach physical education. They wanted to develop their football, badminton, and jump-rope skills. My schedule was pretty full, but I decided to talk it over with my counterparts, regardless. They knew that I enjoyed teaching sports and athletics, so although we had recently finalized my schedule, they talked it over and worked out a new schedule that devoted time to physical education class. 

These are just a few simple examples of my experiences as a TEFL volunteer in Myanmar. I honestly believe that if you carefully consider what you want to achieve with your host country partners, create a plan, create goals, and get permission, that you'll be fully supported by staff/students and encouraged every step of the way. 
So if you are considering the Peace Corps, apply to Peace Corps Myanmar. You won't regret it. I know I don't. 
---