Friendship rising in the Golden Land
My journey throughout Peace Corps Myanmar has been short but sweet. 
As one of the first Volunteers in the Golden Land in a short-term assignment, I wasn't sure what to expect. I knew my experience would be filled with new foods, new traditions, and a language I could hardly understand. I knew I would be immersed in a new environment and would have the chance to share my culture with those that I lived and worked with. What I didn't know, was that I was going to form some of the most caring and genuine friendships that I could have ever imagined.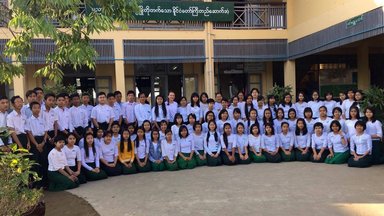 As an English education Volunteer, I am lucky enough to spend my days at the local secondary school with a myriad of kind, intelligent, and strong women. When I first arrived at school, everyone was warm and welcoming. They invited me to sit and eat with them and made sure that I was well taken care of. Naturally, I was a bit nervous and a little anxious from all the attention. I knew my new colleagues were going above and beyond to make sure I felt comfortable and at home, but I wasn't sure if they really liked me. I found myself thinking, "How long until we transition from work partners to friends?"
As the days passed, we began to settle into a routine together. We would pass our time between classes drinking coffee, eating snacks and gossiping about the day to day activities of our colleagues and friends. I learned about their husbands, boyfriends, family members and religious beliefs and asked them endless questions about Myanmar culture and local norms. In turn, they inquired about my friends and family, my eating habits and different aspects of American culture. While we were quickly establishing a positive working relationship, our relationship remained inside the confines of the school compound.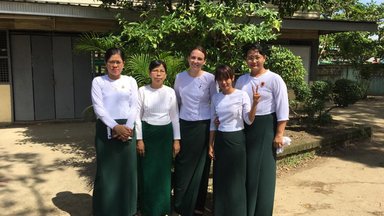 That all changed on a sweaty Wednesday afternoon when a fellow teacher, Daw Hnin Nu Nwe, invited me to the beauty parlor with her. She explained to me that she liked to get her hair washed once a week; it's a time for her to sit back, relax and reflect and she thought I might enjoy it as well. As I sat next to Daw Hnin Nu Nwe in the beauty parlor, I didn't think much of the gesture. I simply closed my eyes and enjoyed it. When it came to an end, we picked up a cold drink and headed on our way.  It wasn't until later that I realized the significance of what had just happened. All of a sudden - and very naturally I might add - our friendship materialized and I realized that we were more than just colleagues; we were friends. 

Since then, Daw Hnin Nu Nwe and I, along with several other teachers, have traveled to multiple regions of Myanmar, climbed a small mountain and visited countless pagodas. We've shared our dreams, ambitions and laughed until it hurt. She, as well as many other teachers, have wholly embraced me and my culture. They have opened their school, their homes, and their hearts to me. 
---