When You Give a Girl a Menstrual Pad
When you give a girl a menstrual pad, she lives a normal life four out of four weeks a month. She goes to school, she plays soccer. And when you teach a girl about her body, she's empowered to take control of it.
I hosted an event for 190 teenage girls in my community in central Mozambique to make over 300 reusable menstrual pads and learn about their reproductive systems, menstruation, HIV and STIs, and available forms of birth control. The pads were made from capulana fabric, plastic rice sack, and towel. Along with my wonderful students, we spent the entire week cutting over 600 capulana squares and 300 towel and rice sack inserts in preparation. Lack of menstrual products and knowledge about menstruation itself is a reality here that keeps girls home from school, using towels and scraps of fabric, month after month.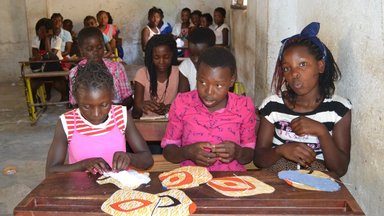 This was my last project as a Peace Corps Volunteer, and it felt like the right note to finish on. Since my favorite projects have included my two fabulous girls' empowerment groups, the workshop camps I've been able to bring them too, and the trainings I've facilitated on gender-based violence in schools and girls health, this event was the perfect culmination. I've wanted to do a big reproductive/sexual health and pad-making day for two years, and, at the 11th hour, I made it happen with the help of some amazing hospital activists and counterparts.
All over the world, periods carry a heavy shame (and heavier cramps). What should be revered as a sign of a healthy body is instead stigmatized as a dirty, shameful event that should never be mentioned above a whisper. We often read about girls being banished from their homes in rural Nepal or from their schools in Southern Africa, but don't we, in the USA, sneak each other tampons in sleeves or pockets, and blush when we put them on the checkout counter?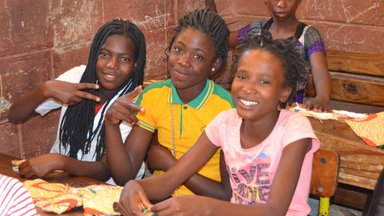 If you can afford menstrual products, it's probably something you have never thought twice about buying, just as you haven't second guessed buying toilet paper or soap. But what if you had to choose between a meal for your children and an over-priced box of tampons? "Period poverty" and shame is not confined to developing countries like Mozambique; it is a severe and traumatizing issue in some of the world's wealthiest countries too. The health risks and shame facing those who cannot afford these necessities are unbearable, yet U.S. government aid programs (Medicaid, SNAP, WIC) exclude menstrual products and classify them as "luxury items" (alongside cigarettes and pet food). Anyone who calls a period luxurious has obviously never had a period. A study done in the USA revealed that one in five American girls have missed school because they did not have access to period products.
For more, read "Getting Your Period is Still Oppressive in the United States"