What Does "Success" in Peace Corps Look Like?
All Peace Corps Volunteers get asked for a success story when reporting their activities at site and every time I am faced with this request, I hesitate.
Several times during my service I've caught myself comparing my "accomplishments" with those of my fellow volunteers. Quite honestly, it's hard not to, and I'm sure I'm not the only one. I can't speak for everyone, but I know that for me, a large part of this was because my notion of a successful service was based on quantifiable markers and tangible outcomes. When I think now about my "success" as a volunteer thus far, I prefer to focus on the intangible.
When I arrived at my current site, I was already six months into my service and incredibly nervous at the prospect of starting over. I didn't have the same advantages as most volunteers starting at site like a foster family or a two-week site visit, but I did have 6 more months of Portuguese language practice and teaching experience. I decided to take advantage of the circumstances and treat the move as a second chance to do all of the things I wish I had done to integrate at my previous site.
The first challenge was to find allies, people who could show me the ins and outs of my new town and help me get situated. Though my new school supervisors were very welcoming and happy to put me to work due to the shortage of English teachers, they were too busy to help me with things like getting around the market. I lived in the smaller of two houses in a shared yard, so I thought befriending the tenants of the main house could be a good strategy, but they were rarely home and kept to themselves. They also had five large dogs that scared the neighbors and kept away any potential visitors. I felt isolated, and quitting crossed my mind more than once. But, I knew I wasn't ready to leave just yet.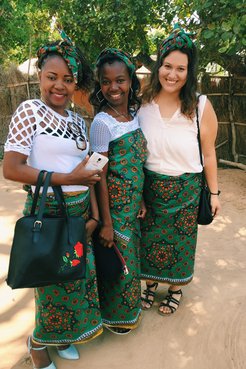 Since then, I've worked hard to forge the meaningful relationships I have here at site. I realized the easiest people to get to know were my students, who were already spending 3 hours a week with me. So, I began to walk the half-hour home from school with my students so I could get to know them beyond the classroom and continue improving conversational Portuguese. It was from those walks home with students that I was able to start an English Club with kids who wanted to improve their English but felt too intimidated in the classroom setting to ask for help. It was also from these walks that I began to meet some of the families of students who lived near my house. Those initial relationships brought me the people I now consider my best friends.
Fast-forwarding many months, I feel quite fortunate to have made a group of friends at my site who are all twenty-somethings. Some work as primary school teachers, one has a cellphone repair stand in the market, one is a music producer, one braids hair for her neighbors, and almost all of them have various other "side hustles" that they do to make some extra money. Having friends that are my age has meant a great deal to me and I consider them my stand-in foster family. I learned most of the Macua I know from sitting on the straw mat under a tree with my friend Alice as she braids a neighbor's hair and they converse about their friends and families. I've exchanged many recipes with my friend Sumane and his family on weekends in their yard. I've had fun afternoons going out to the stadium to watch our friend Faizal play for the local soccer team. All of these bonding experiences have enriched my time at site, but they're also venues for casual conversations in casual settings about Malaria, HIV/AIDS and STIs, domestic violence, alcohol abuse, and education.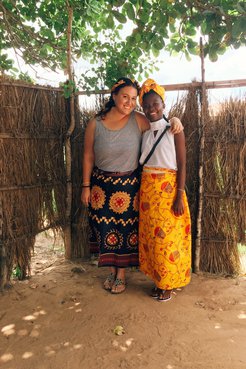 Participating in these events and conversations has gained me the trust of my friends and community members, which is why I feel honored when I'm invited to participate in initiation ceremonies, weddings, and funerals for relatives of my friends. This past December, a primary school teacher friend of mine invited me to attend her sister's wedding in Ilha de Moçambique. It was my first traditional wedding and I tried not to inundate my friends with what I'm sure seemed like questions with obvious answers. In Macua culture, most girls have an initiation ceremony or ikoma to establish their coming-of-age in which they are taught about sex and other aspects of womanhood. I had attended many of these for young girls and teenagers, but I didn't know that there is often a second ceremony right before a woman's wedding to teach her how to be a good wife. While I don't agree with all of the advice and information transferred in this ceremony, I feel privileged to have been invited and I deeply appreciate the value of this all-female space and the transference of knowledge from one generation of women to the next. It was also important to understand that while I don't necessarily agree with all of the information presented to the bride-to-be, that this was not my space to correct. I was given the chance to contribute advice, which I did, but far more importantly, I watched and listened, and left the ceremony with a greater understanding of women's attitudes towards marriage, their role in domestic partnerships, and sex, which has informed all of my discussions since with members of my community.
To me, this is a success; I exposed myself to a new and unfamiliar experience and was open to learn and to listen to the women around me. Because of this, I have a more informed perspective and I am more trusted by my community because they know I participate in the traditions of our community. I haven't started a community library and I don't have a soccer team, and that's okay! I am a dedicated teacher and I've seen vast improvements in my students' capacities during my time here, but what I'm most proud of is how I've integrated in my community and the opportunities that I've had to connect with people in settings I never anticipated. I hope if you're a Volunteer reading this, you feel encouraged to see the intangible successes of your service.