THE POWER OF COOPERATION: TRANSFORMING THE UNUSED FORMER CAFÉ INTO A THRIVING ENGLISH CLUB
Learn how Peace Corps Volunteer Patti and counterparts Dana and Adnan established an English club for her community's kids and adults. The club classes are not merely theoretical; English is taught in practical and entertaining situations. Cultural activities related to art, music and films are carried out in each session since Patti and her counterpart believe that students should study in a pleasant and practical way. Isn't this exciting?
Patti's words will tell you more about this initiative.
"In mid-July, we rolled up our sleeves and grabbed buckets, brushes, and disinfectant to prep a weary and unused former kafana (café) into a bright and airy meeting space for kids and adults. We wanted to offer a place for local children and adults to be able to express themselves in English through art, music, film, and conversation. When we opened the doors on July 25th, we greeted a handful of curious community members who quickly and quietly spread the word and our English club has increased significantly every week since, welcoming old and new members.
The club offers three distinct sessions for three distinct audiences. One session is dedicated to elementary school age learners, ages 6-12; while a second timeslot is dedicated to middle and high school members, ages 13-16 and finally, our third group is comprised of adults trying to learn the language for the first time. Each session is approximately one hour long providing language-level appropriate games, activities, and projects to further English language proficiency and confidence.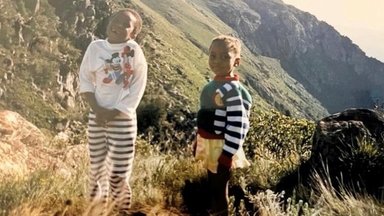 The setting, generously provided by one of our counterparts is situated along the local river, which offers a relaxed and informal venue to foster English language learning to our members. Each member is invited to select a brick located on a wall inside the club to paint and decorate in any manner he/she chooses. We were also able to obtain posters and books from the American Corner, and local community members to further create a welcoming atmosphere. These efforts culminated in a user-friendly meeting place open to all interested in furthering their English language skills.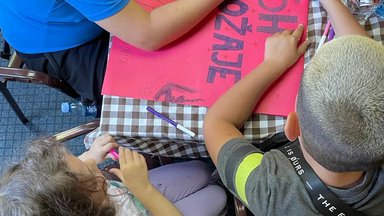 There is no mandatory attendance required so members can come when it works for their, or their family's, schedule. Certain sessions were full to the brim while others had perhaps only one or two attendees. Whatever the number, we were able to provide activities to engage that particular audience. The Club's acceptance and success is entirely due to the enthusiasm of its members and the parents who encouraged their children to attend."
As we commend Patti, Dana and Adnan for their outstanding initiative, we would like to acknowledge the efforts of all Peace Corps Volunteers serving in Montenegro and collaborating with local community members on locally prioritized education projects. Volunteers' work in Montenegro focuses on increasing students' and teachers' English language abilities as well as providing innovative teaching techniques to teachers. Volunteers create non-traditional learning events such as English clubs or other programs that promote English speaking outside school hours. More stories from our Peace Corps Volunteers will be posted soon!
---