What I Eat in a Day: Pre-Service Training Edition
When I accepted my invitation to serve and began preparing to come to Moldova, one of my biggest questions was of course: what am I going to be eating every day?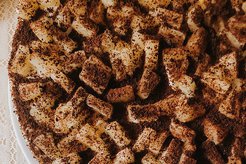 During Pre-Service Training (PST), I was lucky enough to have a wonderful host mom who cooked all of my food for me. This is one of the requirements of being a host family for a Peace Corps trainee during PST, because all of us trainees spent 8 hours daily in training the majority of the week, plus any studying we did outside of our language and technical classes. We aren't expected to cook for ourselves!
So here are my meals on an average "school day"!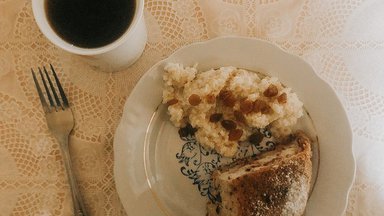 BREAKFAST
Before school, I usually ate some form of oatmeal or other grain. My host family collects most of
the food they eat from their own farm, including the honey that was always present at the table. I liked honey in America, but here I can't get enough. I didn't know what I was missing out on when I used store-bought honey instead of fresh honey! I ate it on pretty much everything - including my morning oatmeal, along with some raisins or other dried fruits.
My host mom is an amazing baker, and every week she prepared a different cake. In this picture is one of my favorites that she made, an apple cinnamon cake with powdered sugar.
I also am just as caffeine addicted as when I was a college student in America. The only difference is that here it is more common to drink instant (stir-in) coffee, as opposed to sharing a coffee pot with my roommates.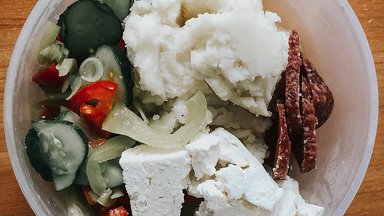 LUNCH
My host mom made me a cute little packed lunch every day to take to PST school. This typically included a salad (with fresh bell pepper, cucumbers, cabbage, onions, and tomatoes from the family garden) and brânză (a soft, white, homemade sheep cheese).
Along with my host family's mini bee farm and vegetable garden, they also have chickens, turkeys, and cows. Food in a Moldovan village is almost always guaranteed to be directly "farm-to-plate" so to speak, and it is one of the things they're most proud of! Usually each meal I ate with my host family consisted of a conversation of where exactly everything on our plates came from.
This particular lunch also included mashed potatoes and some pepperoni-like sausage. We were told before we moved to our PST sites that our host families would be very keen to give us as much food as we could possibly eat, and then maybe a little bit more. If at the end of your training or service you leave your host family's home having gained weight from all of the delicious potatoes, bread, and other various Moldovan-favorite carbs, then the host family feels accomplished and successful in having had you as a guest!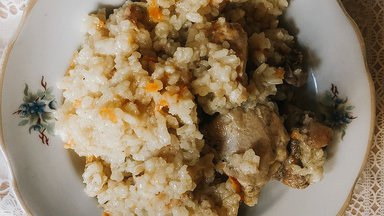 DINNER
Dinner is usually a grain, chicken or turkey (the two types of poultry raised at our house), and bread. I especially liked my host mom's rice, which she cooked in a meat broth for extra flavor.
A large masă (meal) seems to be the preferred way of celebrating anything here in Moldova. At the start of my living with my host family, I was invited to a commemorative masă in memory of my host father's father. Before we ate, each person at the table was given a colac (a traditional bread that is twisted into a hoop shape) and a lit candle, as a sort of toast to the suflet (soul) of the departed person. Although I knew that many of my host family's extended relatives lived in the same village, this was the first time that I had met many of them, all gathered to commemorate their shared family member. I think that my being included in this experience is very telling of how kind and welcoming Moldovan people are.
Poftă bună! (Enjoy your meal!)