Training Volunteer Leaders
"Mr. Chris, why did you become a volunteer?"
I was asked this question over and over recently at Wave Week Moldova, a week-long summer school camp for future volunteer leaders.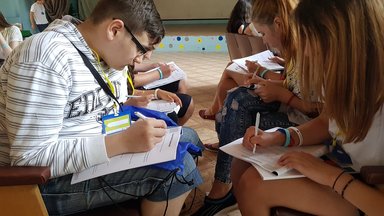 Among the participants was Nastea, a 16-year-old girl from the capital who is now working on a project related to mental health, planning another project to fight discrimination and also getting ready to donate some of her very long hair to a cancer charity. Nastea told me she learned at Wave Week "if you really believe in what you say, it'll become true."
Sergiu, a 14-year-old boy from western Moldova, is working with a local center that serves people with disabilities, orphans, the elderly and others who need help. He met "many great people" at Wave Week, he told me, and learned to communicate more openly and create volunteer projects.
Masha, a 16-year-old girl from southwestern Moldova who loves books, has started a volunteer project with her local library to increase reading through contests and other ways. She'll be working to continue the work of a Peace Corps Volunteer who just finished her Peace Corps service.

They and almost all of the nearly 100 other Moldovan campers who gathered at this residential camp near the capital impressed me with their drive, motivation and commitment to their communities.

Wave Week Moldova, which just completed its ninth summer camp, has the only international chapter of a program started in the United States more than 30 years ago. Led by a group called Spark the Wave USA, it teaches motivated young people about leadership and communication skills, how to identify needs and assets and how to run volunteer projects. About 20 experienced former participants return as youth staff to lead most of the training, with assistance from several Peace Corps Volunteers and other Americans. Moldova's Creative Development Association organizes the program with support from the Ministry of Youth and Sports.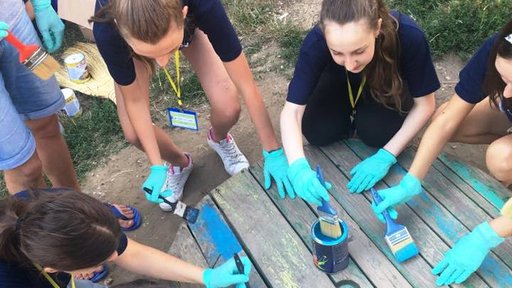 This was my second summer working with the camp, which has been a highlight of my Peace Corps service. I've gotten to know a lot of the camp "delegates" and have seen how they continue to work back in their communities long after the camp ends. They are doing amazing things throughout this small East European country.
Volunteering is a relatively new idea in Moldova. Indeed, some older Moldovans are surprised young people will work on projects without being paid. When Wave Week delegates meet Peace Corps Volunteers who volunteered to spend more than two years of their lives away from home as a volunteer, it's no surprise they are curious and ask us why we did this. I tell them I became a volunteer because I believe in the Peace Corps mission of promoting peace and friendship through volunteer service and culture exchanges.
Inevitably, our conversations reconnected me to why I applied to become a volunteer in the first place. As I talked with these young people every evening about their day's activities, they inspired me more than I could possibly motivate them. I know my fellow Peace Corps Volunteers at Wave Week felt the same way.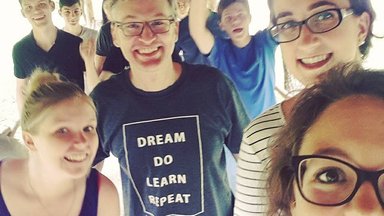 For instance, 17-year-old Maria recently returned to her home south of the capital after spending a year as an exchange student in Maryland with the FLEX program. She's now joined with others to conduct several fundraising activities to help socially vulnerable families. She plans to participate in the Diamond Challenge contest for young entrepreneurs. She's also working with local organizations to organize information-sharing events at her school and increase volunteerism among her peers.
I could cite so many other examples. As a group, these young Moldovans want to improve their world and are rolling up their own sleeves to help fix the problems of their communities. Working with them has not only reminded me why I became a volunteer myself; it's also reaffirmed my own commitment to continue volunteering after I return in a few weeks to life in America.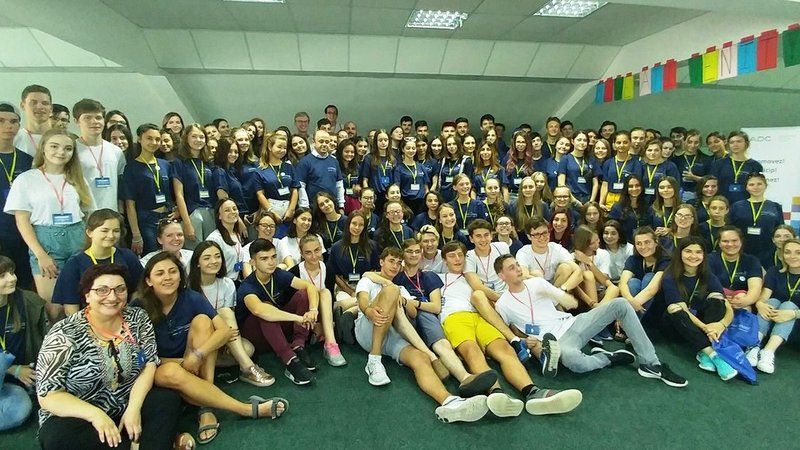 ---