'Super Moldovans' Who Inspire Volunteers
Peace Corps Volunteers are honoring local people who inspire them with a social media campaign called "Super Moldovans."
Peace Corps volunteers seek to inspire people in the countries where they serve, but inspiration moves in the other direction, too. Here in Moldova, volunteers recently began honoring some of the people who inspire them with a campaign on Facebook called Super Moldovans.
Donna B., formerly a professor at Howard University, called her school director, Eudochia Babalici, a Super Moldovan for working "so long, with so little. She is a true inspiration to me."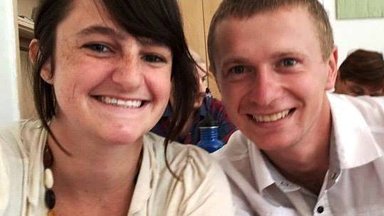 Celia J., a volunteer from Ohio, selected Ruslan Bistrița, a science teacher from her school, saying that all of the students and teachers "admire his dedication, kindness and willingness to help. I feel the same way and am lucky to work with him."
Tom C., a retired attorney from California, saluted his Moldovan friend Ion, a former policeman. "He and I both grew up during the Cold War," Tom wrote. "As boys and young men we were told by our respective governments that we must not trust one another. It was inconceivable in those days that Dom' Ion would ever invite an American to live in his house. But he did and now we are friends."
Other Peace Corps volunteers in Moldova have also been posting these short tributes, in both Romanian and English, on a Facebook group page open to the public. Since Facebook is popular in Moldova, local people can see the nice things being said about their neighbors.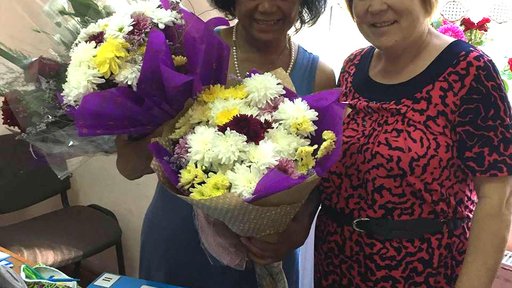 The response has been gratifying. Donna wrote: "When I showed the Super Moldovan page to my director with a picture of the two of us, her face lit up as though I had given her a pot of gold. I swear I made her day. She began sharing it with friends and family. She recently lost her husband and this is the first time in weeks I have seen her grin from ear to ear."
Chris F., from Ohio, got a similar reaction from his Super Moldovan, Ana Mirza, with whom he worked closely on Diamond Challenge, the annual international competition that encourages student entrepreneurs. He says Ana's face "absolutely lit up. We often tell each other how much we appreciate the work we both do on the project but this gesture seemed very important to her and I'm very happy to have acknowledged her publicly."
The Super Moldovans project began after Peace Corps Moldova country director Tracey Hébert-Seck expressed interest in highlighting not only the great work done by volunteers but also by the host families, job partners and others who inspire them. Liuba Chitaev, who oversees communications for Peace Corps Moldova, has been managing the campaign, which she and I initiated.
We've been humbled by the posts we've seen. Michelle M., a volunteer from California, honored Rodica Novak, a senior in her high school whose "enthusiasm never ceases to amaze me."
Haley B., from Virginia, cited Anna Nikolaevna, a retired journalist who participated in her region's independence struggle and remains active preserving the local culture. "Anna shows me what it means to live positively," Haley wrote. "I admire her generous spirit, openness to other cultures, hard work and dedication.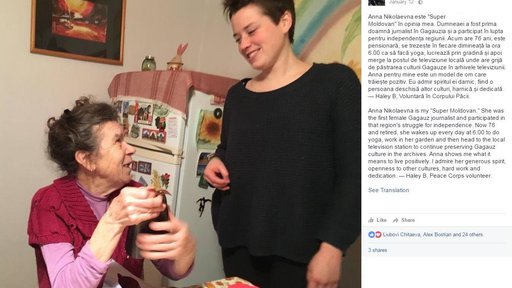 Alex B. from North Carolina honored his host mom, Valentina Efticov. Katrina B. from Virginia chose Nadejda Stoica, an English teacher and community leader.
My favorite entry was from a married Peace Corps volunteer who described her host family's 86-year-old grandmother who travels on public transportation every day to Moldova's capital, where she sells goods in the outdoor market. "It is amazing how much energy she has," the volunteer wrote, describing the grandmother as "a caring person who makes me feel like a member of her own family. I am so lucky to know her."
That volunteer is my wife, Champa, shown in the top photo with Nadejda Ciornea, who inspires me, too. She and the others being honored in this social media campaign have enriched our time as volunteers and given us hope for our host country's future. They show how ordinary people can have a super impact on Americans and their own communities, in Moldova and around the world.
---