Spring Has Sprung: My First Orthodox Easter
Please don't make me wear my big puffy jacket one more time!"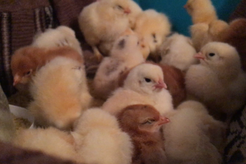 For the past few weeks, my official saying was "Aștept cu nerăbdare primăvara," which roughly translates to "Can spring get here ASAP?!? I don't think I can handle one more day of this dark, depressing winter. Please don't make me wear my big puffy jacket one more time!" I joke, but, in all seriousness, it basically means "I can't wait for spring to come." And come it has.
The first day of sunshine and warmth brought a wave of euphoria over me and the rest of my village. I swear I could hear a collective sigh of relief from every Moldovan family waking up that morning. If there is one thing I have observed, Moldovan's in my village despise being indoors. Their work is outside, in the sun and the fields and the gardens, and when they are cooped up in the house for the majority of winter, I see a major shift in their moods. Seasonal Affective Disorder is real y'all, and it is cross cultural! With the start of spring, it felt as if every bloom was releasing ionized Prozac into the air and we were all breathing it in. That may sound a tad bit dramatic, but I just want you all to understand the severity of all of our emotional changes.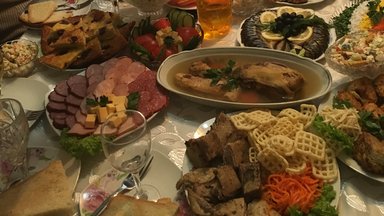 With the start of spring is also arguably the biggest celebration on the Moldovan calendar: Paști, or Easter. Moldova is an Orthodox country, so we celebrate Easter one week later than those of you in the United States. Leading up to this holiday is post, or the fast. It's 40 days in which Moldovans abstain from eating meat or dairy products as well as drinking alcohol. We instead resort to eating something a bit simpler: the humble potato. I have never in my life eaten so many potatoes! My body was about 80% starch, 15% pickled tomatoes, and 5% dill. Joking aside, this is a time for Orthodox Christians to take care of the soul, as is similar for Muslims during Ramadan, Jews during Yom Kippur, and many other religions across the world during their fasting period.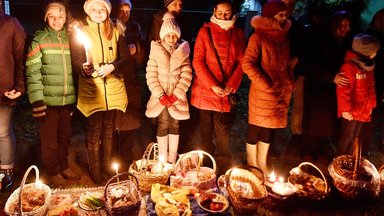 Three days before the big day, the cooking began. My host mom spent most of her time in the kitchen, preparing the various meats, salads, soups, and pasca (sweet bread). We also dyed eggs; however, unlike in America with its pastel colored eggs, the only color we used was red. We took the skins of red onions and boiled them in water, creating a concentrated dye. We then boiled the eggs with the dye, producing these rich, dark, red eggs. My host mom told me that some new age Moldovans do use other colors, but our village is very traditional and only uses red.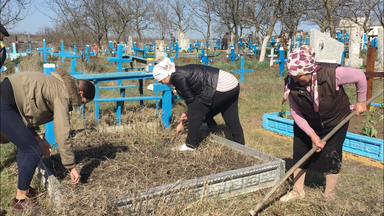 The night of Easter, my host mom trekked to the church at 11pm for the midnight mass, while my host dad and I took a short nap. We joined her at the church at 3am, bringing with us a basket filled with a portion of the food that was to be blessed with holy water by the priest. The church and roads were illuminated by moonlight and hundreds of candles with their flames flickering in the wind. As the priest passed I noticed how happy everyone was. People were laughing and joking as the freezing cold water was tossed around. My host dad even yelled at the priest "I don't think the American got enough" to which the priest responded by dowsing me with water and laughing. Once our food was blessed, we made our way back home for a little masa (meal). We ate, we drank, we were merry, and by 8 am we were all back in bed.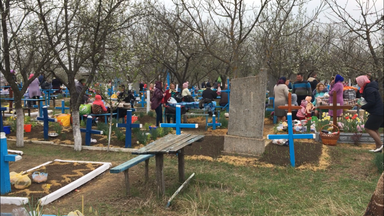 The days that followed involved a lot of masas and a lot of meat. I joked that I ate more meat in three days than I had the entire time I lived in Moldova. I especially enjoyed the rabbit, which I helped to kill, skin, and prepare. We also went to the cimitir (cemetery) and spent several hours cleaning the graves of my host family's family. The cimitir is located near the edge of the village on the top of a hill and you can see the entirety of the village bellow. There, generations and generations of families are buried, each with their own cross. Next to each plot is a table, the use of which I will get to soon. It was a wonderful time and a true family affair.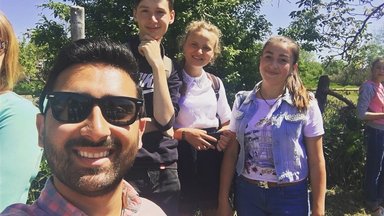 That brings me to Paștile Blajinilor (Memorial Easter), 8 days after Easter. My host mom explained the celebration to me by saying "Last weekend was Easter for those of us who are lucky to still be living. Today, we celebrate Easter for the dead." Almost every family in my village made their way to the cemetery and brought with them adornments for the graves and food for their stomachs. The priest gave a small service and then we spent the morning eating at the aforementioned tables, sharing stories, food, and wine with anyone who passed by. As I walked through the cemetery, students waved to me and families invited me to their tables for a little bit of food. There are moments of our service that we will remember forever, and this is certainly one of them.