The Sky Is Not the Limit: Calling Space with Moldovan Youth
Growing up in Colorado, I often found myself outside on crisp clear winter nights, watching the stars drift by and remembering a time when explorers used the patterns written in the stars to navigate home after a long journey.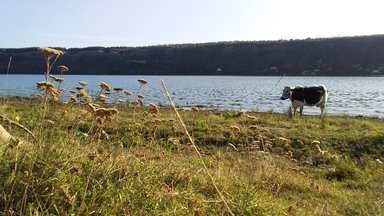 In June of 2019, I embarked on my own quest 5,757 miles away to the Republic of Moldova as a United States Corps Volunteer. Little did I know at the time, that this journey would involve everything from herding all the cattle in my village on a lazy Saturday all the way to calling actual astronauts orbiting the Earth, with plenty of other small adventures in-between.
Adapting to a new culture and country is never a small task, and in the beginning of my Peace Corps journey, I often found myself looking to the sky to remember those distant Colorado winter nights. As time went on, the customs of day to day life in Moldova became more and more familiar. From learning how to cross the country on rutiere (minibuses) to helping my host mom in my training village stack firewood in preparation for winter, life was becoming more familiar, and Moldova was becoming my new home. For a while, I stopped looking to the stars for the comfort of home. Not because they had become any less inspiring, but my eyes were now firmly fixed here on the ground in Moldova. Every day I saw firsthand, the amazing work of my fellow volunteers, the beautiful dedication of our Moldovan partners and in-country staff, and most of all, that familiar spark of joy so common among the wonderful students in Moldova. As an informal educator, I had the honor of helping young people turn that spark into their futures, and I distinctly remember my own upbringing and the opportunities I had looking through telescopes and watching meteor showers as a child that so sharply define who I am today. So in thinking about the youth I was so lucky to interact with, I yet again turned my gaze skywards, but this time to think about what opportunities I wish I had as a kid, and how we were going to make those experiences happen for our youth in Moldova.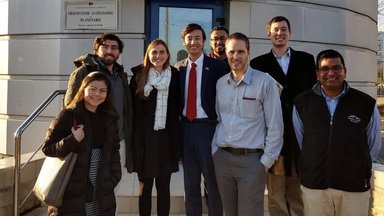 Moldova is a country built on relationships. This is one of the many beautiful aspect of Moldovan culture, and if you want to get anything done, it always helps to share some tea and dedicate time to knowing the people you have the honor of working with. Unfurling one of my suits, which had somehow survived the 12-hour flight and months of neglect in my closet, I hopped on a dusty rutiera (local minibus) and headed off to the capital city Chisinau along with nine other volunteers who were also passionate about bringing space opportunities to our students. When I say space, you might think of NASA or Roscosmos and the likes of Neil Armstrong and Yuri Gagarin, but Moldova too deserves its place among the best! Our journey to the Capital took us to The Center of Excellence for Space Technologies. The Center has been working in the space field for years, seeking to apply satellite technologies to diverse issues of importance to Moldova, from remote crop sensing of the bountiful sunflower, and corn harvests that grow abundantly in the rich Moldovan soil, to helping localities better respond to and recover from flooding on the major rivers that outline Moldova's borders. The Center even plans to launch Moldova's first satellite in the coming years. It was among these excellent scientists located right here in Moldova, that we found fertile grounds to plan exciting opportunities for students. Especially with the help of Dr. Nicolae Secrieru, the Vice-Director of the Center, an educator of immense technical expertise and also on open mind who does anything and everything he can to inspire Moldova's youth to look skyward for their futures. Together our group of volunteers, with the support of Peace Corps staff and our local partners back in our cities and villages, began planning anything and everything we could. What is certain, is that our teacups never ran dry. This was March of 2020.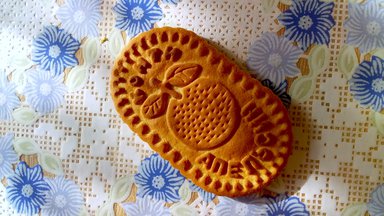 Then struck something few could have imagined, as a mystery virus evolved into a debilitating pandemic that would so greatly impact the lives of so many. For the first time in almost 60 years of service, the U.S. Peace Corps suspended volunteer operations. From then, things sadly got only more difficult in the world. As an adult, with how hard it is for me to process the immense human loss and disruptions to our societies over this past year, I cannot begin to imagine how this is for the young people in our lives. Returned home to Colorado, I largely isolated myself from society. In fact and in true Coloradoan style, I left for the remote mountains to be alone in the woods for a few weeks.
But, the world kept spinning and somewhere in a dusty office, an applications us Peace Corps volunteers had submitted with our local partners in Moldova to an organization called ARISS, which does educational radio calls for students with astronauts while they fly on the International Space Station, was against all odds, still being reviewed and ended up being accepted. Moldova, if we wanted it, would have students talking to astronauts in 2021, but how could we organize such a thing now?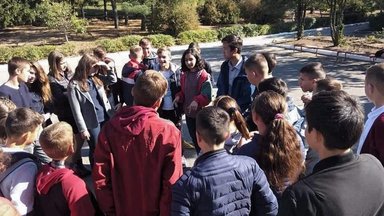 Peace Corps, is what it is, not just because of the volunteers. When all the volunteers left, the real heart of each Peace Corps mission stayed in each country with it's dedicated local and American full time staff members. Even without volunteers, they continued to serve their community in the face of great adversity and uncertainty. When I got the email that our proposal to let our students call an astronaut in space was accepted, these dedicated staff members back in Moldova were naturally my first call. The question we had to think about was, how would we connect students in a Moldovan village across three time zones, two languages and during a global pandemic – to a space station traveling at over 17,000 mph and 220 miles above Earth! No small task. But, in the words of John F. Kennedy, in a speech given only a year after he had founded the Peace Corps, he said while referring to efforts to go to the moon at the time, "We choose to go to the moon in this decade and do the other things, not because they are easy, but because they are hard, because that goal will serve to organize and measure the best of our energies and skills...". Close to 60 years later, it also turned out the Peace Corps, with its dedicated staff, the planning of that hard working group of volunteers, our local and international partners, and a few virtual tea time chats, had plenty of energy and skill to meet the task at hand, even if it would certainly be one of those "hard things" President Kennedy talked about. So while we had to par things down, and it was certainly much simpler than flying to the moon, this is something we still wanted to do. Especially during a pandemic that has been so hard on us all, our young people especially, activities that help our young people dream of a bright future, certainly have impact.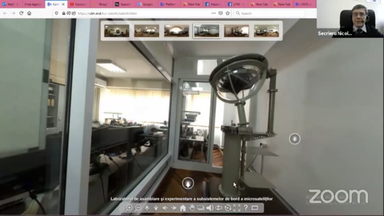 A few months and much hard work by so many dedicated partners later, I was standing on a dirt road in rural Virginia looking skywards, as I always am. A puff of smoke appeared in the distance, and a flash of light rose into the sky as the ground began to curl under my feet with a thunderous roar. The rocket was delivering supplies and experiments to the International Space Station, which our students back in Moldova would soon call on the radio. As the radio call got closer, the questions the students intended to ask took shape. Evelina, a youth in my community planned to ask the first question, "why did you choose this job?". Soon enough the day itself had come, and through the crackle of the radio, Evelina read her question, to which Astronaut Mike Hopkins replied, "it was something that I always dreamed about". Another question by Dumitru, about daily activities on the station mentioned experiments that I had seen being launched on that rocket just weeks earlier, involving worms in space and how space flight affects muscles. Valeria, a student in Chisinau, also asked a great question that got to the heart of our goals in dreaming about the future, about the last moon mission and when we are going back, to which Astronaut Hopkins highlighted both the difficulties but also his hope that we would go soon and that maybe even one of our students might someday put footprints on the moon.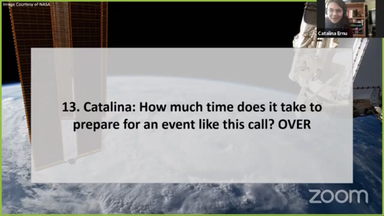 As the radio began to crackle and our call ended, I hoped our students in Moldova grew to share the same sense of awe and excitement I was so lucky to be given by an educator who had the foresight to plant those seeds of curiosity in me when I was a child, during a much calmer time than now. As a now Returned Peace Corps Volunteer, and especially during times when things are hard on youth, it's in opportunities like this space call, that we have the honor and responsibility of paying forth those same opportunities for curiosity that in our childhoods', we could only dream of. Every partner, from an open minded professor at a university in Chisinau, to the hard working Peace Corps staff still serving in Moldova, had a hand in building those dreams. As for me, I still catch myself looking to the skies. While I wonderingly dream of explorers using those maps hidden in the stars to get home, I now know home will always be in two places for me, and the Republic of Moldova is certainly one of them.