Singing With the Village Choir
I love to sing but always did it alone — in the shower, on long car rides alone or whenever my roommates weren't home.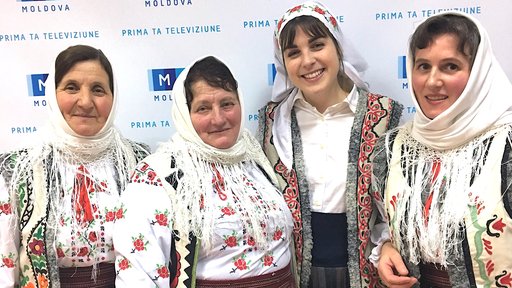 I spent ten years learning various instruments and taking voice lessons, yet music remained intimate and personal for me. It was something I enjoyed utterly but couldn't bring myself to produce in front of others, whether due to irrational anxiety or self-consciousness.
I wanted to change this. In fact, singing karaoke was one of my New Year's resolutions for the past two years. I even knew which songs I would choose: "Valerie" by Amy Winehouse, "Teenage Dream" by Katy Perry or "Doo-Wop (That Thing)" by Ms. Lauryn Hill. But whenever the moment presented itself, I just let it pass.
Then I came to Moldova this past summer to serve as a Peace Corps Volunteer.
Moldova is a country that fearlessly flaunts its love of traditional music: accordions, bells, shouting, flutes and drums. Just mention Trandafir de la Moldova, or Rose of Moldova, and people are certain to recite the chorus.
When my host mom first invited me to come to one of her choir practices, soon after I arrived at my site, I never expected to join the group, much less sing on live television with them a few months later. But that's what happened.
The choir has about ten women, nine men, six students, a drummer and a flutist. Several weeks ago it was invited to perform on the Moldova 1 television channel. It accepted the invitation and drove on a Monday afternoon in a zebra-painted bus to Moldova's capital, Chișinău, arriving about an hour before it was due to go on air. I came along to document and support the experience but certainly not to take part in it. The choir members changed into national dress, ate placinte pastries and practiced their songs and dances. When my host mom started dressing me up in a traditional embroidered vest and head scarf (without the traditional shirt and skirt), I thought it was for fun: to take photos to send back home, to laugh and to include me in their festivities.

When we walked outside to the stage, though, they pulled me up with them. I was positioned in the center of the second row, in front of the camera. The stage was decorated for the holidays, with icicle string lights and tree branches that occasionally sneezed snow onto us. It all coalesced for me into one of those "get comfortable with being uncomfortable" moments.
The choir members told me to smile and mouth the words since I only knew the choruses. A lady from the station appeared, rapidly speaking in Romanian—something about no pausing, she'll introduce us and we'll sing. A 10-second countdown began and then we started.
I felt silly mouthing "watermelon," smiling and looking around. I felt my familiar self-consciousness. When another guest performer started singing, our group was yanked down off the stage and started dancing the hora, Moldova's traditional circle dance.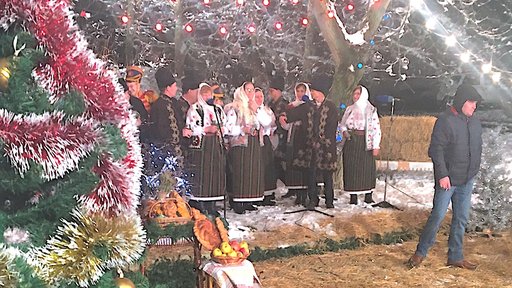 When the host saw I wasn't wearing the traditional Moldovan skirt, she pulled me to the side, asking me what I was thinking. My host mom explained I was American and didn't own a national outfit. The host called a woman who started running with me around the building to find a skirt while the rest of the choir continued their performance, despite my repeated "no it's really okay, I can stand on the side."
They were determined to include me. After we found a skirt and I put it on, I was pushed back on stage, immediately joining another hora dance, with everyone smiling and singing. I felt more and more like I belonged.
When it was over, everyone cheered and no one even mentioned my fashion faux pas. We took approximately 100 photos and thanked the TV station, which thanked us for coming. Then we boarded the bus and left. Underneath the extraterrestrial green lights of the bus cabin, I sang Christmas carols for everyone shamelessly, played the ukulele and answered my students' many questions about American musicians and songs. The next day at school, the teachers, cleaning ladies and students all talked to me about the performance.
I can't promise that my shyness about singing in front of people is now eliminated, but I did agree to play the ukelele and sing holiday songs in both English and Romanian at our New Year's celebration. This time I was dressed in the proper Moldovan traditional outfit. Once the crowd heard the familiar chorus to Jingle Bells they all started singing along, whether they knew the English lyrics or not. I've learned that I don't have to sing great or play perfectly to be included in my community. My Moldovan friends keep telling me to "Sing louder! Stop being embarrassed!"
Those words could also be a motto for my Peace Corps service generally: It's supposed to be fun. I chose to be here, to be uncomfortable and challenge myself, to share stories, photos, ideas and music. I still love to sing but I don't have to do it alone.