Peace Corps - a breath of fresh air for rural communities
Addressing community needs by building on community strengths leads to long last results – even years later!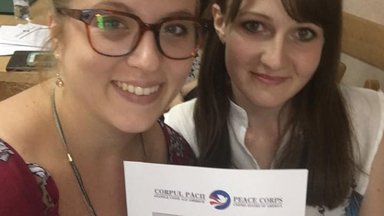 Together with Peace Corps Volunteer Rebecca Buxton, in two years we managed to transform the public library in the village of Dubasarii Vechi into a modern community center which offers user-focused services. Inspired by wonderful examples of collaboration between my fellow librarians and Peace Corps Volunteers, our team decided that we wanted to get out of our comfort zone and bring a change to our community.
With Rebecca's support, we started to promote the library's work, attracting new users to the library. Until then most of the library services were aimed at children, now we managed to include teenagers and adults in our activities.
In this article, I will not talk about all the activities that we co-planned and co-organized together with Rebecca. Instead, I would like to mention a few of the most fundamental ones that contributed to a sustainable change in our village.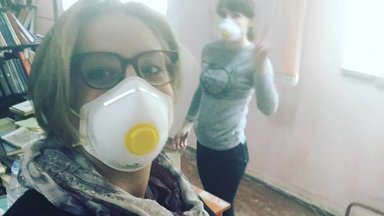 Our English club managed to draw around 60-70 people per session. The club became so popular due to Rebecca's innovative teaching approach. For us, learning English usually entailed copying words, repeating and memorizing them. English club meetings were organized in an interactive way, full of fun activities - watching movies, drawing and many other things that facilitate learning in a relaxed environment.
Another very needed and appreciated activity was the Leadership Club for teenagers. This club gave youth the opportunity to learn about different professions and how the skills they already have can be useful in a job, how to improve their public speaking skills, what study opportunities are available after graduating high school, etc. The participants also appreciated the opportunity to meet other Peace Corps Volunteers, Ellen Kim and Rebecca Stuch, who facilitated some of the club sessions. These clubs are only two of the various activities that we set up for children. Most of them are still running.
Speaking of activities organized in partnership with Rebecca, I want to emphasize that these served as a foundation for my becoming a trainer. This is how I learned to capture participants' attention and keep users interested in library services, to plan and organize an interactive club, as well as recruit volunteers and establish partnerships with various local and regional institutions.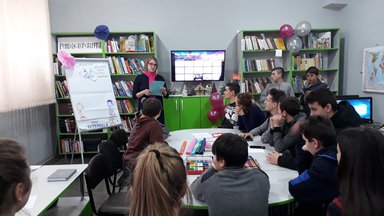 I am also grateful to Peace Corps, and of course to Rebecca, for my initiation into project management. Together we managed to secure funding for two projects that allowed us to provide more quality services for our beneficiaries, as a result of library renovation and furnishing with youth friendly furniture and necessary equipment. Our library is not only a space for books and training sessions. It is now a friendly and safe space for study, but also for recreation and socializing. Community members can come here for movie night, meet friends for a board game, work on a computer or just enjoy reading a good book.
Unfortunately, in 2018 our library book collection was outdated and not very interesting for the readers. Through informal discussions with readers and other community members, Rebecca noticed this problem and came up with the proposal to start a crowdfunding campaign in order to raise money for new books. I was very surprised when it worked and we managed to collect around $1000. This amount might seem small to some people, but it is a lot of money for our library. It allowed us to buy around 250 copies of books for different age groups. The new books brought new users to the library. Noticing the increased interest of the community in reading and library services, the mayor's office began to allocate over $1000 per year for the purchase of books. To select new items, we consult readers' opinions and interests. Young people's interest in reading, inspired me and Dumitrița Leahu, the local high school Student Council president, to start a Reading Club at the library, where we talk, analyze and read books.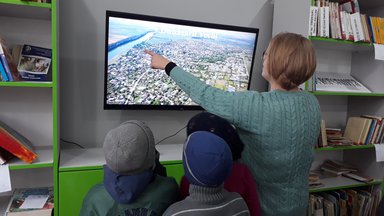 After renovation, the library has been used to its full capacity and the activities that we run are very popular among our community members. For example, the Leadership Club is still active and brings together a diverse group of young people. Some participants are new to the club, others have already developed their knowledge and skills and are involved in club activities as peer-to-peer facilitators. The Hour of Code club gives the youngest users the opportunity to learn about programming and coding. During the Movie Hour, together with teenagers, we watch and discuss movies and documentaries-- learning about arts, different cultures and history.
Two years after I ended my collaboration with the Peace Corps, taking a look back, I don't remember encountering any obstacles in communicating or working with Rebecca. The only challenges I had were the cultural differences and the language barrier. For the first few months of the collaboration, Google Translate was the third member of our team. And where Google failed, we used gestures and signs.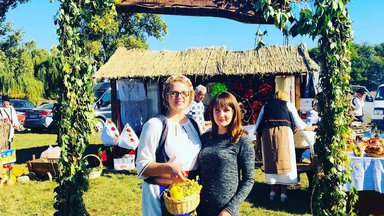 Peace Corps offers many possibilities for host communities but the success of the collaboration depends upon how skilled the volunteer is and how committed to change the counterpart is.
The partnership and the good collaboration between the Peace Corps and my community, managed to produce an obvious change at the library, modernizing it as a space but also as an approach and management practice. The experience we gained as a result of this partnership made it possible that once Rebecca B finished her service, we would choose together with the Local Public Administration to further modernize the library and attract the community around the institution.