Our Success Story: how we decreased the amount of smokers in the community
Before arriving in Moldova, I had a romanticized idea of what it meant to be a Peace Corps Volunteer.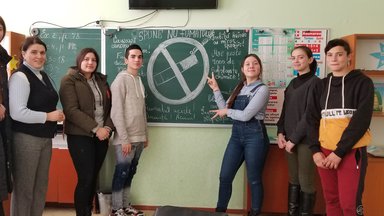 People came with the idea that we were going to change the world, however we soon learn that "changing the world" takes form in many different ways. Being fortunate enough to be the first health education Volunteer at my site, my teaching partners and I feel like we have a blank canvas where we are free to implement new ideas. Although there are moments we disagree, whether it be due to the cultural or language barriers, our commitment to the students and to each other allows us to see that our impact transcends beyond the classroom setting. Elena Șoltoianu, my counterpart and primary school teacher commented about my presence in the community, and stated that "the teaching staff, as well as the students have become very attached to Ms. Stephanie". Often times it seems like progress is stagnant, and we become discouraged when test grades do not reflect adequate knowledge, or health initiatives are not effective. Despite this we continue to remind ourselves that no paper test can reflect the true extent of impact. "The most important thing is through the activities carried out, is that we can understand how we can prevent diseases and what the consequences are if we do not follow certain rules," said my partner, Șoltoianu.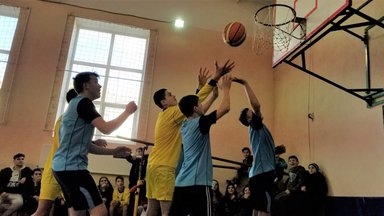 With this in mind, my partners, school director, and I learned recently that the number of active student smokers in our school has significantly decreased. Although current results are qualitative, we are excited to learn that students have begun to understand that they have the power to change. My community partner was also excited by the decrease in smokers in the community, "It is encouraging that among the students as well as teachers there are fewer smokers". It does not matter how many times we explain the negative effects of engaging in risky behaviors, it is the student's responsibility to take an active role in changing. We believe this life style modification stems from their overall view of health. When asked about their original thoughts regarding health education, students mentioned that they were expecting classes to be boring. Now, as they reflect on their current attitudes, these same students mentioned that they no longer see health education as boring because they have found meaning in learning more about what they can do to lead a healthier life. They feel comfort in knowing that health education is not just a class to receive a grade. They have come to the understanding that health education class is a safe space where they can learn, question, and discover new facets of health they did not consider before. As my teaching partner explains, "Whether it be the lessons or the Health Club, we can discuss different topics, which makes us feel more confident in our own strengths, we know how to control our emotions, have a more caring attitude towards personal health, be more friendly and be able to respect each other".
Being a Peace Corps Volunteer does not mean that a difference is made by virtue of being a Volunteer. Being a Peace Corps Volunteer means that we are ordinary individuals who decided to join a network of people to support our international communities. "Personally, being a part of the staff, I can say that our Volunteer, Stephanie, has become a colleague, a friend, a psychologist, and a sister who I can trust in and share diverse issues with", said Șoltoianu.