In the Midst of Change, Remember Those Who Are Forgotten
We each have a unique opportunity to bring hope every day to someone.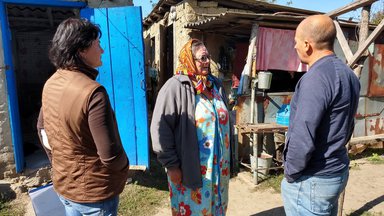 In August 2019 I officially moved to site. My primary partner is a community center that focuses on holistic care for the community. Their mission is to work with any and every person who needs care. One of our regular activities is delivering meals to the elderly who can no longer support themselves. Little did I know how life changing this experience would be for the community and myself.
When my partner, Victor, moved back to town in 2015, he started knocking on doors and asking about what life was like for the people in the village. He was moved by the state in which he found the elderly. With the outer-migration to the city and other countries, many are left on their own, forced to take care of themselves with little to no support. Some are physically disabled and cannot get out of bed, while others lack medication and are in constant pain. To illustrate this: the mayor did not even realize one blind man was still alive until Victor walked into his house and found him on his bed. Another man burst into tears after Victor and his family left because he had not talked to anyone in so long.. It was stories like this that inspired my partner to seek change for this group of forgotten and marginalized people.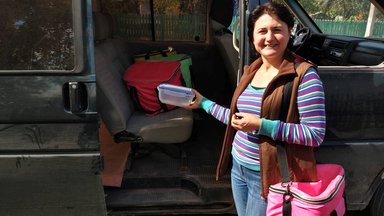 We deliver meals three days a week to those in the village who cannot cook for themselves, cannot afford it, or need extra support and love. The purpose for the visits is two-fold: to provide nourishment to their bodies but also for their spirits as we take time to talk with them to see how they are doing, what they might need help with around the house, or what they want to share with someone. The other day my counterpart fed a beneficiary with a spoon because she could not do it herself. Sometimes our visits are the only human interaction people get for the week. Their reactions speak louder than words. They are so grateful, and each finds his own way of expressing it. I have been kissed on the cheek, given candy, handed compote (homemade fruit juice), and escorted to the door with every ounce of energy possible for them that day (a sign of respect and politeness in Moldova). I was unsure how these deliveries would go when I first arrived, but now they are one of my favorite parts of the week.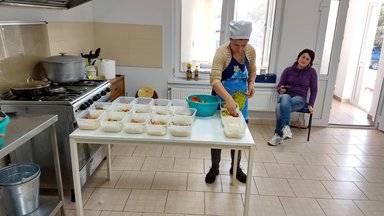 Seeing how much life is left in these people leaves one asking the question of how we can ensure they are actively engaged in society into their elder years. It is not just a problem in Moldova, all across the developed world the elderly face possible isolation and neglect. In Moldova there are very few nursing homes and the ones that exist are not affordable for ordinary pensioners unless the person's family is working abroad. Moldova's rapid transition to capitalism and democracy has been challenging for many marginalized groups. It is my hope that Victor and I will be able continue to find ways to support the elderly in our town, by providing meals and social interaction, rides to church, and strengthening the social groups at the community center. Moldova has taught me that those who need you the most are right around you. We each have a unique opportunity to bring hope every day to someone.