Creating New Thanksgiving Memories
My first Thanksgiving as a Peace Corps Volunteer in Moldova was the best I ever celebrated. 
As a recent college graduate, Thanksgiving had always come as a refuge during the hardest part of the fall semester. Getting away to see my family was a welcome break from my busy school life. Once I got home, I loved making cranberry turkeys with my mom, going to the movies with my dad and brother and watching television with my dog at my feet.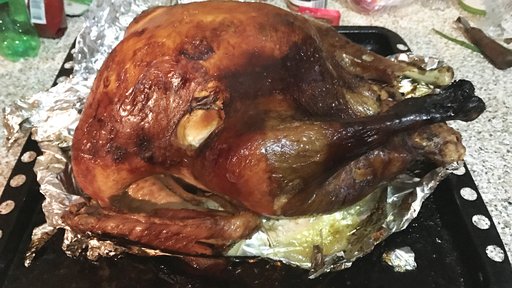 With so many wonderful Thanksgiving memories, I was worried about being in Moldova and feeling so far from home and my family. It turned out I had no reason to worry at all.

Because most volunteers here work in schools, we have to celebrate the holiday on the weekend. The second-year volunteers make sure everyone has a place to celebrate with as much food and fun as possible. I went with three other first-year volunteers to the home of Ingrid, a second-year health education volunteer, in a small village outside the city of Bălți. We celebrated the holiday with her host family and some of her Moldovan friends and neighbors.

When we arrived in the village on Saturday morning, Ingrid and her host mom had been hard at work, making all of the traditional Thanksgiving foods. In fact, the only thing we couldn't get our hands on were sweet potatoes. We even had cranberry sauce, and Ingrid managed to make stuffing that tasted exactly like Stove Top, which is, in my opinion, the highest praise a stuffing can receive. We made Kraft macaroni and cheese (made with love and friendship, like all good mac and cheese), ranch dip, corn, roasted vegetables, a green bean casserole and mashed potatoes.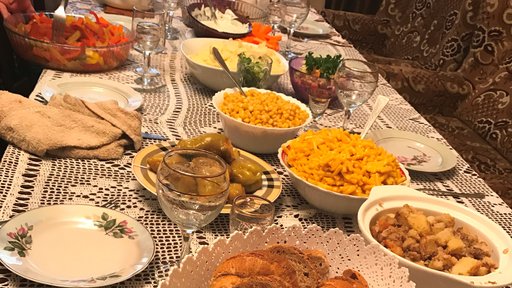 As excited as we were for those foods, the crowning glory was the turkey. That's right, we had an actual turkey, which so far as I've seen, is not very common in Moldova. We were going to kill our own turkey, but the ones available in the village were too small. We had to go with the not-killing-your-own variety that was large enough for 15 people. As you can see in the photo, Ingrid and her host mom did a phenomenal job with it.

Because no Thanksgiving would be complete without dessert, we had no shortage of treats at the end: two pumpkin pies, two apple pies, two batches of brownies, a pear cake and a Moldovan chocolate cake called baba neagra, which Ingrid's host mom made like magic in a pressure cooker. The next morning, our only regret was that we couldn't have eaten more.
After dinner, the celebration turned from American to Moldovan, with a few hours of dancing the traditional hora to both Moldovan and American music. When I came to Moldova this past summer, I could not dance the hora. Now, six months later, I am just okay at it, but I give it a shot every time I have the opportunity. My Moldovan colleagues have told me that's what matters. When Moldovans dance, it seems so effortless; I'm sure it does not look so graceful when they watch me dance, but it is fun, nonetheless.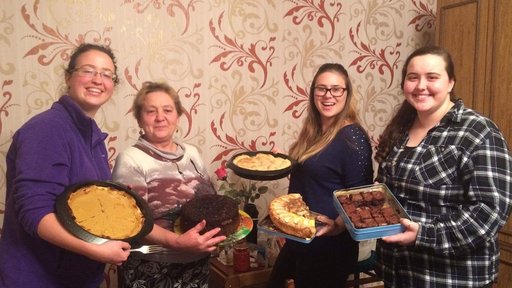 Not only did I get to spend the weekend with my friends, but Ingrid's host family was also unbelievably welcoming and so excited to help us celebrate. We had a wonderful holiday only because they are so wonderful. Special thanks to them for their hospitality and to Ingrid's school director, teaching partner and neighbors for being willing to celebrate with us and try Kraft mac and cheese. I'm not sure they loved it, but we appreciated their efforts to embrace American food.

Like I said, it turned out to be the best Thanksgiving I have ever celebrated—partly because it was Moldovan-style, but mostly because it was with some of my favorite people. With good food and good friends, you're never so far from home. So on this Thanksgiving, I am thankful for my service in Moldova, and for all the amazing people it has led me to meet. Their hospitality and grace is unparalleled.

---