Allies Against Gender-based Violence
Suppose you were sitting at a bar and noticed a man put something in a woman's drink as she was leaving for the restroom.
Or what if you saw a neighbor who looked like she was hiding bruises. Or a man yelling at a woman who seems afraid. Or a pretty girl being cat-called on the street.
What would you do? Would you intervene?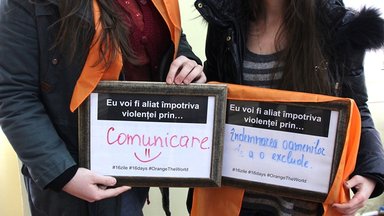 These are questions I asked at the end of these and several other scenarios throughout a series of presentations organized across Moldova to raise awareness about gender-based violence. More than a dozen other Peace Corps Volunteers joined me in the project, "Tu & Eu: Coalție Împotriva Violenței de Gen," which means "You and Me: Allies Against Gender-Based Violence" in Romanian. We arranged it to coincide with the "16 Days of Activism to End Gender-Based Violence" 2016 campaign organized by Moldova's government and other organizations around the world.

We held presentations in 12 communities, from Soroca in the north of Moldova to Cimișlia in the south. Usually we presented in schools or community centers, attracting anywhere from 15 to 100 people, most of them young adults. Students and teachers came together to talk about sexual assault and harassment, and about the widespread problem of "blaming the victim" when women suffer abuse.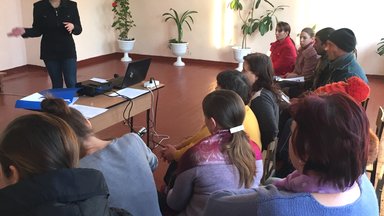 At almost every presentation, at least one girl spoke up about how we should support one another rather than "victim blame." At one session, a disbelieving boy asked his teacher whether men really assault women sexually and was stunned when she said yes. He vowed to never become such a man. At another session, a boy described how he was cat-called by young women, saying he was confused how to react.
I shared my own painful story about being assaulted when I was a teenager, helping the participants understand how this problem extends far beyond Moldova. I told them how I felt ashamed, blamed myself and was blamed by others. I was embarrassed and couldn't speak with anyone close to me. My parents didn't know what was wrong but knew I needed help. Finally they sent me to a professional, who helped me begin to recover in a safe environment.
It was hard to say all of this out loud, in the local language, but I know it resonated with these young people. So did the words of my fellow Peace Corps volunteers, especially the men who reached out directly to young men in the audience.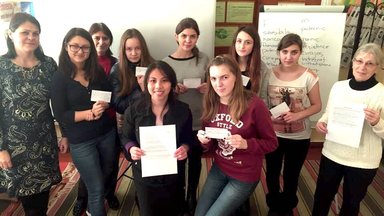 They discussed gender roles and stereotypes. Together we addressed how these connected to gender-based violence, how to provide support, and practical ways men and women can stop violence in their daily lives. I spoke personally with more than 500 Moldovans after the tour officially finished and with more than 800 if I include the participants from the "Ladies of Diversity: Stories of Sexual Aggression" tour presented the previous spring.
Volunteers here have also been working against gender violence in other ways. One of our predecessors, Katie Bennett, produced an excellent video about domestic violence, "Blanketed," which we used extensively during our tour. Israel Collier, another predecessor, spearheaded the "Ladies of Diversity" tour and inspired "You and Me."
More recently, Peace Corps Volunteers in Moldova organized a "Red My Lips" campaign that used compelling photography and other tools to raise awareness about sexual assault. The centerpiece was photos of both men and women painting their lips bright red and holding signs in Romanian or English explaining why they are concerned about the issue.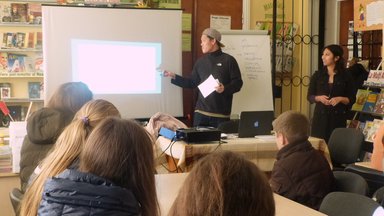 For me, the most compelling part of our tour was collaborating with my Moldovan partners, all of whom showed great courage in sharing their experiences with me and allowing me to share their stories as scenarios within the presentation. Perhaps because I had heard how widespread the problem is here, I was thrilled whenever participants spoke up for change and offered solutions. Almost everyone who attended told us they learned something new and felt more empowered to support and protect one another.
Does this mean they will actually speak up if they see a guy slip something into a woman's drink at a bar? I don't know for certain, but I'm confident the odds that people will act are better than they were before.