Sharing a lifetime passion in service of our environment
Compartiendo una pasión de por vida en servicio al medio ambiente - Versión en español abajo
Message from our Program Manager:
Fifteen years ago, Peace Corps/México had the honor of signing the collaboration agreement with Mexico´s Secretary of the Environment and Natural Resources (SEMARNAT), which allowed the creation of their Environment Program. This program has evolved and adapted according to the priorities of our partners from central offices as well as regional, state and rural community levels. These adaptations have been the result of constant and transparent communications with all involved parties. Through this program, American Volunteers, Mexican public officials, and local counterparts and community members have worked shoulder to shoulder in a win-win relationship. By strengthening technical capacities vis a vis activities and projects aimed at promoting knowledge and appreciation of the environment; improving management of natural resources and the conservation of biodiversity; and through capacity building with key actors; directly or indirectly, we have reduced the vulnerability of Mexican communities to the effects of climate change. This corresponds to the first goal of the Peace Corps, which consists of technically contributing to the priorities of the partners with trained and committed volunteers.
However, perhaps the greatest impact of this collaboration has occurred in Goals 2 and 3, which focus on cultural knowledge and understanding on behalf of Volunteers and members of participating communities living and working side by side. This invariably has resulted professional ties, friendships, and even in new-formed families.
For me, as Program Manager, it has been an honor and a privilege to be a part of this very successful collaboration. During these years, in terms of Volunteers, I have seen optimistic, idealistic, committed, and dedicated individuals with a great dedication to service. In my Peace Corps colleagues, I have seen professional people who are passionate and committed to the creation of ties between the United States and Mexico - especially Benita Luna and Nicole Salgado, Program and Training Specialists who have been pillars for the foundation and development of the program. Our Country Directors and Deputy Directors, who, with their vision, direction and support, have promoted the advancement of the program. Our SEMARNAT partners are some of the most resilient and environmentally committed people I have met. And last but not least, community members we´ve collaborated with are such, noble, good, generous and wise people.
I hope that these first 15 years are just the beginning of a collaboration that continues to grow for many more so that, by each of us doing our part, we keep contributing to our partners' efforts toward sustainable development that improves the caretakers of natural resources' quality of life in rural communities, and that the bonds of friendship between our two nations continue to strengthen.
-Angel Pineda, Peace Corps Mexico Program Manager
The XV Anniversary week of sharing archival Environment Program content ends today, but our celebration continues. Volunteer, Partner, and Staff Contributions to our commemorative campaign are still welcome through June 30! Please see our original call for contributions for more information!
We´d like to give a special shout out and thanks to everyone who has already contributed! Below is a sneak preview of some of the Volunteer memories we've been receiving, including some testimonials from partners from the last year.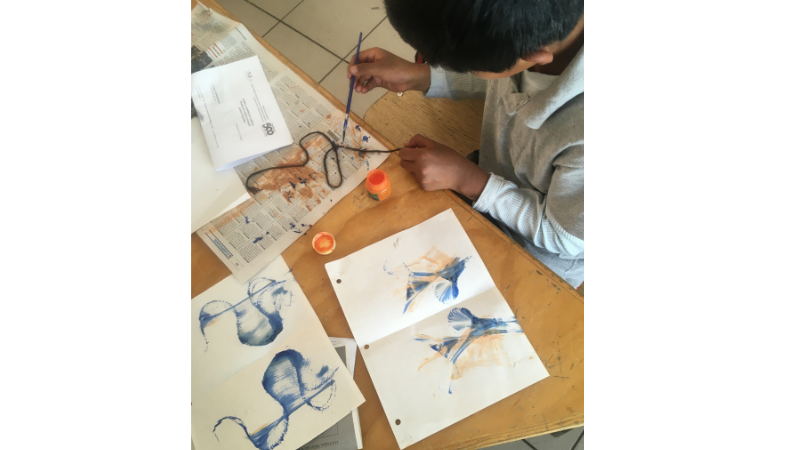 In her testimonial (click to read), Caitlin Chew shares how her "passion has been to serve communities and the environment in foreign countries since stepping outside the United States as a young girl." Caitlin now works with the CONANP Islas Marías Biosphere Reserve.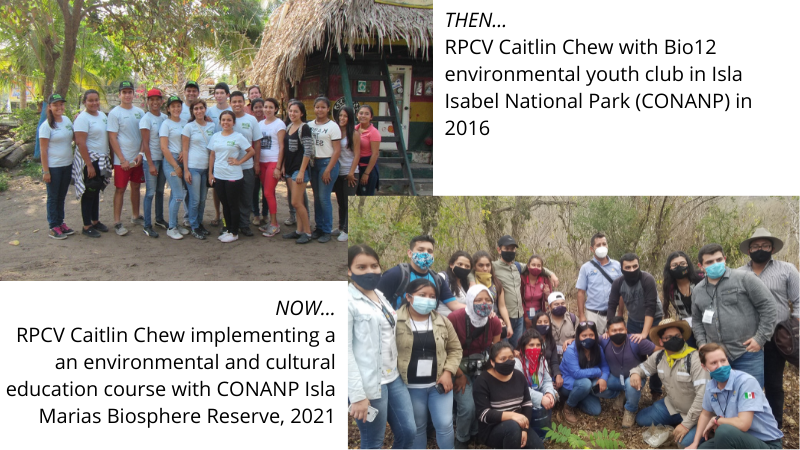 Denise Rennis, who also served in Isla Isabel National Park, shared photos of her service.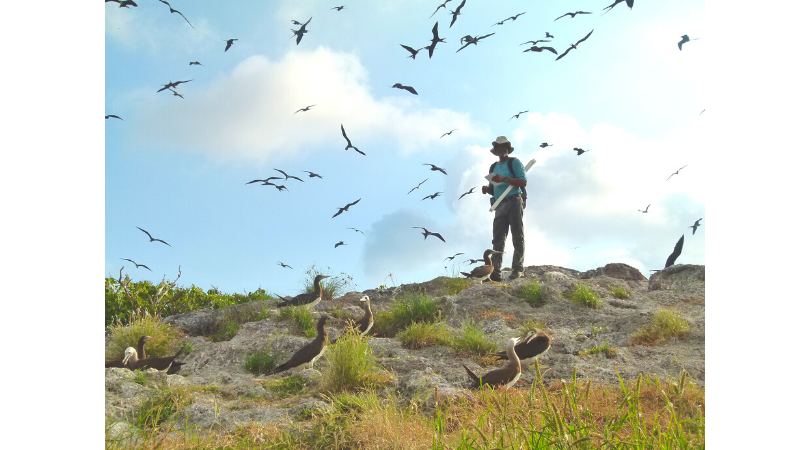 These testimonials from our partners and Volunteers are from our field review process in 2020.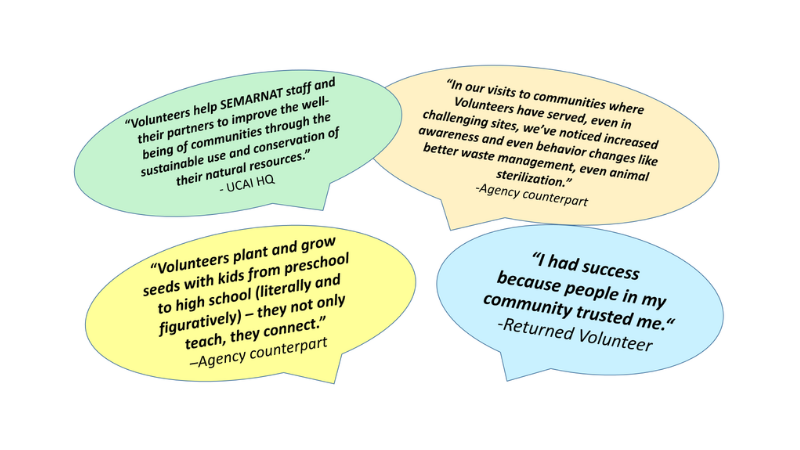 Thank you again to all former Volunteers, partners, and former/current staff! Check out more of our stories from this week if you haven´t already. And don´t forget to send us your stories and stay tuned – we look forward to hearing from you!
-XV Anniversary Team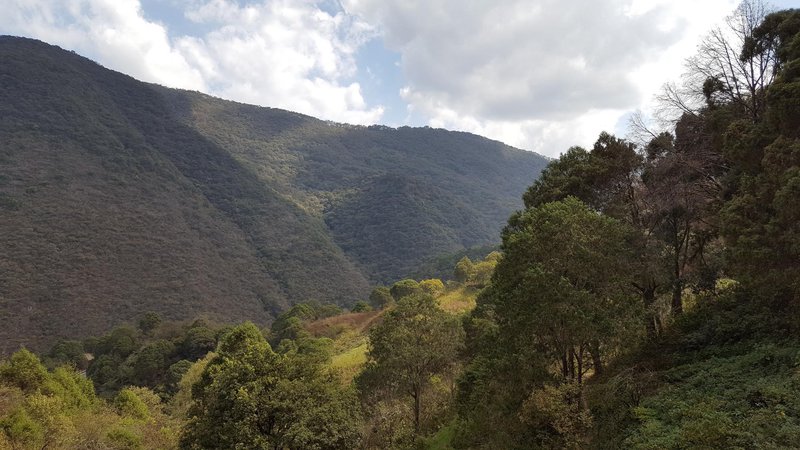 Hace 15 años Cuerpo de Paz tuvo el honor de firmar el convenio de colaboración con la SEMARNAT que permitió el nacimiento del Programa de Medio Ambiente. El programa ha evolucionado y se ha adaptado de acuerdo a las prioridades de nuestros socios desde los niveles de oficinas centrales, regionales, estatales y hasta las comunidades rurales. Estas adaptaciones han sido el resultado de comunicaciones constantes y transparentes con todos los actores involucrados. A través de este programa, voluntarios estadounidenses, funcionarios públicos mexicanos y contrapartes locales han trabajado hombro a hombro en una relación ganar-ganar, fortaleciendo sus capacidades técnicas al desarrollar actividades y proyectos encaminados a promover el conocimiento y apreciación del medio ambiente, a mejorar el manejo de los recursos naturales y la conservación de la biodiversidad y a contribuir en fortalecer las capacidades de los actores clave para, de manera directa o indirecta, disminuir la vulnerabilidad de las comunidades ante los efectos del cambio climático.
Lo mencionado con anterioridad corresponde a la primera meta de Cuerpo de Paz, que consiste en contribuir técnicamente a las prioridades de los socios con voluntarios capacitados y comprometidos, pero quizás el mayor impacto de esta colaboración ha ocurrido en las metas dos y tres, que consisten en el conocimiento y entendimiento cultural por parte de los participantes de los pueblos involucrados de unos y otros, resultando la mayoría de las veces después del servicio en lazos de trabajo, de amistad y hasta de familias formadas.
Para mí, como gerente de este programa, ha sido un honor y privilegio el poder ser parte de esta colaboración tan exitosa. Durante estos años he conocido y he descubierto en las y los voluntarios a personas optimistas, idealistas, comprometidas, dedicadas y con gran vocación de servicio; en las y los compañeros de Cuerpo de Paz a gente profesional, apasionada y comprometida con la creación de lazos entre los EEUU y México. He trabajado en especial con Benita y Nicole, excelentes profesionales, quienes han sido pilares para la fundación y desarrollo del programa; y con los directores y subdirectores de Peace Corps, que con su visión, liderazgo y apoyo han impulsado el avance del programa. También he sido muy afortunado al conocer a los socios de la SEMARNAT, en ellos he encontrado a la gente más resiliente y comprometida con el medio ambiente. Finalmente, en un lugar especial están los miembros de las comunidades, en quienes he encontrado, a gente muy noble, buena, generosa y sabia.
Espero que estos 15 años sean el principio de una colaboración que continúe creciendo por muchos años más para que, con la aportación de nuestro granito de arena, podamos contribuir con los esfuerzos de nuestros socios en promover un desarrollo sustentable en el que las comunidades rurales, cuidadoras de los recursos naturales, que permita mejorar su calidad de vida, mientras que los lazos de amistad entre nuestras dos naciones se sigan fortaleciendo.
La semana del XV Aniversario compartiendo contenido de la historia del Programa de Medio Ambiente termina hoy, pero nuestra celebración continúa. ¡Las contribuciones de voluntarios, socios y personal a nuestra campaña conmemorativa aún son bienvenidas hasta el 30 de junio! ¡Consulte nuestra convocatoria original de contribuciones para obtener más información!
¡Nos gustaría dar un agradecimiento especial a todos los que ya contribuyeron! A continuación, se muestra un adelanto de algunos de los recuerdos que hemos estado recibiendo, incluidos algunos testimonios de voluntarios del año pasado.
Caitlin Chew compartió cómo su "pasión ha sido servir a las comunidades y al medio ambiente en países extranjeros desde que salió de los Estados Unidos cuando era niña". Caitlin ahora trabaja con la Reserva de la Biosfera Islas Marías de CONANP.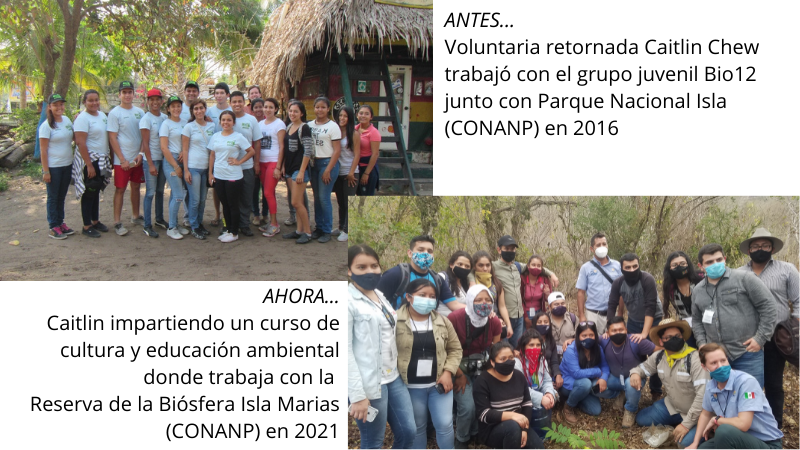 Denise Rennis, quien también hizo su servicio en el Parque Nacional Isla Isabel, nos compartió fotos de su experiencia.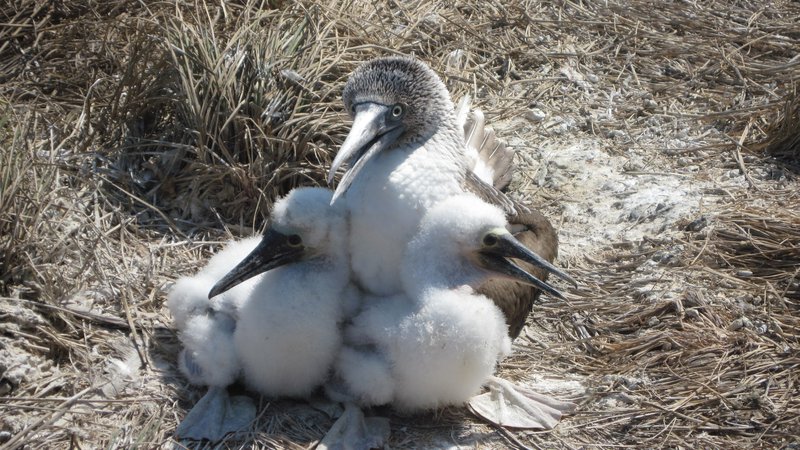 Estos testimoniales son de algunos socios y Voluntarios retornados durante nuestro proceso de revisión de proyecto de 2020.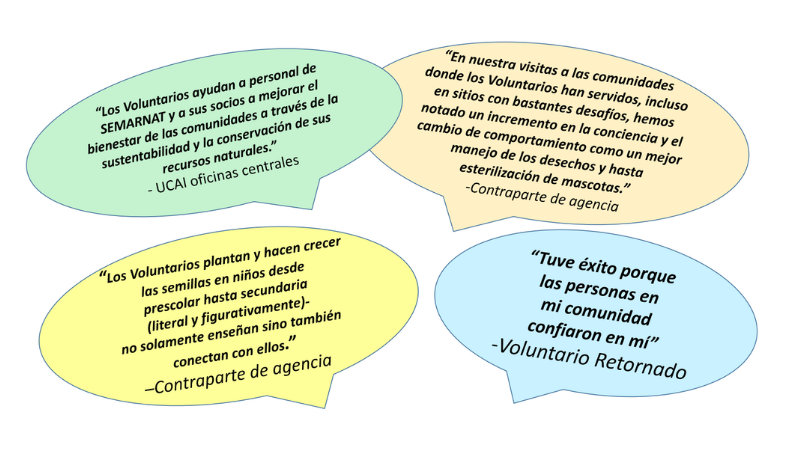 Gracias nuevamente a todos los voluntarios, socios y personal actual y pasado! Checa nuestras otras historia de esta semana si aún no las hayan visto. No se olviden de enviarnos sus historias y seguir atentos - ¡esperamos tener noticias suyas!
-Equipo del XV aniversario