"Morada y Rosa" - A Tribute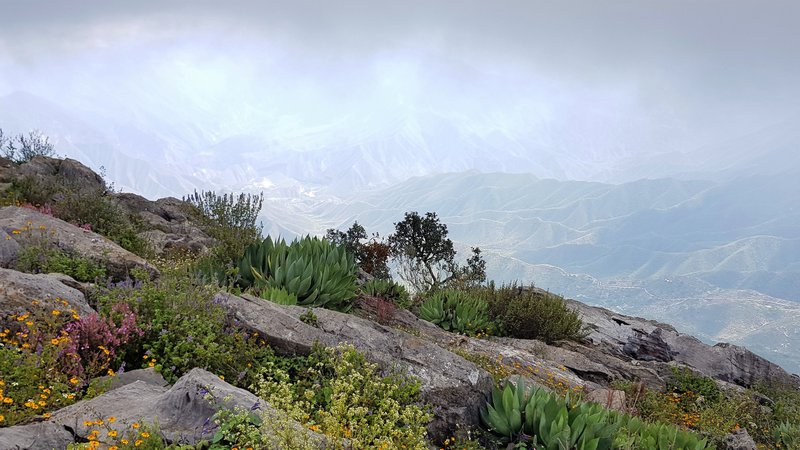 May 29, 2020
'Morada y Rosa' is a tribute poem by John-Michael Bloomquist, former Peace Corps Mexico Volunteer.
'Morada y Rosa,' a poem by RPCV John-Michael Bloomquist, is a heartfelt tribute to his former place of residence and service with the English Education program, written soon after his departure from Mexico. After writing 'Morada y Rosa,' John-Michael stated, "I wrote this poem for PC folks, thinking of how it could speak to them. I'm so glad to [have been] a part of Peace Corps, it's such an amazing group of folks." Peace Corps Mexico thanks John-Michael for graciously sharing his literary craft with the Peace Corps family, as well as him and all his former fellow Volunteers for their service. We hope you enjoy it as much as we did, and it gives you a small taste of the Mexico service experience.
Morada y Rosa | John-Michael Bloomquist | 27 March 2020
I.
We drove through the legend—
the map unfolding in a grey-breasted
jay
feather,
its curves, the mountain ridge,
the outline of a body
curled in fetal position around
us
who were there in
the polychromic blanket spread
across the bed.
Sometimes we get those moments—
When the pupil dilates around
the yellow light beam in a turquoise cenote,
where the huddled roots stretch their long necks
down the lip edge to drink
the only water hole on earth
they know exists, pushing down
with such lovely and compulsory
ignorance toward the center
of the earth
—in those moments,
(when I forget who I am
and where I come from)
I remember I'm always at the navel
of the earth.
But in this moment,
my host father is driving us to the airport
in his manila VW that I wish I could lick
the bumper of
like a sticky seal
and fold it,
stamp it,
and mail the world
he's shown me
with its
frayed seats and sweet
smell of mango skin
on
ahead of me
so that when I got to where I'm going
I'd be greeted by family.
The windshield is cracked,
a spidering catalogue of the river
whose course holds mountains
slipped into sand
through
the noose of time.
En la temporada de lluvia, hay
una cascada, he says, pointing to a crag
of rocks snaking down the valley to the left.
I've not seen the spring. The rain
that makes rivers span the land
briefly as a shed
snake's skin echoing the ghost
of a body full of muscle,
scales, and color. I will only know it
from what he tells me. We will miss
missing this place.
That's the most I can say
of a place
I didn't get to know for a whole
year. It's like seeing only half
a picture. It's a nice lie to say it's a beautiful
place, not because it is less
beautiful than it is
but because I don't know what colors
complete the other side.
II.
el cielo es morado y los nubes rosa
I say in my broken Spanish trying to cover up
the silence filling the car.
The words slide like salt stones
on my tongue, they're sweet as a guayaba
cut with chili and lime, the tough
slick
seeds
rolling down
my belly. It has sprouted
a little green flame, and grows roots
that spread down my sides—
fence wire a white-tailed deer has broken
through, smearing its fur with blood
the dust-wind has
dried and scabbed the wound.
There is a wound in the air
and it circles me.
The wind moves and the leaves speak,
spreading the branches of my arms.
I want my father to hold in one hand the sun
and in the other the moon,
to keep them apart so that I can go down
this road
without it changing. Each sphere in its own part
of the sky, giving light to the other,
morada y rosa—
changing
this road we're going down with families
that change the meaning of family,
leaving a country that changes the meaning
of history, leaving communities that change
the meaning of home, back
to our own tierra where the land from the plane
seems to look at us strangely
asking, donde esta la frontera?
Because it knows we no longer can answer,
Aqui, o alla.
III.
When I finally see my family
in the states, I remember my
familia anfitriona en México
the pozole madre made for my birthday,
the tortillas everyday because everyday I got hungry
just like her eight other children,
the map padre drew with green pen
for safe and red for ten cuidado.
A hermana explaining feminism
Aqui, es vida o muerte para las mujeres
and another hermana telling me she loves math
because she can understand cómo se dobla la luz.
Another hermano, Jesùs,
reminded me Christ could've easily
just as well have been a dairy farmer
bloodshot with a laugh horses bolted out of
on Sunday morning when he took
the day off to tell jokes and drink a sprite.
I remember the baby they all took care of,
how the youngest sister, 13 years old,
held his little head so it wouldn't bump around
as we drove up the mountains,
and then, at the top,
the grandmother pretending
to eat his little toes.
And then I remember
I remember
the laughter most of all.
IV.
The garambullo's thick green bones stood
like an upside down chandelier
giving light to my head, then
a wind blew and the flames went out
and now I don't know where I am.
I look at my hands,
they've spread their cells
over that and this
land. What has been done
cannot be undone
even if I'm gone. There is comfort
in what cannot be erased.
Look— in the palms of trees
and friends, there you are. Feeding the roots of the
next guayaba tree. And in your own
body grow the cells that built themselves
from the maize. Grow
out of that. Grow inside that.
It will not leave you.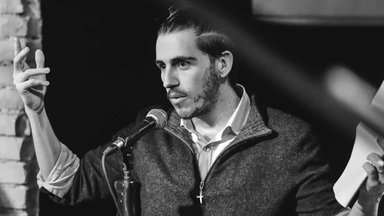 About the author: RPCV John-Michael Bloomquist is a human poet from planet Earth but sometimes feels like he is from another star-system. Most recently, he was a Peace Corps volunteer in Mexico. He has also lived in Poland and in many states across the U.S. He has volunteer taught poetry at the Monroe County Jail in Indiana, and he co-edited and helped publish Poems from the Jail Dorm, a collection of poetry by incarcerated men published by Monster House Press. His poetry has been published in COG, The Superstition Review, The Carolina Quarterly, Matter, Third Coast, Painted Bride Quarterly, and more.
Author photo: John-Michael Bloomquist, 2020.
Featured Photo: Nicole Salgado, 2018.