Environmental Education, Youth Empowerment and Gender Equity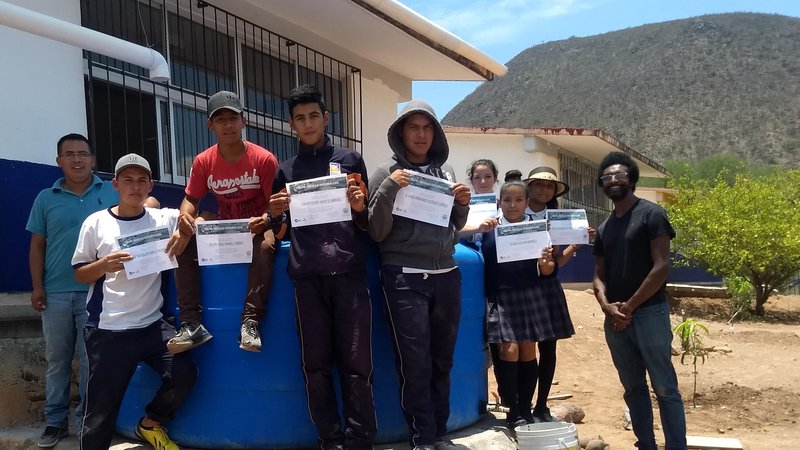 Jan. 9, 2020
Daniel Farmer served two years in a remote site Rancho Viejo, deep in the Sierra Gorda of Guanajuato Biosphere Reserve, a tiny community of less than a couple hundred members. Daniel quickly observed that, among other environmental issues, access to water was a problem identified by the community at large, and felt strongly by the SABES Alamos de Martinez high school community. Over the course of his service, Daniel worked closely with teachers, students, and parents to provide environmental education and technical assistance to area schools, particularly SABES, which had prioritized climate change mitigation activities including gardening and reforestation. Given their previous EcoChavos group's work, and Daniel´s support of the club and their individual empowerment, the students were uniquely prepared to develop a water conservation project, and their efforts led the parent association (Padres de Familia) to also get involved. In the end, students learned about climate resiliency, engaged their peers in the construction of a 5000 liter capacity rainwater catchment system, and, in the hopes that they would continue in the future as project stewards, the high school students presented to the local middle school about the project.
Despite accomplishing several environmental awareness and action projects, such as environmental classes for different age levels and community environmental workshops, in addition to his SPA project, according to Daniel, his most fulfilling work at site was to design and deliver a first-ever life skills/gender equity class for middle school and older elementary school students in both Rancho Viejo and Alamos de Martinez. His enthusiasm for the focus on the second objective of Environmental Education, Youth Environmental Organizations and Life Skills led him to an extension in the PCM office, where he focused on developing materials and promoting further work in Intercultural Competency, Diversity, & Inclusion, Gender Equity, and Youth Life Skills. Daniel visited 3 fellow Volunteers to provide individualized support on those topics. He participated in the co-design and co-facilitation of several key sessions addressing inclusion, privilege, the Theory of Change, and introducing Cross-Sector Programming Priorities during PCM20´s mid-service training and PCM21´s early-in service training. He also re-designed and curated the sections for the cross-sector programming priorities Youth as Resources and Gender Equity on the Peace Corps Mexico Digital Library. One the great new resources that can be found there is Daniel's signature course curriculum on Youth Life Skills and Gender Equity, which he packaged into 15 ready-to-implement, context-adaptable, lesson plans for Volunteer use at their sites. Throughout his service and, Daniel was also an active member of the Diversity and Inclusion Network, and during his work at PCM offices, he promoted self-directed learning on Intercultural Competency, Diversity, and Inclusion topics, by creating a Learning Guide for Volunteers to utilize throughout their service that addresses such topics as race, gender, intersectionality, cultural appropriation, and much more.
Moving forward, Daniel will be working in digital marketing for Songs of Adaptation, a bioacoustics organization, and will spend the better part of next year living in Taipei, Taiwan. Staff, Volunteers, and partners are grateful for Daniel´s dedication to Peace Corps Mexico´s mission and a successful Volunteer experience over the past 31 months, and we wish him very well in his future endeavors!