Community Events Promote Environmental Awareness with Fun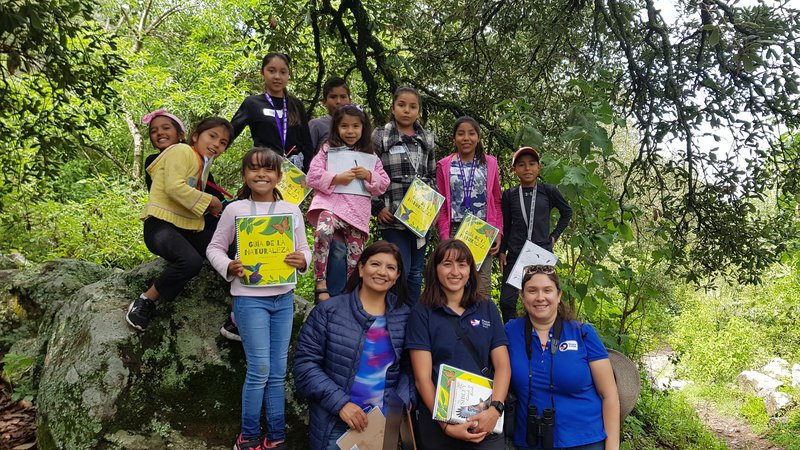 Feb. 10, 2020
Environmental events strengthen students' and community members' learning beyond the classroom and build community relationships fundamental to a satisfying service.
Celebrate! Having fun is one of the best ways to bond with your community, and at the same time makes learning experiences more memorable. Many volunteers create opportunities for students or the community at large to enjoy themselves while learning about environmental themes and carrying out sustainable practices. In the last year, at least 10 Peace Corps Mexico volunteers organized environmental events such as EcoFairs and summer courses in their communities funded by United States Agency for International Development (USAID) Small Project Assistance. Below, we tell the story of a handful of them: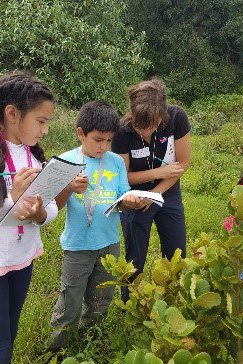 Kelsey Kirkland and Christine Cieslak collaboratively organized a week long environmentally-focused summer day camp for elementary-school age students in their nearby communities in Querétaro state. Kelsey´s part was a two-day course hosted at a conservation-focused ranch. The first day, the students played games focused on pollination and local biodiversity, observed local plants, birds and pollinators, and met a local beekeeper. The next day, the students learned about consumption and waste management while creating art with recycled materials. Kelsey notes that the participants learned to recognize local pollinators and appreciate the importance of local biodiversity and conservation of natural resources in the context of a changing climate.
Christine Cieslak's component offered students aged 6 to 14 two days of learning about pollination, biodiversity, conservation, and climate change. The first day, students played games and observed local flora and fauna at a municipal ecological park. The next day they built a keyhole garden back at their kindergarten in their town, and made art with recycled material. Christine verified that the students gained environmental knowledge and understood the benefits of the keyhole garden and its adaptive capacity to climate change. The kindergarten students and their parents continue to cultivate in the keyhole garden and implement other sustainable practices with Christine´s help.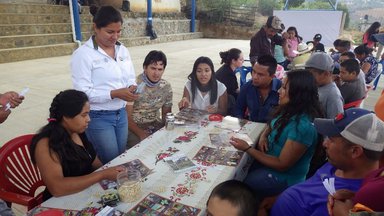 Todd Bertwell and his local collaborators organized an EcoFair in the Sierra Gorda of Guanajuato Biosphere Reserve to showcase the results the local wildlife monitoring team. Participants of all ages played didactic games focused on local biodiversity and solid waste management, viewed photos and a video of observations of local fauna, decorated picture frames made of recycled material, won raffle prizes, and danced to traditional huapango music. Todd maintains that the EcoFair and other fun-focused events were crucial to building community trust necessary to carry out conservation projects.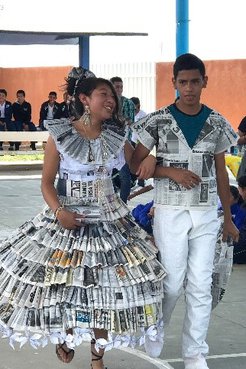 Alejandra Pedraza and a secondary school EcoChavos student environmental club in the Sierra Gorda Biosphere Reserve in Querétaro organized a two-day Ecology and Environmental Conservation Festival in June of 2019 which attracted about 300 students, parents, and other visitors. The students presented their water conservation projects including water filtration, drip irrigation, and hanging gardens, and presenters from government institutions and universities gave workshops on biodiversity, agriculture, sustainable cleaning products, water conservation and more. The event concluded with dance and theater performances and contests to award the best photograph, drawing, sculpture, toy, and costume. Alejandra reflects that the students were delighted by the opportunity to learn about diverse environmental themes from experts in their fields, and is planning the next festival for April 2020.
Kudos to all those volunteers who incorporate fun into education and conservation action! In addition to those listed above, Michelle Danielson, Daniel Farmer, Ashley Philbeck, Nohely Reyes, and Deanna Seil also funded environmental events using USAID-SPA funds, while others have organized events using local resources. Preparing and executing community events and summer courses requires coordination, creativity, persistence, flexibility to changing plans, and love for your work. Ultimately, Volunteers enrich their students' and community members' learning beyond the classroom and strengthen the relationships fundamental to a satisfying service.