Called to serve over four decades: a conversation with Jean Seigle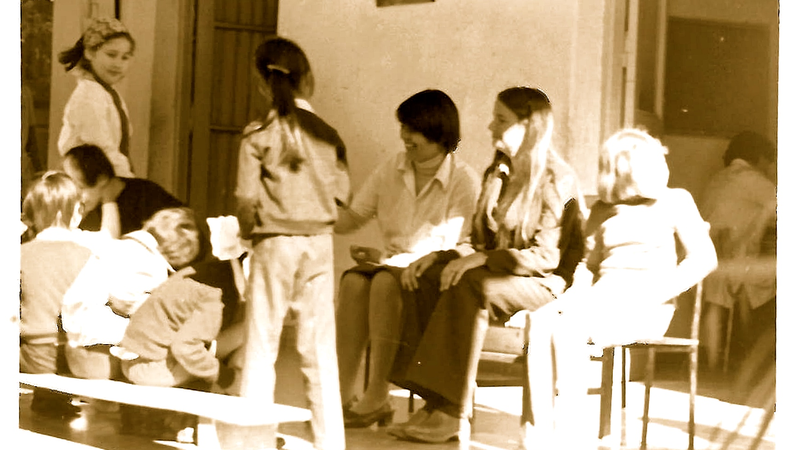 April 7, 2021
"As soon as I learned about the Peace Corps, I knew I was going to apply, and I'm so glad I did. It just fit."
Peace Corps Mexico staff asked former Country Director Jean Seigle to share her words of wisdom about her four-plus decades of service with the Peace Corps, and her message for staff and returned and prospective Volunteers, just prior to her retirement, and PC's 60th anniversary.
Natalia Azzarello: Thank you so much Jean for agreeing to this. What motivated you to join Peace Corps?
Jean Seigle: It was an inherent motivation in me from when I was a little girl because of the family I grew up in. My dad was a doctor, my mother was a social worker, and service to others was what we did. They met in Italy, during WWII, international travel and learning was an important part of their relationship. They had traveled all through Africa and South America, and so that passion for different cultures was just baked into me. As soon as I learned about the Peace Corps, I knew I was going to apply, and I'm so glad I did. It just fit.
So did your parents travel for work, I mean, did they work abroad?
They traveled as part of a medical organization that went around the world to different medical centers and universities. My dad would lecture and meet with professionals on medical topics and my mom would do so on child development. She was the social worker of the Head Start program in the north end of Hartford, which at that time was an innovative program to help underserved communities, to offer their children a jumpstart on their readiness for kindergarten.
What was the hardest part about serving or working with Peace Corps?
I have been so enriched by having many different positions within Peace Corps. Certainly, each one has brought its challenges, but the most challenging moments have been serving as a Country Director and supporting Peace Corps Volunteers in crisis. In the Philippines, it was the natural disasters. Our Volunteers saw death and destruction as a result of typhoons and earthquakes, and supporting them through those experience was challenging. The second most difficult part was supporting Volunteers through sexual assaults and the accompanying trials. I stood beside two female Volunteers who bravely brought their rapists to court. Navigating a justice system so different from our own led to disappointment and unmet expectations. While I could not change the reality, I was with them to interpret, provide context, and empathize.
What are one or two experiences or more that most shaped you from serving or working with Peace Corps?
Well, certainly the foundational experience was my relationship with my counterpart in Paraguay. As a Volunteer, when I served in Paraguay from 1976 to 1978. Celia Barbosa de Salinas and I formed a lifelong friendship. I was the maid of honor in her wedding. We co-taught a classroom of the very first Special Ed classroom in a public school in Paraguay. I remember vividly what it was like to stand with her and welcome children to the school, in this place of public meeting and importance. They had never been allowed to attend school; shame and misunderstanding kept special needs children hidden at home. We had a classroom that combined a severely autistic child with three children who would have carried a diagnosis of mental retardation, and a deaf child who had never had a hearing aid. That's one of the things I'm most proud of. I worked with the organization in Asunción called Damas de las Americas, they provided one boy, Domingo, a hearing aid that was funded with the agreement that they would continue to fund the batteries for how long ever long they were needed, so that Domingo wasn't going to be left with just partial support.
Are these the children from the picture? Was Celia your counterpart matched to you by the Peace Corps?
The children in the picture are from my first school, a private school. While I was setting up the Special Education program with the Ministry of Education, I worked there in Asunción, then moved down south to Coronel Bogado where Celia and I opened the first public [Special Ed] classroom. [The children] ranged in age from seven to 15, and as can sometimes happen, students who were presenting behavioral challenges in the classroom were sent to us, although the core issues there were not those of Special Ed, Because Celia and I knew about individualized care and learning plans for students.
Another experience that most shaped you perhaps, from working with Peace Corps?
I would say, finding what truly feels like a professional home, with really hard working colleagues, with whom I share a value system and a work ethic. People who I just met as colleagues have absolutely become lifelong friends. It wasn't the other way around - I didn't know them when they hired me, but incredibly meaningful relationships which last a lifetime developed. That's from my Volunteer group as well as the colleagues that I have worked with in numerous countries and at headquarters – they are friends for life.
Okay, last question. What words of advice would you give future Volunteers and staff in the midst of these extraordinary times?
My first thought is to develop a deeper sense of patience than ever before. I have watched our staff team do that beautifully. Next would be to remain flexible in your expectations of how things are going to work out. In the past year we have all learned about things that we never knew. When our Volunteers return, when we can engage again with the communities we serve, it's going to be vital to understand how COVID has impacted each community, and how that may change how we program to meet current needs. The essentials of service will remain the same, we need to listen and collaborate with our partners, bridge our differences and contribute to building world peace and friendship.
Thank you for those words of wisdom. I can't help thinking of my kids [who say], adults are always going, 'oh, when I was your age' or 'when that happened to me' and this is the first time that no one else has ever been through this.
That's right. And it gives us a great opening in valuing the experience of our kids. Not going to school or going to school on a computer screen is no easy row to hoe.
Exactly, this has impacted us all in so many different ways and all of those experiences deserve respect. Is there anything else you'd like to add?
I'd like to end with my own gratitude, not only for our organization, the Peace Corps, but for this team in Mexico. I am so grateful for how you have shown welcome and care and understanding of me and allowed me to become a member of the team and to push us all to really think about what kind of an organizational culture we want in our work environment and I'm really grateful for having had that opportunity. And, particularly during my recent illness, the care which you have all shown to me.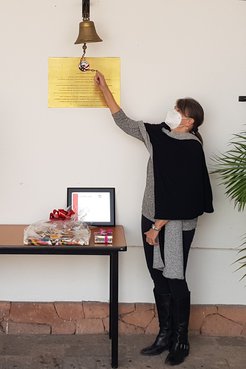 Jean E. Seigle served as Peace Corps Mexico Country Director from June 2018 to February 2021. Previously, she served as Peace Corps Acting Regional Director of EMA (Europe, Mediterranean, and Asia) in Washington DC., and prior to that she was Peace Corps Country Director in the Philippines since September 2014. Jean returned to service with the Peace Corps following a sixteen year period working with non-profit National Service AmeriCorps programs; City Year and Citizen Schools, where she held senior leadership positions in both organizations. During the 1990s Jean served in a number of capacities with the Peace Corps, including Country Director in Ecuador, Training Director in Haiti, Training Officer for the InterAmerica Region, Director of Placement, Acting Associate Director for VRS, and Regional Manager for the US Peace Corps Regional office in Boston, Massachusetts. Prior to employment with Peace Corps, Jean served as Director of Administration of the Massachusetts State Office for Children and as Director of Development for Children's Discovery Centers. Jean was a Special Education Peace Corps Volunteer in Paraguay from 1976-1978. Her educational background includes a BA and MEd from Tufts University, and doctoral course studies at the University of Kansas in Development Psychology. PCM appreciated and will miss her dedication, commitment to excellence, her verdant green thumb, her passion for the Peace Corps mission, and her sense of humor. We wish her the greatest happiness in retirement. Buen viaje y buena suerte por donde vayas Jean!
Acknowledgments
Natalia Azzarello, PCM Executive Assistant: Interview, recording, transcription, review
María José Martínez, PCM Small Grants Coordinator: Interview questions, publication, review
Nicole Salgado, Environment Program and Training Specialist: Interview questions, editing of interview transcript, photos, website version, publication
Jean Seigle: Photos from service
The original interview was from February 2021, and minor edits were made to the transcript for accuracy and length.