Building environmental awareness, leadership, and action for a healthier future
Creación de conciencia ambiental, liderazgo y acción para un futuro más saludable - Version en español abajo
Peace Corps Mexico has recruited and assigned Environmental Education Volunteers to serve in communities in Mexico since 2010. In general, Volunteers with environmental science, youth, or community engagement backgrounds have been recruited, assigned, and trained to collaborate on outreach and action projects that increase community members' awareness and understanding about important environmental issues affecting them locally, greater appreciation of local resources, and concrete ways they can both reduce impacts to their local environments as well as their own well-being.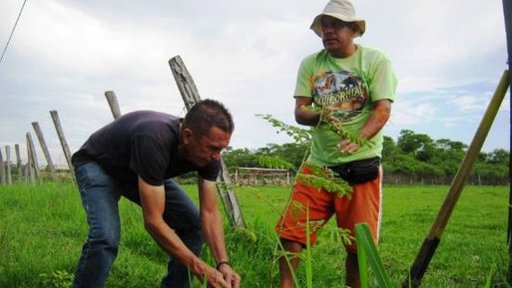 Types of projects that EE Volunteers have focused on historically have included:
Development of environmental education materials such as curriculum guides, presentations, manuals, maps, and interpretive signage;
Classes, workshops, and fairs to promote environmental awareness and capacity building for specific skills;
Environmental activities such as murals, cleanups, gardens, and composts;
Appropriate green technologies such as ecobrick structures, biofilters, solar ovens and dehydrators, and rainwater capture cisterns
Youth environmental clubs and leadership skills development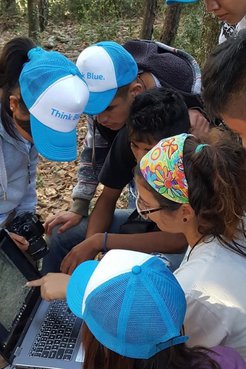 Below are a variety of project descriptions from Volunteers at the conclusion of their projects that provide a window into the type of great work they do in Mexico!
In the area of environmental education materials, Shayna Sellars, Group 13, served from 2012 to 2015 as Volunteer with the SEMARNAT Puebla state office, to develop climate change education curricular guides. Read more about Shayna's work here.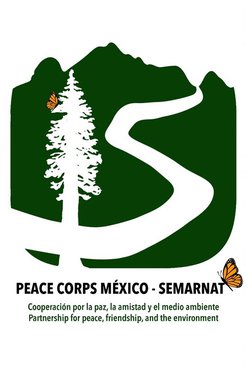 Whitney Vogel, Group 15, served from 2013 to 2015 as a Volunteer with the Nevado de Colima National Park (CONANP). Whitney led efforts to increase park signage and an extensive mural project in a renewed environmental ed center at the park. Click here to learn more about Whitney´s mural project. After her service, Whitney did the logo design not only for our 10th anniversary but also for this year´s 15th anniversary celebration.
Also from Group 15, but serving with the National Forestry Commission (CONAFOR) Tlaxco office in Tlaxcala state, Ashley Schnitker created a community project for rainwater capture together with the local ejido (communal land owners´collective). Read her story here.
Have you ever heard of dragonfruit? Hannah Wells, Group 18, served from 2016 to 2018 as a Volunteer with the Tehuacan-Cuicatlan Biosphere Reserve (CONANP). Together with her counterparts and active school partners, Hannah designed a sustainable school garden project with several schools in her community. Read more about Hannah´s project here. When Volunteer Emily Ferrando continued the project later, one of the collaborating schools won an award for environmental education in Mexico (click to read more).
What happens to a community when the trash trucks stop running? Kimberly Pollock, Group 19, served from 2017 to 2019 as a Volunteer with the Rio Necaxa Priority Conservation Area (CONANP). She tells the story of how a community she lived in and worked with, near Huauchinango, Puebla, was facing a waste management crisis, and how a community fishing collective decided to launch a community-wide recycling initiative by combining community resources and funds from USAID. Kimberly also worked with a youth club and other area schools to collect and donate plastic waste to the collective in exchange for school supplies; creating a closed loop approach to community waste management. Read more about Kimberly's project here.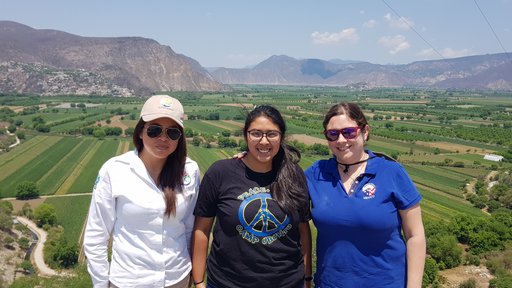 How does a passion for GIS and wildlife management translate into projects to increase community environmental sustainability? Esperanza Perez, Group 19, served from 2017 to 2019 as a Volunteer with the CONANP Barranca de Metztitlan Biosphere Reserve. Esperanza first created maps of wildlife in the Reserve, and after training with the Climate Reality Project (along with other PCM EE Volunteers), she later collaborated on a school keyhole garden and community environmental center where youth and adults learned more about appropriate green technologies and methods for monitoring and conserving wildlife and resources in their unique valley. Read more about Esperanza´s project here.
What do SMART Goals have to do with environmental education? Daniel Farmer, Group 19, served from 2017 to 2019 as a Volunteer with the CONANP Sierra Gorda of Guanajuato Biosphere Reserve. Daniel had seen the importance of leadership and life skills for youth to become effective agents of change in their own lives and in their communities, and created a project that combined gender equity and environmental conservation.
When Moses Ngong, Group 20, arrived at site, he wanted to promote projects that helped both the local environment and the people in his community. At his site in the Tehuacan-Cuicatlan Biosphere Reserve (CONANP), in addition to working with two schools on agroecology, he also collaborated with his agency to promote and build wood saving stoves in dozens of community members´ homes, helping to reduce C02 emissions, reduce pressure on local forestry resources, and protecting families´ respiratory health, read more here.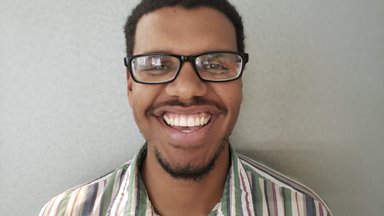 Although specific areas of focus and activities have shifted over the years, certain key principles of EE have remained at the core of what EE Volunteers have done: participatory community assessments to determine the most pressing environmental and sociological issues important to community members and agency partners in the sites where they serve; development of community outreach and action strategies that seek involve community partners to the fullest extent possible, particularly youth and other early adopters; design of learner-centered and culturally appropriate instructional strategies that emphasize learner capacity building and empowerment; and local ownership of planning and implementation of projects to ensure longer term sustainability. In the words of a former agency partner, "Volunteers plant and grow seeds with kids from preschool to high school - they not only teach, they connect."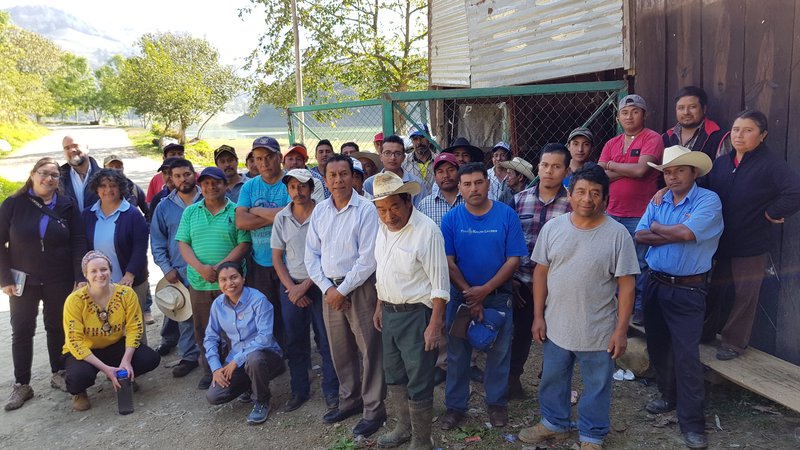 Cuerpo de Paz México ha reclutado y asignado Voluntarios de Educación Ambiental (EE por sus siglas en inglés) para servir en comunidades en México desde 2010. En general, los voluntarios cuentan con estudios en ciencias ambientales, jóvenes o participación comunitaria y han sido reclutados, asignados y capacitados para colaborar en proyectos de divulgación y acción que aumentan la conciencia y la comprensión de los miembros de la comunidad acerca de los problemas ambientales importantes que los afectan a nivel local, una mayor apreciación de los recursos locales y las formas concretas en que pueden reducir los impactos en sus entornos locales y en su propio bienestar.
Los tipos de proyectos en los que los voluntarios de EE se han centrado históricamente incluyen:
Desarrollo de materiales de educación ambiental como guías curriculares, presentaciones, manuales, mapas y señalización interpretativa;
Clases, talleres y ferias para promover la conciencia ambiental y el desarrollo de capacidades para habilidades específicas;
Actividades ambientales como murales, limpiezas, jardines y composta;
Ecotecnias, como estructuras de ladrillos ecológicos, biofiltros, hornos y deshidratadores solares y cisternas de captación de agua de lluvia.
Clubes ambientales juveniles y desarrollo de habilidades de liderazgo.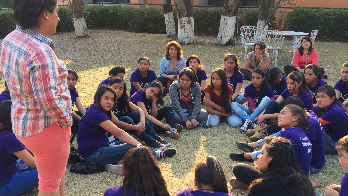 ¡A continuación compartimos una variedad de descripciones de proyectos de voluntarios, al concluirlos, dichas descripciones brindan una ventana hacia el tipo del gran trabajo que hacen en México!
En el área de materiales para la educación ambiental, Shayna Sellars, del grupo 13, voluntaria de 2012 a 2015, colaboró en la oficina estatal de SEMARNAT Puebla, para desarrollar guías curriculares de educación sobre cambio climático.
Whitney Vogel, del grupo 15, realizó su servicio de 2013 a 2015 en el Parque Nacional Nevado de Colima (CONANP). Whitney lideró los esfuerzos para aumentar la señalización del parque y un extenso proyecto de un mural en un centro renovado de educación ambiental en el parque. Después de su servicio, Whitney hizo el diseño del logo no solo para nuestro décimo aniversario, sino también para la celebración del 15º aniversario de este año.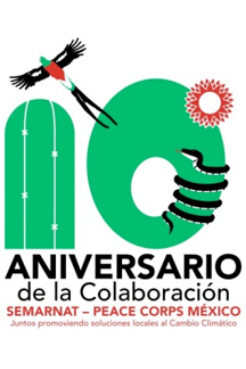 También del grupo 15, pero sirviendo con la Comisión Nacional Forestal en la oficina de Tlaxco en el estado de Tlaxcala, Ashley Schnitker creó un proyecto comunitario para la captación de agua de lluvia junto con el ejido local (colectivo de propietarios de tierras comunales).
¿Alguna vez ha oído hablar de la pitahaya? Hannah Wells, del grupo 18, se desempeñó como voluntaria de 2016 a 2018 en la Reserva de la Biosfera Tehuacán-Cuicatlán (CONANP). Junto con sus contrapartes y socios escolares activos, Hannah diseñó un proyecto de huertos escolares sostenibles con varias escuelas de su comunidad. Luego cuando Voluntaria Emily Ferrando continuaba el proyecto, una de las escuelas colaboradoras ganó un premio de educación ambiental en México.
¿Qué le sucede a una comunidad cuando los camiones de basura dejan de funcionar? Kimberly Pollock, del grupo 19, sirvió como voluntaria de 2017 a 2019 en el Área de Conservación Prioritaria del Río Necaxa (CONANP). Ella cuenta la historia de cómo la comunidad en la que vivía y con la que trabajaba, en Huauchinango, Puebla, se enfrentaba a una crisis de gestión de residuos, y cómo un colectivo de pescadores comunitarios decidió lanzar una iniciativa de reciclaje en toda la comunidad mediante la combinación de recursos comunitarios y fondos de USAID. Kimberly también trabajó con un club juvenil y otras escuelas del área para recolectar y donar desechos plásticos al colectivo a cambio de útiles escolares; creando un programa comunitario de gestión de residuos de ciclo cerrado.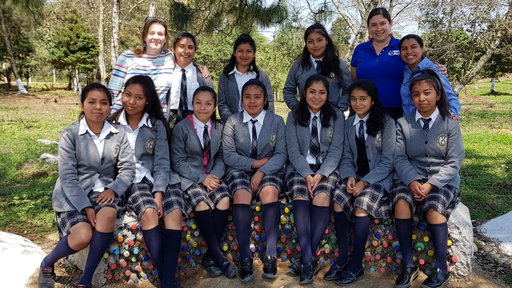 ¿Cómo se traduce la pasión por los SIG y la gestión de la vida silvestre en proyectos para aumentar la sustentabilidad ambiental comunitaria. Esperanza Pérez, del grupo 19, participó como voluntaria de 2017 a 2019 en la Reserva de la Biosfera Barranca de Metztitlán de la CONANP. Esperanza primero creó mapas de vida silvestre en la Reserva, y después de capacitarse con el Proyecto de Realidad Climática, colaboró ​​en los jardines de una escuela y en un centro ambiental comunitario donde jóvenes y adultos aprendieron más sobre tecnologías y métodos ecológicos apropiados para monitorear y conservar la vida silvestre y los recursos en su valle único.
¿Cuál es la relación entre los objetivos SMART y la educación ambiental? Daniel Farmer, del grupo 19, realizó su voluntariado de 2017 a 2019 en la Reserva de la Biosfera Sierra Gorda de Guanajuato de la CONANP. Daniel había visto la importancia del liderazgo y las habilidades para la vida que los jóvenes necesitan para convertirse en agentes efectivos de cambio en sus propias vidas y en sus comunidades, y creó un proyecto que combinaba la equidad de género y la conservación del medio ambiente.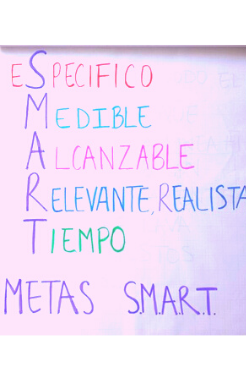 Cuando Moses Ngong del grupo 20, llegó a su sitio asignado, quiso promover proyectos que ayudaran tanto al medio ambiente local como a la gente de su comunidad. En su sitio, la Reserva de la Biosfera Tehuacán-Cuicatlán (CONANP), además de trabajar con dos escuelas en agroecología, también colaboró ​​con su agencia para promover y construir estufas ahorradoras de leña en decenas de hogares de los miembros de la comunidad, ayudando a reducir las emisiones de C02, reduciendo la presión sobre los recursos forestales locales y protegiendo la salud respiratoria de las familias.
Aunque las áreas específicas de enfoque y las actividades han cambiado a lo largo de los años, ciertos principios clave de EE se han mantenido en el centro de lo realizado por los Voluntarios de EE: diagnósticos comunitarios participativos para determinar los problemas ambientales y sociológicos más urgentes e importantes tanto para los miembros de la comunidad como para las agencias asociadas con los sitios donde sirven; el desarrollo de estrategias de acción y alcance comunitario que busquen involucrar a los socios de la comunidad en la mayor medida posible, particularmente a los jóvenes y otros usuarios de vanguardia; diseño de estrategias de instrucción culturalmente apropiadas y centradas en el alumno que enfatizan el desarrollo de la capacidad y el empoderamiento del alumno; y apropiación local de la planificación y ejecución de proyectos para asegurar la sostenibilidad a más largo plazo. En palabras de un ex socio de la agencia, "Los voluntarios plantan y cultivan semillas con niños desde preescolar hasta la escuela secundaria; no solo enseñan, se conectan".