The beginning of a fruitful relationship of technical cooperation and friendship
El comienzo de una fructífera relación de amistad y cooperación técnica - Versión en español abajo
The best way to find yourself is lose yourself in the service of others. - Mahatma Gandhi
When four motivated Volunteers began their service with the Peace Corps Mexico Environment Program in June 2006, they represented the most valuable resource shared by the United States of North America: its people. This small group of Volunteers planted the seeds of what has become a fruitful relationship of technical cooperation and friendship for the last fifteen years.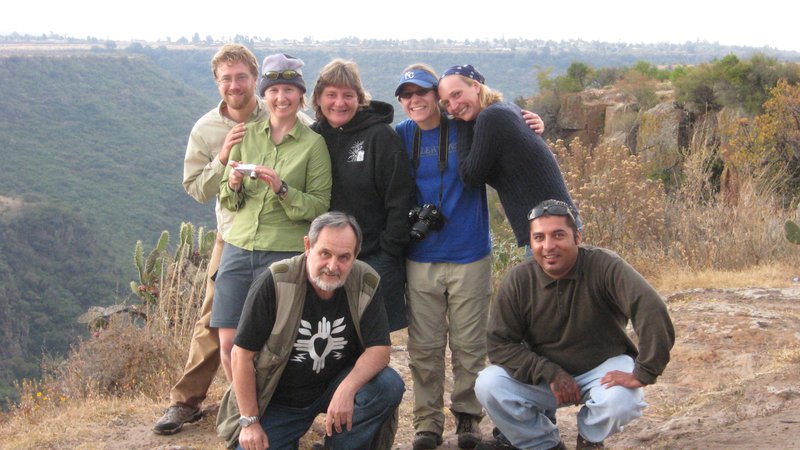 At the inception of the program, Mexican agency partners with the Secretary of Environment and Natural Resources (SEMARNAT) initially requested Volunteers to collaborate directly with agency staff in regional or state offices with to carry out specialized technical projects. Two of these specialized collaborations are highlighted below:
Monitoring Breeding Seabirds in the Gulf of California (click to read story) was conducted by Volunteer Denise Rennis, in conjunction with CONANP at Isla Isabel National Park. Denise not only shared her knowledge and skills with her Mexican partners, but also learned to value the passionate and the amazing people she collaborated with.
The Fire Management Project in Tlaxcala (click for story) was developed by Rachel Sheridan as part of her Masters´ International research project. Rachel, who served in conjunction with the National Forestry Commission in the state of Tlaxcala, went beyond her research objectives by engaging in multiple projects to build local capacities and empower community members, especially women and girls.
Although this profile of highly specialized volunteers was a success, some obstacles were also faced both in recruiting them and in meeting the needs of the rural communities where the projects were carried out. As a result, Peace Corps and its agency partners decided to recruit more generalist volunteers in larger cohorts, assigned to live and serve in communities that agency partners collaborated with, to strengthen local capacity and supporting natural resources conservation and increased climate resilience.
Since then, several groups of motivated Volunteers began to serve in small communities to increase nature appreciation and biodiversity conservation, living and working alongside community partners. Two examples are Volunteers Deanna Seil and Todd Bertwell who both worked closely with their institutional and community partners to monitor and promote the conservation of local species and its habitat, such as the jaguar, the real eagle, the puma and many others. Deanna served with the CONANP Tehuacan-Cuicatlan Biosphere Reserve, her story is found here. Todd served with CONANP Sierra Gorda Guanajuato Biosphere Reserve, and his story is described here.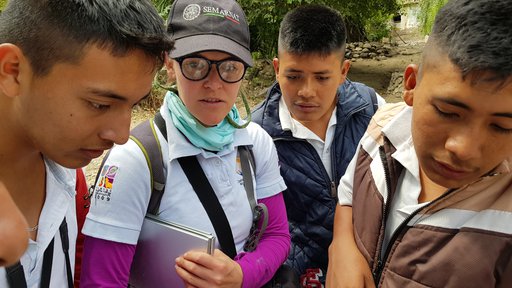 Communities' interest in increasing their resilience to climate change has also resulted in numerous project activities to conserve soil, water and vegetation. This was the case for Volunteer Mitch Serota, who collaborated with the Secretary of Environment and Natural Resource in the state of Tlaxcala. Read Mitch´s story here. Together with local authorities and community members, Mitch conducted a native species reforestation project to prevent soil erosion, improve habitat functions and may eventually become a source of income for the community.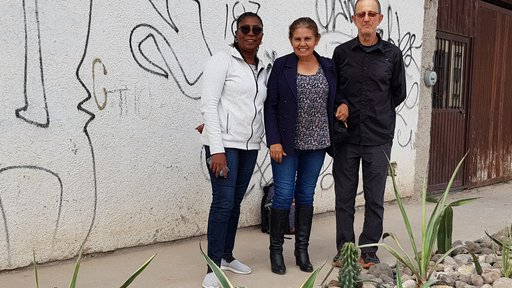 Volunteers Judith and Peter Balint served with CONANP Sierra Fria. Judith and Peter took advantage of community curiosity and interest to increase their awareness of the important role of local pollinators and to develop pollinator gardens. Read their story here.
Increased nature appreciation and promoting actions to conserve natural resources are essential for enhancing local resilience to climate change. However, the human connection, mutual respect, and commitment, are undoubtedly the most inspiring part of the binational relationship that Peace Corps Mexico is honored to be part of, and we give thanks to every host country partner and every Volunteer for being part of the change we want to see.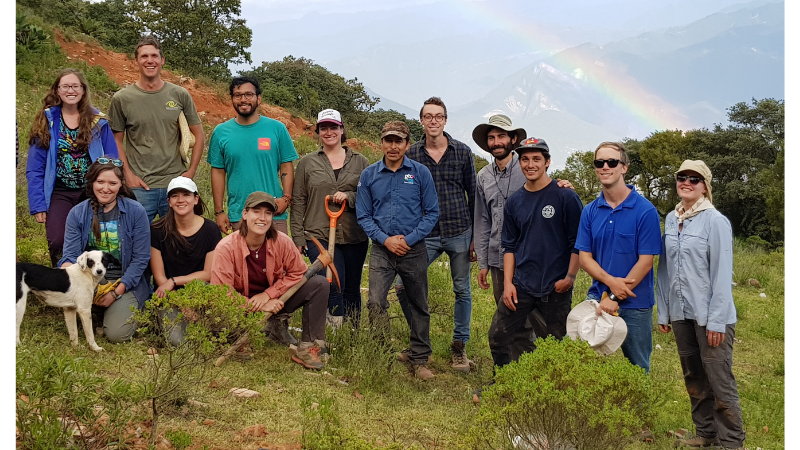 La mejor manera de encontrarte a ti mismo es perderte en el servicio a los demás. - Mahatma Gandhi
Cuando cuatro voluntarios motivados iniciaron su servicio con el Programa de Medio Ambiente de Cuerpo de Paz México en junio de 2006, representaron el recurso más valioso compartido por los Estados Unidos de Norteamérica: su gente. Este pequeño grupo de Voluntarios plantó las semillas de lo que se ha convertido en una fructífera relación de cooperación técnica y amistad durante los últimos quince años.
Al inicio del programa, las agencias mexicanas asociadas con la Secretaría de Medio Ambiente y Recursos Naturales (SEMARNAT) solicitaron a los Voluntarios que colaboraran directamente con el personal de la agencia en las oficinas regionales o estatales para llevar a cabo proyectos técnicos especializados. Dos de estas colaboraciones especializadas se destacan a continuación:
El monitoreo de aves marinas reproductoras en el golfo de California fue realizado por la voluntaria Denise Rennis, en conjunto con la CONANP en el Parque Nacional Isla Isabel. Denise no solo compartió sus conocimientos y habilidades con sus socios mexicanos, sino que también aprendió a valorar a las personas apasionadas y maravillosas con las que colaboraba.
El Proyecto de Manejo de Incendios en Tlaxcala fue desarrollado por Rachel Sheridan como parte de su proyecto de investigación internacional de su Maestría. Rachel, se desempeñó en conjunto con la Comisión Nacional Forestal en el estado de Tlaxcala, fue más allá de los objetivos de su investigación al participar en múltiples proyectos para desarrollar capacidades locales y empoderar a los miembros de la comunidad, especialmente mujeres y niñas.
Si bien, este perfil de voluntarios altamente especializados fue un éxito, también se enfrentaron algunos obstáculos tanto en el reclutamiento de estos como en la habilidad para atender las necesidades locales de las comunidades rurales donde se realizaron los proyectos. Como resultado, Cuerpo de Paz y sus agencias asociadas decidieron reclutar voluntarios más generalistas con grupos más grandes, asignados para vivir y servir en las comunidades prioritarias para las agencias anfitrionas para fortalecer la capacidad local y apoyar la conservación de los recursos naturales y una mayor resiliencia climática.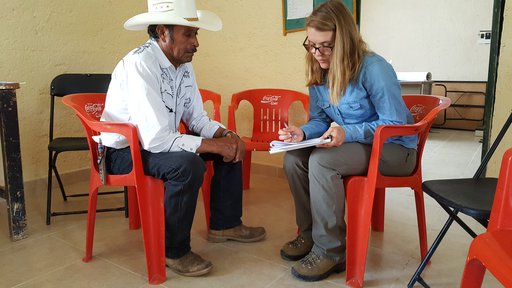 Desde entonces, varios grupos de voluntarios motivados comenzaron a servir en pequeñas comunidades para aumentar el aprecio por la naturaleza y la conservación de la biodiversidad, viviendo y trabajando junto a los socios comunitarios. Dos ejemplos son los voluntarios Deanna Seil y Todd Bertwell, quienes trabajaron en estrecha colaboración con sus socios institucionales y comunitarios para monitorear y promover la conservación de especies locales y su hábitat, como el jaguar, el águila real, el puma y muchos otros. Deanna sirvió en la Reserva de la Biosfera de la CONANP Tehuacán-Cuicatlán. Todd por su parte, sirvió con la Reserva de la Biosfera Sierra Gorda Guanajuato de CONANP.
El interés de las comunidades en aumentar su resiliencia al cambio climático también ha dado lugar a numerosas proyectos con actividades para conservar el suelo, el agua y la vegetación. Este fue el caso del Voluntario Mitch Serota, quien colaboró ​​con la Secretaría de Medio Ambiente y Recursos Naturales en el estado de Tlaxcala. Junto con las autoridades locales y los miembros de la comunidad, Mitch llevó a cabo un proyecto de reforestación de especies nativas para prevenir la erosión del suelo, mejorar las funciones del hábitat y eventualmente convertirse en una fuente de ingresos para la comunidad.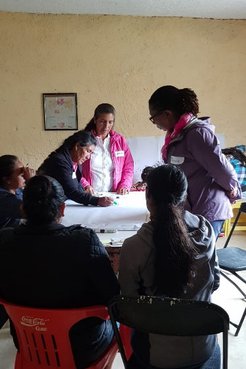 Los voluntarios Judith y Peter Balint sirvieron con la CONANP en Sierra Fria. Judith y Peter aprovecharon la curiosidad y el interés de la comunidad para aumentar su conciencia sobre el importante papel de los polinizadores locales y desarrollar jardines de polinizadores.
Finalmente, una mayor apreciación de la naturaleza y la promoción de acciones para conservar los recursos naturales son esenciales para mejorar la resiliencia local al cambio climático. Sin embargo, la conexión humana, el respeto mutuo y el compromiso, son sin duda la parte más inspiradora de la relación binacional de la que Cuerpo de Paz México tiene el honor de formar parte, agradecemos a todos los socios del país anfitrión y a cada voluntario por ser parte del cambio que queremos ver.